ELE Advanced Technologies
Up for a challenge
A specialist in applying unique manufacturing techniques to make complex components for the aerospace, industrial gas turbine, and commercial diesel markets, ELE Advanced Technologies is planning on increasing its production capacity to accommodate expected growth in demand
ELE Advanced Technologies is a company that loves it when its customers come up with challenging issues. The more complex the requirement, the greater the stimulus for the manufacturer of aerospace components and parts for industrial gas turbines (IGT) and commercial diesel turbochargers to display its dexterity. Founded in 1955 as a supplier of compressor blades to Rolls-Royce, ELE now occupies a niche position in the marketplace, being one of the very few organisations capable of combining conventional and non-conventional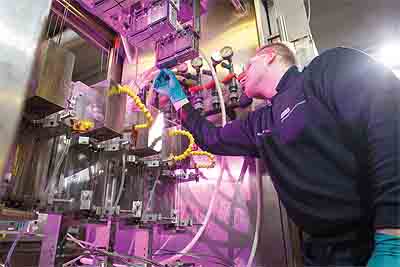 manufacturing processes to serve its clients. These include processes such as electrochemical machining, fast hole drilling, and viper grinding, whose application enables the company to offer a vast array of products.
Managing Director, Manesh Pandya, gives an account of the type of components ELE makes. "Within aerospace and IGT, we provide turbine blades, seal segments and nozzle guide vanes. Then, on the turbochargers side, we make turbocharger parts primarily for commercial and high-performance vehicles."
Operating under a tagline that says 'Making things possible', ELE has adopted a make-to-print approach where it manufactures products designed predominantly by its customers. "We are also involved in the product development process at a very early stage with the aim to answer two questions regarding the component's design. First, we are looking at what we can do to enhance the performance of the engine; and second, how we can help with the design, in order to drive the overall component cost down. I think it is this ability to collaborate closely with our customers that they recognise and respect us for. We take pride in developing solutions and that is a key differentiator for us," Manesh explains.
ELE addresses its customers' needs from two manufacturing plants – one in the UK and one in Slovakia, where the company has refined the process of quick changeover that allows it to produce a wide variety of different components. "For example, we have made in excess of 200,000 unique parts in the turbocharger field and we have the capacity to make components in a broad range of volumes – from 50 up to 20,000 units per annum," Manesh points out.
With its financial year coming to an end, ELE is expecting further growth in revenue, following the 12 per cent growth reported in April 2018. For Manesh, the particularly good news is that the company has enjoyed a strong performance in all three sectors it is present in. He discusses: "We won new contracts in aerospace, IGT, and turbochargers. We are particularly pleased with the new market share we have secured given that the market for new gas turbines is currently soft.
"I still think we will see plenty of opportunities in all our markets," Manesh predicts. "To begin with, the long-term prognosis is that power generated from gas turbines will grow as circa 30 per cent of energy needs, globally, will be met by gas at least until 2040. This will be so simply because the peaks and drops in demand are best catered for by gas turbines, as they are the least polluting of the fossil fuels."
Manesh highlights the buoyancy of the aerospace sector: "The market promises to remain very strong in the next 15 years, as more people travel around the world. In this situation,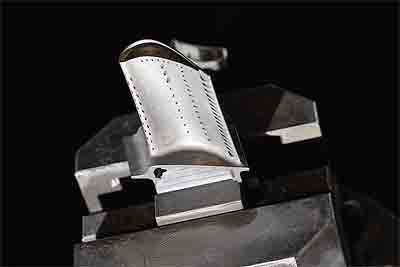 commercial airlines are focusing on driving their fuel costs down and, therefore, investing in newer and more efficient engines and aircraft."
Finally, for the turbocharger market: "The turbocharger market is forecast to grow, because turbochargers are beginning to find a greater application in petrol and even hybrid engines. Their ability to generate more power from a smaller engine, thus having less environmental impact, has been acknowledged by the industry and so their presence is set to be felt more tangibly in the future," he maintains.
Courtesy of the contracts ELE has signed recently, the company anticipates to experience further growth in all of its core markets. Moreover, the company intends on developing its manufacturing capabilities and enlarging its production space. Manesh provides us with more information on ELE's plans for the future: "We are exploring the possibilities of utilising additive manufacturing to simplify the design process. In addition, we are looking at how we can introduce more automation in our factories to optimise some of the processes that are currently being done manually.
"In terms of our upcoming investments, we are now deciding on whether to expand our UK plant by another 3500 square metres or to develop our Slovakian site, instead, in order to accommodate the rise in demand we are seeing. In any case, the capital investment we are considering will help us achieve our vision for the next five years, which is to grow the company substantially. We believe that we will increase our presence in the aerospace market and thus make the business more equally balanced among our three key sectors," he wraps up.
ELE Advanced Technologies
Products: Aerospace components, industrial gas turbine parts, automotive turbocharger components