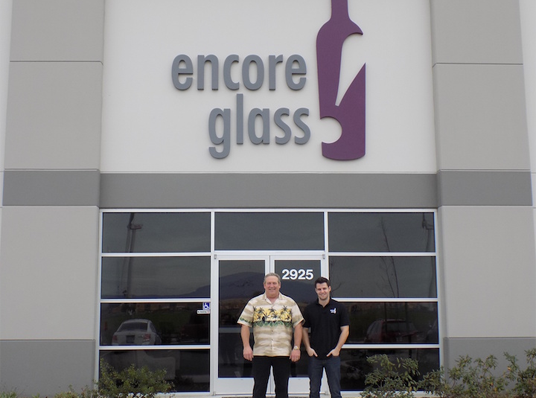 Encore! Glass' biggest ongoing operational challenge is something most companies would be happy to face. "We have had a very good problem, and that is rapid growth," Vice President of Operations Nick First says. "One of our ongoing challenges has been to implement the infrastructure we need to accommodate that growth."
The company distributes high-quality wine bottles that it imports from manufacturers in China and Mexico. "We've been a wine industry specialist for our entire history, but at the end of the day we are more than that – we're a service and glass container specialist," he adds.
Encore! Glass in 2014 moved into a new distribution and assembly facility in Fairfield, Calif., in response to increased business. The company is looking to bring on more sales representatives to handle new accounts, which in turn will likely lead Encore! Glass to seek a larger facility within the next few years.
The majority of the company's customers are wineries in California's Napa Valley region, though that is rapidly changing. "Until recently we focused solely west of the Rocky Mountains," First says. "Today, we are seeing growth out east as well as in Canada – there's a growing wine market near the Great Lakes and a large wine region in British Columbia."
In addition to expanding geographically, the company is preparing to enter new markets including craft beer and spirits. "We will be exploring other glass bottle opportunities in the very near future," he adds. "We're moving outside of doing just wine and looking to grow in different product classes."
The company intends to provide its new customers with the same level of service it has extended to its longtime clients. "We appreciate all of our customers large and small and treat them with the same level of service. That's not something that can be said for our competitors," First says, noting that many of its largest winery customers started as much smaller companies.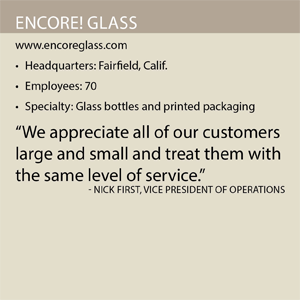 A Complete Package
Encore! Glass provides several different shapes of bottles to its customers, who then fill, label and market them. In addition to bottles, the company offers a wide range of packaging solutions including custom glass molds, custom-printed cartons, decant services and filled wine shippers.
The company ships its bottles in packaging material and cartons that are re-used by wineries to ship finished products to retailers.
"The wine industry is very marketing driven, so the use of high-end printed cartons is very common, even for small lots; this is something very specific to our industry," First says. "We help our customers develop printed cartons; they might come to us with a design idea printed on a napkin, for example. We will put them in touch with people who can do the artwork, have it digitized and then sent to manufacturers for printing."
Encore! Glass' customers look to it to handle all of the logistical concerns related to bottles and packaging. "Our customers are very marketing and artistically focused," First says. "They want us to handle all of the operational and planning functions for them, so when the time comes for them to bottle, everything is ready to go. Our customers want to spend as little time possible thinking about their glass and packaging order."
Maintaining Quality
The majority of the company's bottle and carton orders are fulfilled and drop-shipped from its manufacturers' sites. The company also performs just-in-time order fulfillment for customers that require stricter lead times. This includes wine negociants who source bulk wine and develop private-label brands. "We can have cartons produced and glass packed in those cartons within two weeks," he adds. "We saw a need for our customers to develop and get a brand to market in a short period of time."
Encore Glass' cartons and bottles are made with 99 percent recycled materials and are 100 percent recyclable. Environmental consciousness has always been important to the company, which derives its name from the first three letters of each word of the phrase "environmental container reuse."
The company values its relationships with manufacturers and other vendors just as much as its customers. Manufacturers play a critical role in ensuring the quality of the bottles and cartons it provides. "We pride ourselves on offering the best service and quality to our customers, which we can't do unless we're getting the best from our vendors," First says.
The company takes a hard line on product quality while also helping vendors improve their operations. "We're always mindful of maintaining long-term relationships and look for opportunities for our partners to be successful," he adds.