Few people truly understand just how sophisticated the technology for the foodservice industry has become unless they are familiar with a company like FAST Inc. The Stratford, Conn.-based manufacturer is a pioneer and international leader for timers, and temperature and process controls in foodservice equipment.
Bernard G. Koether II founded FAST Inc. in 1969 with the idea to improve food quality and consistency through the use of technology. He previously worked for American Machine and Foundry's restaurant equipment division, but when the manufacturer decided to exit the foodservice sector, Koether opted to pursue his vision privately.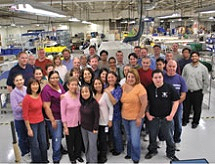 When a popular quick-service restaurant operator asked him how to develop a product that would ensure its French fries were cooked just right from batch to batch, Koether developed FASTRON® – a solid-state cooking computer and FAST's first breakthrough product.
"FASTRON computers are an integral tool in any efficient commercial kitchen," says Mario Frattaroli, vice president of operations. "From grilling, frying and baking to holding and serving, our products effortlessly manage numerous processes."
FAST has more than 32 U.S. and European patents on timers, control processes, communications and networking software. "Renowned for our design ingenuity and manufacturing excellence, FAST's innovative, cost-effective solutions are configurable, customizable and licensable, thus speeding our customers' time to market," he says.
For 'Smart' Kitchens
Kitchen Brains™, FAST's sister company and its quality production management (QPM) product, continues to revolutionize the foodservice industry by enabling operators to more effectively manage food safety, food quality, production and labor. "Kitchen Brains is, essentially, the brains of a smart kitchen," Frattaroli describes. "In effect, the kitchen thinks for itself, constantly monitoring market conditions to improve performance. It has the ability to manage inventories and optimize production for greatest efficiency, saving time and money by producing a better product."
QPM systems can analyze traffic patterns and provide dynamic cooking projections to ensure the exact quantity is cooked at precisely the right time. They advise when to start cooking, monitor hold time and recommend when food items should no longer be sold, assuring freshness. This information is displayed on an easy-to-read, real-time dashboard to update the staff and management on the status of current restaurant operations at a glance.
"By collecting and analyzing data automatically rather than via complex processes, Kitchen Brains provides optimized appliance utilization, saving on labor and freeing the staff to focus more on customers," Frattaroli notes. "Kitchen Brains leverages and monetizes all of the restaurants' human and physical assets to increase profits and revenues, enhance customer loyalty and provide a competitive advantage. Most importantly, it raises the bar on the customer experience."
A Competitive Edge
FAST serves two major sectors – the OEM appliance manufacturers, such as Pitco, Blodgett, Duke, APW and BKI, and quick-service restaurants, including KFC, Arby's, Del Taco and Taco Bell. "The common expectation of quality from both sectors is summarized by value," Frattaroli says. "There is an expectation in execution, reliability, innovation, cost, service and ease of application."
FAST is the only supplier to the foodservice industry that offers a closed-loop control solution canvassing multiple restaurants, he adds. "From a process control on the restaurant appliances to SaaS (software-as-a-service) cloud computing solutions, our products deliver im­proved operational performance, efficiency and food quality, which drive greater profits for our clients," he says.
Another key differentiator for FAST is its commitment to global business. It serves global clients through sales and service offices in England, China and Singapore. "FAST is the only controls manufacturer who is unique on a local level in over 65 countries due to international certifications, complementary partners who understand cultural differences and mature processes at state-of-the-art manufacturing and distribution centers," Frattaroli says.
Monitoring Each Step
FAST is very much a vertically integrated company. "We focus on our core competencies and pragmatically outsource noncore process steps and items," Frattaroli stresses. This is achieved through the use of a sophisticated tracking tool that helps the company track every step of its manufacturing processes.
"We maintain process controls by monitoring the key characteristics of our processes and product," he explains. "We have developed a suite of in-process and final tests that are fully automated, thus preventing escapement and maintaining trending. Our products are uniquely serialized from the start, and this identifier is maintained not only throughout the build cycle, but for as long as the product is in operations in the field."
Continuous Improvement
Given its sporadic demand and quasi customization of product offerings, FAST utilizes quick turn and single-minute exchange of dies (SMED) methodologies and continuously seeks opportunities to reduce set
ups and increase its agility. Two years ago, FAST's average set-up time was approximately 30 minutes. Now, it takes nine to 12 minutes to set up, and it continues to drive down time, Frattaroli says.
"We also have recognized the im­portance of cross-training our manufacturing employees, the heart and muscle of our company," he adds. "This has helped tremendously in our agility and flexibility. We focus on quality, cost, execution, flexibility and innovation, and constantly work on these to improve throughput. And when I say 'we,' I refer to the entire team from operators in the production line to executives."
The executive team at FAST is a strong proponent of the lean and Six Sigma principles. "It has brought us a clear understanding of the potential we have as a company," Frattaroli says. "We are also strong practitioners of partnering with our clients and suppliers. We have certified suppliers overseas and maintain a strong communication channel with them. We invest in innovation to provide our clients with an ever-increasing competitive advantage. We inserted our development engineers at critical design and product qualification steps at our clients' facilities to decrease time to market and to share product knowledge."
Looking forward, FAST intends to continue deploying Kitchen Brains SaaS solutions and develop additional platform controls, such as touch screen lines. In addition, it will continue to expand globally through international sales and sales offices.