Cradled by softness
Hailing from Germany, the innovative box spring beds and mattresses manufacturer – FEY & Co, recently launched its first bed with embedded air purifier technology, while opening a new production plant in Poland to meet ever-increasing customer demands
The development of a new box spring bed to add to its already rich catalogue has occupied FEY & Co's thoughts in the year and a half since we last heard from the family-owned German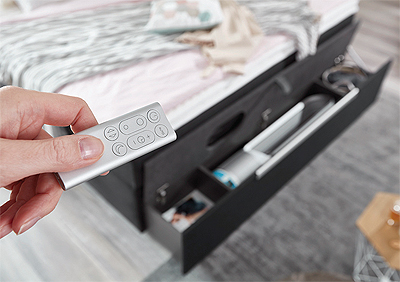 manufacturer, which also specialises in the production of mattresses, slatted frames, and neck support pillows. In 2017, FEY & Co released its new box spring bed equipped with Dyson's HEPA filter purifier technology.The built-in filter marks the release of FEY & Co's first air cleaner bed and is said to remove 99.95 per cent of allergens and pollutants in the bedroom.According to studies, the air in a household can be up to five times more polluted than the outside air, a figure, which raises a strong argument favouring the use of a purifier technology.
Box spring beds are believed to possess lasting advantages over the more conventional beds all of us are familiar with.They offer maximum comfort thanks to their double suspension, and are also highly versatile, due to their wide range of variations of the headboard, feet, and textiles. Put simply, they take care of every sense of the customer.
No FEY & Co range illustrates the former claim better than Sensitive. Made of beech wood, which is a mild, odourless wood with solid density, the bed box is guaranteed longevity, as beech is characterised by its ability to resist weight better than some other types of wood over a longer period of time.The client can also have their bed upholstered either with cotton or linen, with the cotton being more durable and water absorbent, while linen is known for its hygroscopicity and for drying faster than cotton.
One of the most special features of the Sensitive beds is the availability of up to 12,000 single pocket springs in the mattress.The integration of this technology is largely due to the fruitful collaboration between FEY & Co and Leeds-based manufacturer Spinks Springs."It has been a year since we started using the technique," the company's Business Development Manager, Maik Steppat explains."We are really proud of our collaboration with Spinks Springs, because the pocket spring mattress provides greater support and comfort than an open coil mattress.The adoption of this technology has also given us the edge against our competitors here, in Germany. We admit, however, that we are still far from the British standard, which is up to 38,000 single pocket springs in one bed unit,but it is certainly our goal to reach this figure in the future."
FEY & Co has also developed what it calls the Step 5 modular system, in which an ideal bed can be crafted to every customer's individual liking. The Step 5 concept offers a variety of design options and the client can select a combination of headboard, base, mattress, topper, feet, and upholstery fabric to be adapted to their needs.
Indeed, a strong interest in box spring beds has been reported in Germany recently and market researchers predict that these will take up to 50 per cent of market volume in the country by 2020.To accommodate the higher demands in this specific field, FEY & Co opened a new production plant in Poland, in September 2017."Our main goal in the coming months is to fill up the capacity of the factory," Maik comments."We are happy with the progress of this side of the business, so we are aiming to bring more work to the Polish site."
Located in an industrial park in Zielona Góra,in the western part of Poland, the factory was set up in only five months' time, between April and September of last year. Run by Brinkmann Manufaktur – part of the FEY & Co group, the new plant is expected to create a total of 150 jobs when it reaches its full production capacity. It has been estimated that once this happens, approximately 600 beds will be leaving the site every week, the majority of which will be delivered to customers in Germany and Austria.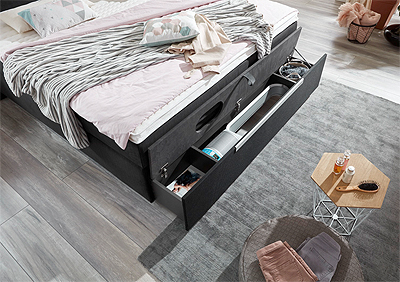 Maik discusses the what the current market conditions feel like for FEY & Co, as we approach the second half of 2018."It has been challenging last 12-18 months, especially for the box spring mattresses division.We are now facing stronger competition in that area, which has slowed down our progress a little bit."
Nevertheless,the forecast remains positive,given the company's keen ambition to make considerable forays into foreign markets. FEY & Co already sells in Austria, the Netherlands, Poland, Belarus, Russia, France, Italy, and the Middle East, and is now targeting as far as, well, the Far East."This year, we are opening two stores in China – in Jiujiang and Changsha, for our recognised brand Bodyscan, with the support of some of our Chinese partners," Maik reveals.
The Bodyscan system was developed as a result of a collaboration between FEY & Co, the Ergonomie-Institut München, and ASM-Steuerungstechnik. It uses modern technology, based on scientific evidence to calculate the perfect fitting custom-made bed system for the customer out of thousands of variants, and consists of a mattress, a slatted frame, and a neck support pillow.
In conclusion, it appears that the landscape of bedroom furniture trade in Germany is undergoing notable transformations. In times of dynamic change, FEY & Co can draw upon the exceptional quality of its beds and mattresses and the positive shift in market trends for its core products in the box spring beds division,in order to remain a stable and trustworthy provider. Led by its vision to establish a tangible presence outside of Germany, the company is starting to penetrate international markets slowly but surely.Watch this space!
FEY & Co Products:
Box spring beds and mattresses, slatted frames, neck support pillows