Making life easier
Gtech spent the better part of 2018 optimising its operations and now the company is ready to pursue further growth with the help of the two new innovative products it is releasing this year
For nearly two decades, Gtech has not compromised with its commitment to creating the best home and lifestyle products possible, in order to bring extra comfort and peace of mind to its customers. Founded by its current CEO Nick Grey in 2001, the designer and manufacturer of cordless home and garden appliances first gained prominence when Nick developed the world's first cordless power sweeper. Since that watershed moment, the company has experienced a meteoric rise, going on to sell over 25 million products in 19 countries.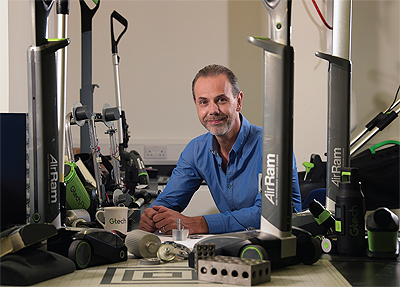 The three key principles followed by Gtech have been in-house performance, customer service, and careful advertising. It is Nick's unflinching tenacity, however, that should be outlined as the leading reason for the company's impressive development over the years. Full of creative ideas, he decided to leave his job as Head of Product Development at a vacuum manufacturer and instead go solo. Initially working from his home in Worcestershire, he started exploring the possibilities of realising his designs and the first product he developed was the aforementioned cordless power sweeper. As it met with unbelievable success, particularly in the US, Nick felt that it was time for him Gtechto launch the Gtech brand in his native UK, having previously focused predominantly on overseas markets. Admittedly, it took some time finding the right formula to penetrate the British market, but there eventually came a time when the vast majority of the business was based in the UK.
This not being the first time Gtech has featured within the pages of Manufacturing Today Europe, it is worth recalling the goal Nick set for the company in early 2017 to once again grow its international appeal. Taking a look at its latest financial results published in the summer of 2018, it is safe to say that Gtech not only hit this particular target big time, but also turned over a record £120.8 million. According to the company, it achieved global sales of £17 million and it merits mentioning that more than half of this international growth came from Taiwan where Gtech sold a total of 40,000 products, most of these being the handheld Multi vacuum cleaners.
The mind-boggling growth achieved by the business in the last five years called for it to slow down a little bit, and this is just what Gtech did in 2018. "Growing from £4 million to £120 million in a relatively short period of time rendered us a bit inefficient," says Nick. The entrepreneur's candid verdict led to a year in which Gtech simplified its structure, reviewed its operations, and reduced unnecessary costs. It would perhaps be most accurate if we described the company's endeavours in the past 12-18 months as taking a step back to take two forward in the coming years.
"Indeed, while our turnover in 2018 was not as high as in previous years, we are now once again ready to grow and we are pleased to say that we have gotten off to a very strong start in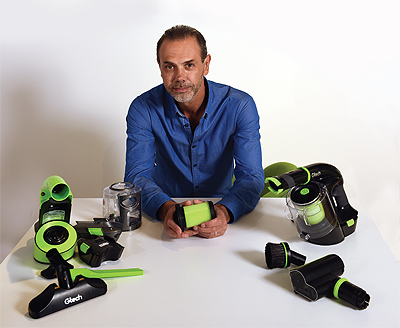 2019," Nick remarks. "As a whole, I think that the outlook for manufacturing in the UK is quite positive. In my opinion, if people here continue to invest in R&D and focus on specialist areas of manufacture, the industry will thrive."
Sharing his observations on the condition of the floorcare market in which Gtech is a leading representative, he feels that it needs to get back to its basics in certain areas. "The way I see it, some of the new products in the market are somewhat ill-conceived. Apparently, certain companies tend to focus on technology only for technology's sake and, as a result, their products seem to break down and go wrong all the time. At Gtech, we are trying to keep away from these tendencies, as we aim to combine high cleaning performance with ease of use, longevity and reliability, and simple clean, low-maintenance technology."
Adhering to this product development philosophy, the company has begun working on two exciting new products. "Firstly, we are looking to create a new type of vacuum cleaner, which, in our estimation, will be the smallest and most compact high-performance cleaner ever developed," Nick reveals joyously.
"We are also planning to launch a robotic massage bed, which has the ambitious task of countering what we see as a sharp decline in the public's mental health and back conditions, and I have to mention that, according to my understanding, the two are linked."
When Nick set out to restructure the company, he noticed that a central data system was required to link Gtech's different teams together. "Some of the divisions were working with their own data, which was not always optimised for cross-departmental performance, hence the need to bring in new infrastructure. In fact, one of our main objectives for 2019 will be to bed it in and optimise our operations," he maintains.
"We are also hoping to get back on the growth path and we deem it perfectly possible to grow by around five per cent over the year. As for our aspirations in the long-term, our vision has not changed since the creation of the company in 2001 – we want to establish Gtech's products as the most reliable, high-performance, easy to use, and easy to maintain vacuum cleaners in the world, thus making life for our customers easier and more enjoyable."
Having grown familiar with the way Nick handles the changing dynamics of Gtech's operation over the multiple conversations we have had with him, there is no doubt that the latest adjustments he has introduced, will turn out to be wise moves that will ensure the business' healthy future. As the company prepares to add new key products to its range, we are sure there will be even more to talk about the next time we catch up with him.
Gtech
Products: Cordless home and garden appliances