In demand
Hi-Force is the fastest growing hydraulic tools manufacturer in the world today
Originally introduced to the market in the late 1980s, the Hi-Force brand enjoyed two decades of moderate success before a management buyout and restructure in the early 2000s which resulted in the Brown family taking control of the business in 2006. "It was at this point in the company's history that I relocated back to the UK as Group Managing Director, following a highly successful 14 year stint of setting up and managing Hi-Force's Middle East operations in Dubai, UAE," says Managing Director Kevin Brown. Since then, the company has witnessed ongoing success and prosperity, with almost 190 per cent growth and a tripled workforce since 2009. Key to this incredible growth is Hi-Force's strategic decision to progress into in-house manufacturing, which meant Hi-Force ended many years of dependency on sub-contractors.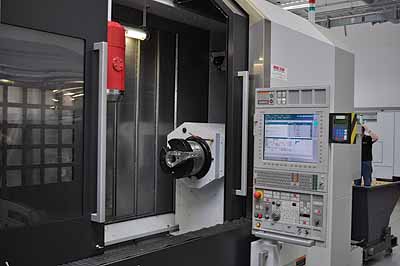 In line with this development, Hi-Force relocated to a brand new, state-of-the-art facility, in 2010, which is in close proximity to its earlier, much smaller, facilities in Daventry, UK. The new site, at over three times the size of the previous facility, has enabled the firm to combine all manufacturing and production facilities under one roof, alongside its sales, marketing, assembly, training, logistics and administration departments. "We manufacture our products from within our headquarters and manufacturing facilities, in Daventry, Northamptonshire, where you can see the complete manufacturing process, from raw material being delivered by our steel and aluminium stock holders, to finished, boxed product being shipped out. Having everything on one huge site, spanning over 120,000 square feet, creates huge efficiency gains. For the business, plus allows our customers to see first-hand exactly how the tools, they buy and use, are manufactured, assembled, tested & certified, finished, packed and despatched," confirms Kevin.
"To further support our business and our customers, 80 per cent of which is exported outside of the UK, we have established Regional Offices & Distribution Centres in Europe, the Middle East, Far East & Africa, with plans in place to open a Regional Office in the Americas, in 2016. We also receive fantastic support from over 100 strategically placed, authorised and appointed distributors, in over 80 countries, which provide the key link between Hi-Force and end users of our products," he adds.
Used in a wide range of industries, including oil and gas, refinery and petrochemical, power generation, mining, railways construction, steel and aluminium plants, aerospace, ship building and ship repair, as well as sugar and paper mills, Hi-Force's hydraulic tools can be relied upon to deliver optimum quality to the most challenging or hazardous of projects. Key to this reliability is the company's commitment to research and development, which also ensures Hi-Force remains at the forefront of high pressure, hydraulic tool technology. "In the last two years we have invested hundreds of thousands of pounds in expanding our technical design and engineering team. We now have five full time design engineers compared to just two at the beginning of 2014, all dedicated to improving product designs and introducing innovative new products to our global customer market," says Kevin. "We also use the very latest design software and currently have several new products in the pipeline that are due for launch in the coming months."
Although it is too early to discuss these upcoming innovations, Hi-Force has recently launched a new range of 700 Bar, maximum working pressure, electric driven hydraulic torque wrench pumps; available with a choice of electric or air driven motor, the pumps are used with the company's hydraulic torque wenches. "The innovation comes primarily from the three speed design and operation of these pumps, compared to commonly used two speed versions that are Forceoffered by our competitors. Not only does the three speed design improve speed of performance, which thus saves operators valuable time, it also enabled Hi-Force to design and manufacture this innovative new product in-house, rather than using sub-contracted and proprietary brand components," highlights Kevin.
He continues: "We achieved three major successes here: a better more efficient and lighter weight pump, with the added success of a lower manufacturing cost. Previously over 90 per cent of the component parts of our pumps were outsourced; now over 50 per cent of the components are manufactured in-house. Sales during the first half of 2015 have far exceeded our expectations and our in-house design engineering team are justifiably proud of the success of this project."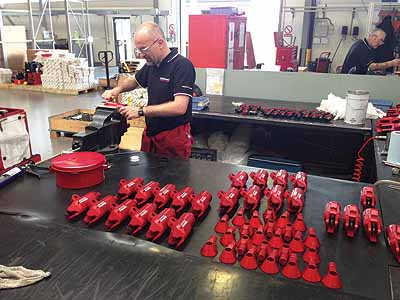 Indeed, playing an integral role in Hi-Force's accomplishments are its highly motivated and hardworking employees, who are all dedicated to supporting the Brown family in achieving all of its core objectives. "I believe our core strengths to be our people and our high quality products, both of which are absolutely vital to ensure we continue to grow and prosper," confirms Kevin. "The last ten years have been absolutely amazing for the business, as it has grown from being a small tools supplier to an innovative and market leading manufacturing business."
As increasingly demanding industries call for higher quality products and Hi-Force remains in demand, it has made massive investments in machinery to ensure customer needs are met or exceeded. "In 2014 we spent over £1 million on three new DMG Mori CNC machines and in 2015 to date over £300,000 has been spent on four Haas CNC machines and associated equipment. In fact, the purchase of a huge new DMG Mori SL603 lathe machine last year proved pivotal in us recently executing a huge order for the Riyadh Metro Project in Saudi Arabia. The order was in excess of $2 million and, from date of order to date of despatch, was completed in less than 14 weeks. Five 40 ft containers full of hydraulic jacking equipment, manufactured in Daventry, are now en-route to Riyadh, Saudi Arabia! This is a very proud achievement for our business and our employees; we could never have met our customers' demanding delivery schedule, without having our own in-house manufacturing capability," enthuses Kevin.
Despite these major successes, Hi-Force has no plans to rest and enjoy the fruits of its labour and instead is looking to further expand in the near future before purchasing more manufacturing machines in 2016. "Whilst we are delighted with the growth we have achieved, since relocating to our current facilities in 2010, the next 12 months will see us re-evaluate our complete manufacturing processes, to better streamline our activities, to further increase efficiency and achieve a key element of our next five year plan," says Kevin. "This is split into four key areas: gain market share, increase brand awareness, best in class ROI and cash flow and to be a respected employer. We are now well into the implementation phase, through a wide variety of initiatives to ensure we achieve our 'must win' battles and fully realise our vision," he concludes.
Hi-Force Ltd
Products: High pressure hydraulic tools
Sites: UK, UAE, Azerbaijan, Italy, Malaysia, the Netherlands, South Africa