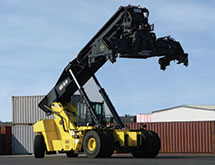 Hoist Liftruck Manufacturing Inc.
When companies – or the federal government – need some heavy lifting done, they look to the U.S.-made products of family owned Hoist Liftruck Manufacturing Inc. With origins dating back to 1980, the company now known as Hoist Liftruck Manufacturing Inc. was established by Marty Flaska from his house in the western suburbs of Chicago. Hoist Liftruck now manufactures a complete line of high-capacity internal combustion and electric forklift trucks for industries and governments worldwide.
The company's recently introduced FR series of lift trucks took 18 months to develop and introduces all the latest technology to a new product category for Hoist. Capable of lifting up to 80,000 pounds, the FR series enables Hoist Liftruck Manufacturing to appeal to a whole new product niche – companies known as riggers and machinery movers that move and set up large equipment. With the recent resurgence of manufacturing since the 2009 recession, machinery moving and rigging is a growing industry.
"That's an industry that we didn't realize the true size and potential of, and obviously isn't far from our core competency," Vice President of Sales John Kern points out. "A lot of machinery movers and riggers are already using our products, and there are very few competitors. We utilized a lot of the same components that we use to build our conventional forklifts, to create another product series that opens up a whole new industry to us, helping us meet our goal of sustained, consistent growth."
Hoist Liftruck manufactures heavy-duty, high-capacity internal combustion and electric lift trucks – ranging in capacity from 15,000 pounds to more than 115,000 pounds – that are used to move products, equipment and large cargo that is heavier than the relatively light loads that are moved by the lift trucks used in warehouses. Hoist's products are used in industries such as automotive, intermodal, construction, forging, mining, steel and aluminum.
Kern is seeing an upsurge in U.S. manufacturing. "Automotive really came back strong, and the trickle-down effect has reinvigorated a lot of the first-tier suppliers supporting the automotive industry," he reports.
Made in America
Approximately 75 percent of each Hoist lift truck is manufactured in the company's 300,000-square-foot plant from raw materials such as tube stock, plate and slit steel of a variety of different gauges and grades. Most of the purchased components – such as engines, transmissions, drive axles, hoses, fittings, hydraulic components, tires, rims and bearings – are sourced within a 150-mile radius of Chicago.
"We build our own steer axles, chassis, masts, carriages, wiring harnesses and cabs," Kern says. To do this, the company uses approximately 18 CNC machining centers, automated plasma cutters, an automated powder-coating booth, an automated wire harness fabricating machine and multiple robotic welders.
"We have additional robotic welders on order, with the first one arriving here within the next month," Kern states. "And we have planned the introduction of more in the next 12 months. When I started with the company in 2005, we only had one CNC machine. So it's been a gradual increase in introducing them over the last nine years."
Because Hoist's lift trucks are manufactured in the United States, they can be received in eight to 10 weeks from the date of order. "We have some of the most competitive lead-times in the world," Kern maintains. Rush orders could be completed in two to three weeks with overtime labor, he estimates.
Growing Business
Achieving high quality control is a never-ending goal for Hoist Liftruck Manufacturing. "There's always something you're constantly monitoring and tweaking, but we've got a very rigorous quality-control program that's abided by in the factory," Kern says.
Both employees doing the work and their department supervisor signs off that all work is free of defects and meets all necessary tolerances. Finished machines are inspected against a checklist, load-tested and signed off on before being released for shipment.
Hoist Liftruck Manufacturing is in the second year of a five-year, $925 million contract with the U.S. Department of Defense for commercial material-handling equipment. "We also have received what amounts to a three-year blanket purchase order from a large auto manufacturer to supply them with high-capacity forklifts," Kern adds. "We are the vendor of choice."
The company is also increasing its international distribution in Latin America, Mexico, Canada and Australia. "We are trying to get more brand awareness and be one of the first names that is thought of when somebody needs to purchase a high-capacity forklift or container-handling equipment, regardless of the country they're located in," Kern states.
He attributes the company's success to its entrepreneurial spirit and employee loyalty, noting that several fathers and their sons work together at the company. "We're a privately owned company that started very small and has always been self-sufficient and figured things out on our own," Kern says. "A lot of our employees are long-tenured employees, so we've got a lot of loyalty. It's kind of grown as a big-family mindset."