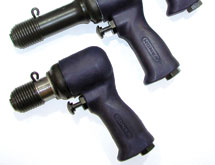 Honsa Ergonomic Technologies Inc.
Many industries such as manufacturing and construction require workers to operate equipment that vibrates during use. With frequent use, pneumatic devices create serious injuries in their operators, such as musculoskeletal and soft tissue disorders of the hands and arms, and hand-arm vibration syndrome. As medical premiums continue to rise and workers' ages increase, companies are realizing they have to reduce their levels of workplace injuries. Using vibration-reducing tools from manufacturers like Honsa Ergonomic Technologies Inc. is one of the best ways to do it.
"I've received my share of bear hugs from 300-pound tool operators because I have taken the pain away from their arms," Vice President Phil Chabot testifies. "Nobody is being hurt anymore, resulting in increased benefits to our customers. Using Honsa tools lowers costs, reduces worker downtime and increases employee retention. It's a win-win."
One example of vibrating equipment is chipping guns, which use a flat blade chisel or a custom design to take imperfections out of gray iron castings such as manhole covers. "When they are made, there's a lot of slag and excess material that needs to be cleaned off to make nice clean edges," Chabot explains. "When your engine block is made and hanging on large assembly line hooks, workers walk up to them and clean off the slag.
"Another example is in engine assembly. The alignment or marriage pins are driven using low-vibration Honsa tools rather than pounding them in by hand using a hammer. Lastly, the new Honsa HTOP38 aerospace riveter and custom tungsten bucking bars provide operators with superior power output and control resulting in increased production rates and the elimination of injuries. Regardless of the industry, Honsa Ergonomic Technologies Inc. has the right tool for the job."
Honsa Ergonomic Technologies Inc. says it manufactures the world's only full line of vibration reduced and ergonomically enhanced percussive and rotary tools for industries including aerospace, metal fabrication, automotive assembly, shipbuilding and repair, agricultural equipment, construction equipment, foundries, and engine and transmission assembly. The U.S. military also uses Honsa tools to reduce injuries in maintenance, repairs and refits.
"We offer 150 different tool alignments and more are coming," Chabot promises. "Our focus is to reduce vibration in pneumatic power tools and to ergonomically improve the work envelope." Honsa has been doing this for more than 25 years using corporate patented technologies.
Handling Vibration
Products from Honsa Ergonomic Technologies Inc. include the VibraDamp ergonomic isolation system for tools such as chipping guns, grinders and aerospace riveting tools, and bucking bars. "We can actually have a competitor's product submitted to us and can modify it to include our product," Chabot asserts. "We can in essence reduce the vibration felt by the operator anywhere from 70 to 90 percent."
Another industry that benefits from Honsa Ergonomic Technologies' products is meat cutting. "Companies will implement these types of products and ergo handles so that their operators do not suffer from carpal tunnel syndrome," Chabot says. "Their medical claims go down, their production rates go up, and as a result, their revenue goes up."
The ergo handles are long-lasting, Chabot maintains. "They do not wear out once you outfit a tool with one of these handles – you're good to go," he asserts. "It's not a consumable – it's more of a lasting accessory that will never wear out. The handles last for years."
The gooseneck handle design resembles a swan's neck. "That is the optimum ergonomic positioning for the wrist," Chabot maintains. The brushed aluminum handle has a layer of polymer or urethane between the handle and the tool's barrel to absorb the vibration of the tool. The handle is completely isolating the operator from the vibration the tool produces.
"The handle assembly is 100 percent isolated by polymers from the percussive or grinding tool, which produces the damaging vibration as a byproduct of doing percussive or grinding work," Chabot explains. "Somewhere on the handle or housing will be a small, round hole that you can see blue through. When you see blue, that is the polymer or urethane that we mold into our products to reduce the vibration. You can always see the blue in it somewhere on the handle. You'll see blue, and that will tell you, 'You're covered, buddy, we're reducing vibration for you.'"
Lean Manufacturing
Chabot says products from Honsa Ergonomic Technologies Inc. are 100-percent made in the United States. The owner, Thomas Honsa, implemented a program more than six years ago to have all of the component parts manufactured locally. If this is not possible, they are manufactured within the United States.
Honsa began concentrating on lean manufacturing 18 months ago. "We reviewed everything, and we actually realized that by doing that, we realized a healthy cost savings," Chabot recalls. "We're getting better products to our customers. We've implemented a quality program that facilitates the inspection of every component part and complete tool so that we are constantly aware of our quality level as well as customer satisfaction."
The company sought new equipment and suppliers when necessary. "We shook up our entire system," Chabot remembers. "It was really a lot of fun. We knew where we were and where we wanted to be. As such, we took a hard look at everything, which allowed us to become a tighter ship and provide better products in a shorter period of time for less money. It was a win-win across the board."
Chabot visited one supplier that had just invested $3.5 million in computer numerically controlled lathes. "It was a big investment on this company's part," Chabot points out.
Export Business
Honsa Ergonomic Technologies Inc.'s products are distributed by approximately 25 companies, among them Rhino Assembly Corp. in Charlotte, N.C. "Rhino is a major distributor for us," Chabot declares. "I brought them onboard over three years ago. I knew the owners and their ability to go to market. Their focus had been the same as mine: high-quality products and superior customer service.
"Their ability to address assembly, percussive tool and ergonomic concerns in the field was exactly what I was looking for to augment our distributor group," Chabot adds. "They've done a wonderful job for us. They've embraced and adopted our ergonomic focus and expanded our markets. It's really positive."
The company's products are distributed throughout North America and exported to Europe, Russia and Australia. "Our export business has grown almost 100-fold in the last three years," Chabot asserts. "As we've been growing out of the recession, the demand for our product has gone through the roof. We are on pace to more than double in size this year."
Chabot sees the manufacturing industries as moving closer to ergonomic concerns, especially OSHA. "OSHA is a strong supporter of our products," Chabot maintains. He anticipates additional growth for Honsa Ergonomic Technologies Inc.
"We'll be much larger than we are now because as insurance prices continue to rise, Honsa's business will grow," Chabot predicts. "When OSHA finally mandates the use of reduced vibration power tools, it will be because so many people are injured, and Honsa Ergonomic Technologies Inc. will be right there with them to provide industry-leading products." mt