Precision guided
Specialised in delivering quality, precision components to customers in the subsea, aerospace and defence industries, HTS Maskinteknikk continues to diversify and evolve to meet changing market demands
Established in Drammen, Norway in 1981 as a precision machining workshop, HTS Maskinteknikk (HTS) has spent more than three decades serving world class customers, both at home and abroad. An early adopter of CNC machinery and computerised measuring machines, the company was perfectly positioned to capitalise on the rapid increase in demand for high precision machining. As it did so, HTS evolved to enable itself to produce ever more refined products, many of which would go on to be supplied to customers within the subsea industry, including taking part in the development and roll-out of hydraulic couplers to leading EPC contractors. During the 1990s, the company further diversified by beginning the production of mechanical components used within the defence and aerospace industries.
Today, HTS' 80 highly skilled employees have access to more than 50 CNC operated machines within the company's 6000 square metre production facility. Combining its human capital, its capacity and cutting-edge technology, HTS is able to deliver flawless quality products with an impressive level of time-to-market speed. As well as being recognised specialists when it comes to critical machining and the welding of advanced materials, the company also offers a range of professional production technology advisory services.
The embracing of technology, particularly the latest methods and innovations, has been key to HTS' success over the years. "Our aim as a business is to always be among the best performers in our field when it comes to production," explains Lars Harvik, HTS' Commercial Director. "In order to do so we have made sure to utilise the finest production tools and techniques, as well as be quick to adopt what we consider to be the next generation of solutions, for example sensor technology, robotisation, and learning about machining combined with 3D-printing through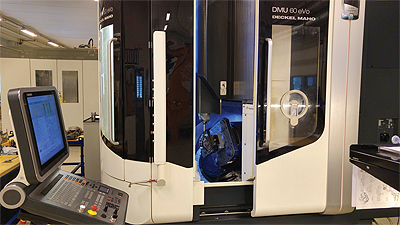 a formula student project this past spring."
Automation is a concept that the company has utilised for a number of years, but is also one that continues to grow in significance when it comes to production processes, particularly as it looks to further increase efficiencies within its facility, and increase production runs and the speed of manufacturing. It is also using such technological advances to respond to specific market demands from its customers. One of the things HTS has invested in is its Robo-Trex system, one that is opening the way for it to achieve the high-volume, unmanned production of small aluminium parts.
HTS also continues to invest capital into increasing its capacity, with a recent order being placed for a new Hermle milling machine, complete with 12 pallet stations. "This will be the first time we have used a Hermle branded machine at our facility, but we are very excited about the possibilities it presents us with," Lars continues. "We anticipate this machine further improving upon our operational efficiencies as we gear up for future market growth."
In the wake of the downturn that took effect within the oil and gas industry in mid-2014, HTS entered into a period of consolidation as it worked hard to transform itself into a leaner, flexible and more reactive business. "We have spent a great deal of time and effort optimising our organisation, making efficiencies across the board in order to become better positioned to take advantage of changing market behaviour," Lars states. "As a result of these actions we are now taking advantage of a steady increase in orders that we believe better suit the more streamlined organisation that we are today. This includes an increase in interest when it comes to our expertise in welding within the small-bore segment. Our ability to assure a close to zero defect capability, as well as the way in which we handle the whole process from machining to welding and delivery, has helped HTS to generate more machining work over time."
Other efforts by the company to generate new opportunities at a time when orders from oil and gas companies have been harder to come by include embarking on a number of extensive travelling programmes, during which it has worked hard to network with prospective customers and follow up on promising leads. The result has been new contracts with an increasingly eclectic mix of customers, one of the most recent being CERN, the European Organisation for Nuclear Research, one of the world's largest and most respected centres for scientific research.
"Another move that we have looked to make in recent months is to enter into the production of aviation parts," Lars adds. "Until now this has not fallen within our traditional scope of work, however we have seen an increase in enquiries of late and considering our track record when it comes to serving aerospace customers we see this as a good opportunity for HTS. We are currently the subject of an extensive audit programme ahead of obtaining AS-9100 certification, which we fully expect to obtain in due course, which will open up an exciting new branch of opportunities for HTS."
Showing no signs of slowing down when it comes to its travelling and networking schedule, HTS' next stop, at the time of writing, was the 2017 Defence and Security Equipment International (DSEI) event in September. The world's leading defence and security event, emanating from the ExCel in London, it brings together the global defence and security sector to innovate and share knowledge. It is Lars' hope that HTS' presence here will again result in new orders and new long-term customer relationships.
"Our expectation for the months to come is for market conditions to continue to gradually improve," Lars concludes. "We believe that the signs are there that activity amongst our customers continues to pick up, however it is always hard to predict exactly where growth will come from when it comes to different market segments, therefore it is imperative that we have equal focus across the segments we target. By doing so we will be able to capitalise on opportunities as they arise, further stabilising HTS in the years to come."
HTS Maskinteknikk
Products: Mechanical precision components