Green machines
With more than 325 years of manufacturing experience the Husqvarna Group represents a leading name in the development of outdoor power products that embodies a rich history of quality and innovation
The fascinating story of the Husqvarna Group dates back to 1689, when the company was established as a foundry within Huskvarna in Southern Sweden to support the country's then growing weapons production industry. The venture proved to be highly successful, with the last shotgun to be manufactured at the site being produced in 1989. Over the centuries,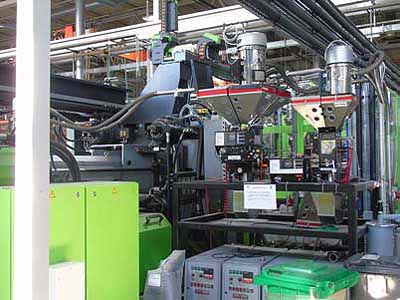 Husqvarna Group has evolved to produce a large range of different products, including sewing machines, bicycles, motorcycles and kitchen equipment. The company was acquired by Electrolux in 1978, during which time the chief Husqvarna Group outdoor product range was comprised of chainsaws and associated equipment.
Husqvarna Group is today regarded as one of the world's premier manufacturers of outdoor power products and solutions, with lines that include lawnmowers, grass trimmers, chainsaws and leaf blowers. The business was spun-off by Electrolux during 2006 and has since operated as a strong industry presence within the global market in its own right. As the company has continued to grow it has further acquired several strong brands while developing its product offering. In 2007, Husqvarna purchased the German gardening tool company, Gardena, which established the Group as the European leader in garden watering products. The Husqvarna Group today operates across four divisions with products and solutions that are sold under brands including Husqvarna, Gardena, McCulloch, Poulan Pro, Weed Eater, Flymo, Zenoah and Diamant Boart via dealers and retailers to customers and professional clients in more than 100 countries globally.
The company's presence around the world is supported by a team of more than 13,000 employees that operate across a network within more than 40 countries. This global strength and leading reputation allowed Husqvarna Group to achieve healthy net sales in 2016 amounting to SEK 36 billion (€3.70 billion), while the business has also continued to drive new product integration and manufacturing practices. Husqvarna UK for example, was previously featured in Manufacturing Today Europe in December 2015, during which time Manufacturing Director, Caraline Robinson discussed the growing market demand for robotic lawnmowers and the company's leading positon in this area.
In fact, Husqvarna Group was proud to announce during April 2017 that the company had produced its one millionth robotic lawnmower – representing a significant milestone for both the Group and for British manufacturing. "This impressive achievement has mainly been driven by the design of our products, which is the result of around 20 years of continued evolution. A lot of the success of our designs comes from the development of the product software, which governs how the units actually function. Husqvarna robotic lawn mowers tend to perform very well when compared to other solutions on the market," Caraline says. "We currently export around 98 per cent of the robotic mowers that we manufacture, with products that are sold into Europe and around the world. There is currently a lot of competition within the robotics sector and as market leaders in this area, we are fortunate to have a high level of market share in the majority of the regions in which we are represented. This is very important to us and we are heavily focused on maintaining this position."
To ensure that the business is able to continue to provide world-class and innovative roboticproducts, Husqvarna Group is committed to an on-going programme of investment into its
manufacturing facilities. This will enable the business to further increase its manufacturing efficiencies, while accommodating thedevelopment of new product lines to be introduced into the market during the near future. "Since December 2015, we have seen a lot of investment into new equipment in both the company's moulding area, where we produce plastic injection-moulded components, as well as to our assembly area. We have introduced two new twin-shot moulding machines and are using the larger of these to produce plastic wheel and tyre components. In terms of sustainability the new machines also use 50 per cent less electricity than the equipment that was previously employed, which is a further important consideration for the business," Caraline explains.
"We are also now managing some of the production capacity that has been created in the Czech Republic and we are extending some of the production capacity that we have for robotics into one of the existing factories in the town of Vrbno," she continues. "This will enable the Vrbno plant to begin to build robotic products and will allow our plant within the UK to focus on the production and launch of a new lawnmower model that is currently in development."
To enable the business to continue to innovate as a leading player within a highly competitive market, Husqvarna Group is also committed to the development of its workforce to enable the company to promote efficient manufacturing processes through the introduction of Industry 4.0 technology and greater levels of automation. "We have recently brought some new members of staff into the business to help develop the technical structure for our journey into Industry 4.0. Our business is constantly evolving and our need to have skilled technical people around us means we are always looking to recruit talented team members to fill positions that become available within the company," Caraline concludes. "Currently we have opportunities in the field of product support and in key project management positions, and we are in the process of recruiting engineers to help develop moulding and assembly automation, as well as maintenance technicians to support the asset care and development of all production equipment. We also have an operational excellence initiative that is being kicked-off across several sites throughout the Husqvarna Group, within which divisions will work together to share best practice in terms of technology and manufacturing to grow the business well into the future."
Husqvarna Group
Products: Outdoor power products