HydraForce Hydraulics Ltd.
Robust design
With clients operating within the construction, agriculture, material handling, aerial work platform and mining sectors, HydraForce Hydraulics Ltd. represents a leading supplier of hydraulic cartridge valves and custom manifold control systems
Founded in the UK during 1988, HydraForce Hydraulics Ltd. (HydraForce) operates as a wholly owned subsidiary of HydraForce Inc, which was previously incorporated in Chicago, Illinois during 1985. Since its formation HydraForce in the UK has grown from its base in the Aston area of Birmingham into a £56 million business that employs around 360 people at its 120,000 sq ft production facility. This site represents the company's fourth new location during its history and is the result of an investment valued at £10 million. The facility started production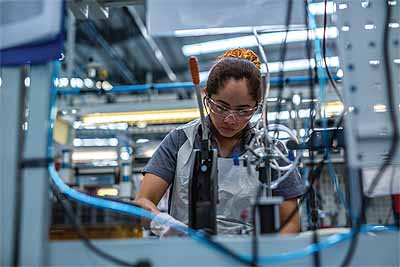 during August 2015, after the entire company was moved to the location in just three weeks.
"The new manufacturing site was needed firstly to give the capacity required to support a strategic initiative to significantly increase our market share in Europe. Secondly, it was needed to increase the amount of product manufactured in the UK to sell into the markets we serve. This allows us to reduce customer lead times, provide redundancy and a natural hedge against currency fluctuations. Thirdly it enables us to bring additional processes in-house, such as CNC block machining and grinding, as well as an applications laboratory for close market applications support," reveals Managing Director, Peter MacDonald. "Although we looked at alternative locations, including mainland Europe the need to retain our existing skilled workforce drove the decision to build at the Advanced Manufacturing Hub in Aston, Birmingham. A £1.8 million grant from the Regional Growth Fund (RGF) was still required to help our US Board make the final decision on what was the single largest investment they had ever made."
HydraForce manufacturers hydraulic cartridge valves and custom manifold control systems, which are sold to manufacturers of off highway vehicles in the construction, agriculture, material handling, aerial work platform and mining industries. Eighty per cent of the products made in the UK are sold into the export market to clients within Europe, India and South Africa, while the remaining 20 per cent is sold in the UK. The company's clients comprise some of the biggest names in equipment manufacture, including John Deere, Caterpillar, JCB, AGCO, Volvo, CNH (Case New Holland), Terrex, Genie, JLG and NACCO. Throughout the business HydraForce Inc also operates several sites globally, including two manufacturing sites and its worldwide innovation centre in the US, a further manufacturing centre in China and two global systems integrators (GSI) located in India and Brazil, which gives the entire company, including HydraForce in the UK a truly global presence.
The company's proven track record, experience and global presence have established HydraForce as a trusted hydraulic equipment and manifold manufacturer. During May 2016 for example, the business was named as the Manufacturer of the Year at the 'Made in the Midlands' awards night. The award recognised HydraForce for its excellence in production as well as its recent move into its manufacturing facility. "It is an honour to be recognised for our achievements within manufacturing and a pleasing reward for all our employees' hard work and dedication. The strengths of HydraForce stem the breadth of the company's product range and the innovative way our sales and applications teams package these to offer a technically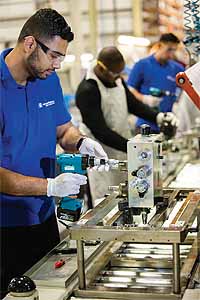 superior solution to our customers," Peter explains. "This is backed up by exceptional quality, delivery, customer focus and global footprint, which is supported by our owners, who fiercely wish to remain an independent and agile company that is not burdened by corporate bureaucracy."
Even though the global market remains depressed across several industry sectors, HydraForce has continued to grow despite these challenges. During the coming years the company will look to build on its current success to establish new business with both new and existing clients. "Current growth in the business is derived from winning new business with no help from the present economy. We are extremely well placed to grow in the future because of the investments we have made ahead of the curve in talent, capacity and innovation. Also our global footprint allows us to supply product wherever in the world the customer wants to make their machines," Peter concludes. "Our turnover is projected to almost double by 2020 from existing customers alone. In the UK we will be focused, over the next 12 months, on transferring more production to the Birmingham plant and sourcing more components locally. Further ahead we will be investing in the new processes, automation and product innovation that is required to keeps us as the market leader in our industry."
HydraForce Hydraulics Ltd.
Products: Leading supplier of hydraulic cartridge valves and custom manifold control systems