Sitting comfortably
Bringing together the combined skills of the I M Kelly Group's rail and aerospace businesses, I M Kelly R&A is one of the UK's leading designers and manufacturers of seating solutions and interior trim within said industries
Northamptonshire's connection to the leather industry dates as far back at the 16th century, when the first leather and shoe makers emerged in the county. This link continues to exist to this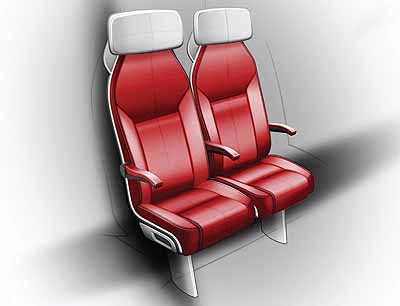 day with the region being home to the I M Kelly Group. First established as I M Kelly Automotive in 1975, the group's facilities, which now include a third production site in Coventry in the West Midlands, have become centres of excellence for interior leather and fabric trims in the UK. Applying the latest management and system tools, together with highly developed leathercraft skills, the group produces consistently high quality components for not only the automotive industry, where its customers include the likes of Aston Martin, Bentley and Jaguar Land Rover, but also the aerospace and rail markets.
"The latter markets are served by I M Kelly R&A, a separate limited company that was created following the amalgamation of the group's rail and aerospace businesses in late 2016," explains I M Kelly R&A Commercial and Engineering Director, Keith Griffiths. "In the time since, the new company has experienced considerable growth, securing sizeable new contracts to supply interiors to customers within both sectors, increasing revenue by nearly 100 per cent in the space of around 12 months, which is quite the achievement."
The I M Kelly name has been recognised within the rail industry since 1990, when I M Kelly Rail caught its attention by achieving BS EN ISO 9001 quality approval on its first attempt. Ever since, the group has supplied major train owners, builders and operators in the UK with both 'off the shelf ' and bespoke train seating solutions for driver and passenger environments. The group's aerospace division, I M Kelly Aerospace, was established later, in 2008, following a successful premium economy seat build programme. In the short time since it has become a key supplier to a number of OEM seat manufacturers and Tier 2 suppliers to major airlines, delivering a portfolio of high quality products across a range of aircraft interior components and seating, from Super First Class and First Class Pods to Business, Premium and Economy cabins.
"The two businesses, rail and aerospace, always had a lot of synergy which made the decision to amalgamate the two a sensible one," Keith continues. "At the time, it was also felt that the rail premises had become somewhat outdated and we wanted to utilise the combining of the two businesses to move our rail operations into a more modern setting. The high level of commonality between our rail and aerospace operations, particularly when it comes to the cutting and sewing processes, and the machinery used, has allowed us to make significant cost savings by bringing the two together, which gives the company a very strong financial footing with which to move forward."
What the aforementioned savings have also allowed I M Kelly R&A to do is to invest considerable capital in new machinery, most notably in the form of CNC cutting equipment and a high frequency laminating process for seat covers. "Developing and investing in the high frequency laminating process has increased output and this has helped in attracting a number of major customers over the years," Keith states. "We have invested in the region of £500,000 this year alone in new machinery and equipment, and this has resulted in not only new contracts, but also an increase in overseas awareness of the brand from potential customers."
It is the hope of the company that this increased awareness from potential export markets will result in new customers coming forward to recognised I M Kelly R&A's well earnt reputation for quality and flexibility. "At present, only two per cent of our business is export based, but this is an area that we are working very hard on growing," Keith adds. "On the aerospace side, we have recently been awarded new contracts to supply customers in the United States, while on the rail front we have been supplying driver seats into the Indian market for some time and are also looking to develop further into the European market in the months ahead."
As well as continuing with its long-held strategy of developing new products and solutions for its customers, I M Kelly R&A has made a concerted effort to diversify its offering in order to capitalise on new market opportunities. One such area involves the refurbishment of seats, particularly for customers in the rail sector, where the company brings said seats onto site, strips them down, cleans, repaints, rebuilds them, fits new covers, before then shipping them back to the customer.
"The refurbishment of seats is just one of the ways in which we are striving to grow the business further still, while at the same time working hard to establish I M Kelly R&A's reputation for quality, innovative products amongst more and more customers," Keith concludes. "It is this approach that we believe will help consolidate our position at the top end of the rail and aerospace sectors for many years to come."
I M Kelly R&A
Products: Bespoke interior trims