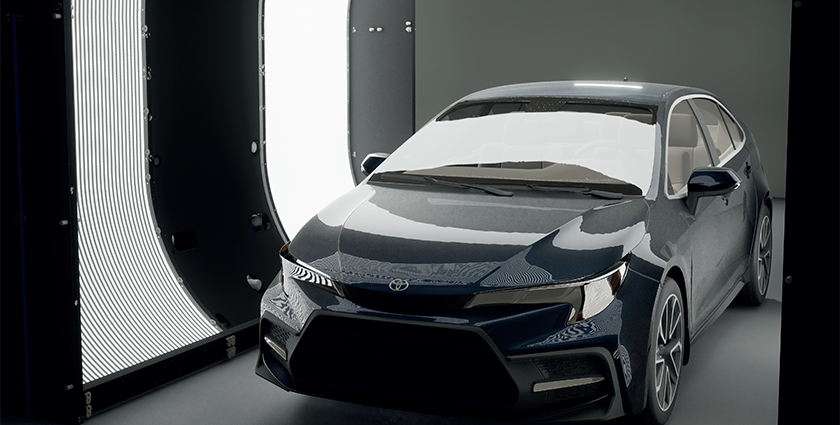 The UK automotive industry is driving significant digital transformation with advanced technologies and as a result, demands appropriate equipment for greater facilitation. From production lines to vehicle inspection booths, different areas are utilizing various technologies, including AI, machine learning, sensors, and computer vision. Automotive leaders such as Toyota and Jaguar Land Rover have already automated their vehicle inspection processes leveraging ultra-high-resolution imagery within their quality checks. To support this automation, it is highly important to also strengthen the peripheral technologies, with imaging equipment that can take these processes to the next level.
In order for technologies like AI and machine learning to deliver optimum results, they must be provided with quality data. Similarly, within an automated vehicle inspection solution, the image quality will determine the accuracy of the analysis results. Standard camera technology is not capable of providing the high resolution and spontaneous adjustment required for automotive vehicle inspections. In industry 4.0, OEM factories work with fast turnaround times and require live damage detection within seconds. Therefore, due to the long adjustment and processing times, industrial vision cameras cannot be relied upon by OEMs, for the minor details they need to capture within this short time. Relying on outdated camera technology can not only slow the entire inspection process but can also put OEMs at risk of missing out on minor damage due to low-quality images.
This is where the role of advanced cameras comes into the picture, as their superior technology can produce ultra-high-resolution images – automatically self-adjusting according to the light level – within seconds. The breadth of the imagery ensures a comprehensive and accurate recording of the vehicle's full exterior condition, and the extreme resolution allows OEMs to identify the smallest of defects. The current automotive supply chain landscape demands faster processing, and smart cameras can perform the tasks in the shortest possible time; as such, increased accuracy within less time will positively impact the overall quality assurance and customer experience.
The significance of using appropriate camera technology
AI and computer vision can only process defects or details they are able to see within the data. In other words, image quality plays an indispensable role in allowing these technologies to drive accurate results. Usually, OEMs rely on industrial vision cameras that produce five-megapixel images, which can restrict manufacturers from getting detailed information. Moreover, OEMs must detect minor damages during the vehicle inspection to enhance quality and deliver greater customer satisfaction. By using optimal quality cameras that can produce high-quality images, they can detect these minor defects before the vehicle leaves the plant.
What's more, using high-quality cameras not only facilitates the improved image quality but also allows OEMs to have greater control over the remote adjustment of the cameras. The appropriate camera technology can enable a smoother and more accurate scanning of the vehicles, irrespective of the color of the car. This results in increased accuracy in AI-led damage detection.
How mirrorless DSLRs can enhance the overall quality
Mirrorless DSLR cameras that capture ultra-high-resolution, can produce results which provide over 12 times more clarity than standard 5-megapixel industrial vision cameras. By providing the increased megapixel resolution, smart cameras can increase the chances of detecting minor defects.
These mirrorless DSLR cameras increase reliability and optimize performance, including transfer speed. Quality and consistency are the enablers of AI success in automated vehicle inspection. For instance, a high-quality camera from Sony that produces a 61-megapixel image allows vehicle inspection companies, like DeGould, to capture the necessary details and deliver the best results for OEMs. A full-frame sensor combined with an imaging engine delivers high-speed processing and unprecedented resolution. On top of that, large format image sensors are able to obtain exceptional low noise images, with relatively little external illumination being necessary. Last but not least, the advanced software development kit supports these cameras with interfacing to the inspection system and allows OEMs to perform faster analysis.
OEMs that begin to take advantage of ultra-high-resolution imagery within their automated vehicle inspection today will gain a competitive advantage within industry 4.0 by boosting their product quality. There is no denying that the use of technology to automate operations will only increase – therefore preparing for the upcoming automated era is essential for automakers. Automotive OEMs must combine disruptive technologies with appropriate equipment to avoid being left behind in the rapidly growing industry.
For a list of the sources used in this article, please contact the editor.
Richard Owen
Richard Owen is a Computer Vision Engineer at DeGould, a UK-based leading provider of AI technology for automotive vehicle imaging and inspection. The company works with leading global vehicle manufacturers to improve quality assurance and add value at every stage of the vehicle supply chain and has been providing solutions to some exciting automotive leaders including Toyota, Jaguar, Mustang, Land Rover, and a lot more.
https://degould.com