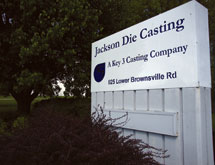 More than 800 miles separate the two states Key 3 Casting LLC operates in, but when it comes to continuous improvement, the manufacturer's facilities are definitely on the same page.
"I'm very proud of the group we work with – the employees in each of our three plants work very together and share knowledge," says Matt Hanken, president of the company's aluminum group. "A lot of companies talk about having a team environment, and this is really a case where you can see that in the outcome.
"We've broken the walls between our facilities down and there's not really an 'us and them' attitude."
Key 3 Casting LLC consists of three facilities:
Jackson Die Casting in Jackson, Tenn., a manufacturer of high-pressure aluminum die castings with two plants totaling 140,000 square feet;
Minneapolis Die Casting in Minneapolis, a 110,000-square-foot aluminum die casting facility; and
Northern Foundry, a Hibbing, Minn.-based facility specializing in casting grey and ductile iron.
Key 3 Casting formed in November 2009 after its three operating units were purchased from their previous holding company during a re-organization. Key 3 Casting's Fort Worth, Texas-based ownership and management team – led by CEO Bob Tamburrino – was backed in the purchased by Q Investments, a Fort Worth-based investment firm.
Tamburrino characterizes the formation of Key 3 Casting as a fresh start for all three of its facilities. Customer relationships – and many long-tenured employees – were retained from the former owners, and several new employees and assets were brought in, he says.
The company produces aluminum and iron castings for a number of industries including the automotive, defense, aerospace, lighting and watercraft markets.
Facility Capabilities
Key 3's Jackson Die Casting operation is made up of two facilities – a 65,000-square-foot plant and a 75,000-square-foot building. Both buildings are equipped with automated runner return systems in their melt operation, allowing for efficient material handling. Other capabilities include spraying, extracting, machining, leak testing, painting, tumble deburring, washing, assembly and bead blasting, Vice President Jimmy Tapp says.
Jackson Die Casting produces 40 different parts on die casting machines ranging in size from 600 to 1,600 tons. The facility is capable of producing parts using multiple alloys. "We have broad capabilities to meet our customers' needs," Tapp says.
One example of Jackson Die Casting's responsiveness came in 2012, when an automotive client asked it to take over tooling from another supplier. "Most of our parts end up in cars, and given the tooling and start-up investment required, the OEM's don't want more than one supplier of a unique part," Tamburrino says. "If, when another supplier fails, you can help out a customer as we've been able to do, that earns you a lot of credibility with those customers."
The Minneapolis Die Casting operation consists of one 110,000-square-foot facility devoted to both the die casting process as well as secondary machining. The die cast department includes nine machines ranging in size from 400 to 1,000 tons. Each machine is equipped with sprayer, extractor and ladle automation. The facility produces 40 to 50 parts, Hanken says.
Northern Foundry is a 60,000-square-foot facility on a 12-acre site. The plant operates a 230A Disamatic machine, purchased in 2005, producing grey and ductile iron castings on 250 different sets of tooling. Value-added processes include coatings, machining, assembly, X-ray and NDT testing, says Northern Foundry President Roger Rask.
Positive Philosophies
In addition to performing similar manufacturing functions, all three plants are unified by a company philosophy stressing continuous improvement. "Safety and quality are at the top of the list for us when it comes to this philosophy, but we also relate it to customer service and the work life of our employees," Tamburrino says.
All three facilities practice lean manufacturing and Six Sigma methodologies and are TS 16949, ISO 9000, ITAR and  ISO14001 certified. Quality is preserved through in-line and laboratory testing. Key 3 Casting's facilities also apply an Advance Product Quality Planning  approach to quality engineering.
"We have a very demanding group of customers, some of whom require Six Sigma levels of quality," Hanken says.
Each facility has teams dedicated to continuous improvement as well as safety. All three facilities regularly share results and coordinate safety and quality efforts, and each facility has its own set of safety incentives. The Jackson facility, for instance, uses a NASCAR-themed incentive program, while the Hibbing facility gives $2 bills to employees following an injury free month.
"I'm proud that our management team has fully embraced our continuous improvement philosophy in everything they do," Tamburrino says.
The safety program is just one component of Key 3 Casting's overall focus on employee wellness. Each facility also offers programs geared at helping workers lose weight or quit smoking, and all shifts begin with stretching exercises.
Key 3 employees are also involved with a number of community programs and activities, and each facility is a member of local chambers of commerce.
Supplier Support
Internal relationships are not the only ones actively encouraged by the company. Key 3 Casting's suppliers and vendors play a large role in its success, Hanken notes.
"Our customers' schedules can fluctuate, and our suppliers understand that and work with us to coordinate through changes in demand," he adds. "Our suppliers work on a quick turnaround so we can get our products to our customers; they are a great supporter to us."
Suppliers include die casting lubricant manufacturer G.W. SMITH & SONS, Inc. "G.W. SMITH & SONS, Inc. is dedicated to quality, service and continuous improvement," the company says. "Our professional on-site technical service works closely with Key 3 Casting's Minneapolis and Jackson personnel to develop products that fit their core casting ranges and help reduce cost."
Key 3 Castings' suppliers also include Excel, a custom mold builder specializing in die cast and injection plastic molds. "We rely on our CNC automated equipment for better efficiency," according to the company.