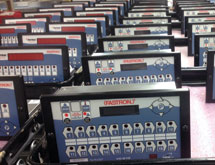 Consistency and quality are everything in the food service industry. Even one undercooked or overcooked hamburger, fry or piece of chicken could make a huge difference when it comes to customer satisfaction and a restaurant's overall reputation.
The repetitious nature of cooking processes, particularly in the fast food world, makes consistency and quality all the more important. Kitchen Brains is dedicated to making these processes  easy and foolproof. It is a merger of manufacturer Food Automation Service Technologies (FAST) Inc., and foodservice enterprise resource planning solution software-as-a-service provider SCK Direct.
The Stratford, Conn.-based company is a pioneer and international leader for timers, temperature controls and process controls found in foodservice equipment. Its origins date to 1969 when a popular quick-service restaurant operator approached FAST Inc. founder Bernard Koether about developing a product to ensure French fries were properly cooked every time.
Kitchen Brains offers a full line of timers, temperature controls and process controllers for the foodservice, hospitality and commercial appliance industry. "We've thrived because we're always introducing new technology and new solutions that make restaurants more efficient and profitable," says Reza Khani, senior vice president and general manager.
The company's products manage processes including chilling, grilling, frying, baking, holding and serving. Major customers include OEM appliance manufacturers such as Manitowoc, Middleby and Standex companies and quick-service restaurants such as KFC and Taco Bell.
Kitchen Brains holds more than 32 patents in the United States, most of which include coverage in Europe and Asia as well.
"We are world-recognized in the fast food industry," Khani says.
Big Brains
The company's main focus is deploying its patented quality production management (QPM) system, which enables operators to effectively manage food safety, food quality, production and labor. The system enables kitchens to "think for themselves" by monitoring market conditions, managing inventory and optimizing production.
The QPM system advises operators when to start cooking, monitors hold times, and advises when food items should no longer be sold, assuring freshness. This information is displayed on an easy-to-read, real-time dashboard to update the staff and management on the status of current restaurant operations at a glance.
"One of the biggest challenges for restaurant managers is to know how much to cook and how much product to have on hand for how long," Khani says. "This system looks at factors such as how much each cash register is selling, how much each cooking appliance is producing and how much is in their holding cabinet, and is able to perform forecasting based on which day of the week or time of the day it is.
"Our systems make sure the customer constantly gets great quality fresh food, so they will come again."
A Lean Approach
Kitchen Brains considers one of its core competencies to be producing electronics, so it focuses its manufacturing efforts on component assembly rather than building the entire appliance its products are housed in. Sheet metal fabrication is outsourced to a company located two blocks away from its facility.
The company invests heavily in automation to assist its manufacturing processes, which include assembling circuit boards using surface mount technology.
The company works with more than 500 SKUs and components sourced from suppliers. "Our business is low volume, high mix," Khani says. "We change over more than 10 times a day and run a two-shift operation." Kitchen Brains' manufacturing facility is organized into both cell configurations as well as inline processes.
The company practices just-in-time and kanban approaches to inventory, working closely with its suppliers to make sure it has the components it needs before production.
Manufacturing quality is maintained through the use of a tracking tool that helps the company track every step of the process. The company utilizes fully automated in-process and final testing procedures, as well. "Every person here is responsible for their own part of the operation, and we look at every variable that could create a defect," he adds.
Kitchen Brains takes an analytical approach to problem solving, using the 8D root cause analysis process. "People can be quick to jump right to solutions without understanding the problem," Khani says.
The company is a strong proponent of lean and Six Sigma manufacturing principles, and these have become a central part of its internal culture. "Lean is more than a process here," he adds. "It's not just one training session or a six-month program, it's something we do every day."
All employees are trained continually on lean processes, a commitment Khani says has led not just to reductions of movement but significant quality enhancements and cost savings.
'One Big Family'
Although lean, automation and quality control are major aspects of Kitchen Brains, Khani cites another resource as the most critical to its operations.
"I'm most proud of the people we have here," he says. "We have up-to-date technology and an excellent facility, and those are important, but nothing is more important through our people."