Little Giant Ladder Systems
When Hal Wing – the chairman of Little Giant Ladder Systems – discovered the original concept behind the Little Giant ladder, he knew that he found a great product. In 1972, Wing negotiated the rights for production of what was the precursor to the Little Giant. Soon after, Wing negotiated the rights to manufacture and make improvements to the ladder, transforming it into what it is today.
"Hal started manufacturing in his carport," CEO Ryan Moss says. "He did his own sales and marketing at the time – he was the sole proprietor."
If the name Little Giant Ladders appears familiar, it's probably be­cause of its infomercial, which recently ended its four-year run of demonstrating how one ladder could be used in 24 different positions. Be­sides a conventional stepladder, it can transform to be used as a scaffolding system, an A-frame stepladder that balances on uneven surfaces, and an extension ladder.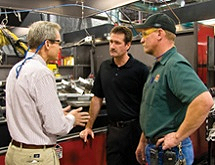 Customers of Little Giant Ladders extend to several industries. The company manufactures ladders for all branches of the military, NASA and Dish Network, as well as being popular with contractors and homeowners, Moss explains. "It's difficult to pin down our customer base to a specific segment," he says. "We manufacture across a breadth of customers."
Dynamic Sales
Moss credits the company's sales team for its initiative in bringing Little Giant Ladder Systems to all segments of the population. He says there are about 160 employees in the sales department, each member having a specific role. The roles differ in focus between direct sales to servicing large corporate retailers and trade shows, and contract sales such as the military.
Its military sales associates, for example, display products at military trade shows and visit bases. Moss explains that the company assigns salesmen to address specific branches of the government.
Even though large retail chains generate the largest portion of sales, Moss points out that trade shows are extremely important and are what built the brand and the company from the beginning.
"Our products have to be demonstrated," he explains. "It's simply the best way to help people understand how much Little Giant products really can do. This method of marketing allows us to connect our customers with our best people. You can't put a value on that interaction."
Little Giant Ladder Systems exhibits at approximately 400 trade shows per year. Sales associates often travel to industry-specific trade shows, such as the home and garden market, where they have training in the industry. Others perform road shows, doing demonstrations for companies or at retailers such as Sam's Club or Costco. The company says these partnerships have helped it weather the economic storm, and it now finds itself poised to capitalize on its core strengths.
"I have to give credit to the people that make it all happen," Moss states. "We have an excellent sales team, and our manufacturing team is simply the best we've ever had. Some of our best people have built ladders for so long they have literally become experts – or artisans – in their craft. They're fast, efficient, and the quality of our product is unmatched.
"That's the great advantage of assembling our ladders here in the U.S.," he continues. "We can turn a project or a special order for our partners in mere days, and we don't have to sacrifice quality or profitability."
Revolutionizing the Market
Little Giant Ladders has no plans to rest on its laurels and will continue to unveil new products. The company soon will release the SelectStep, a multiposition, A-frame stepladder that stores at five feet and adjusts to heights of six, seven and eight feet. SelectStep works in a staircase and will adjust to a 90-degree angle.
A lighter-weight version of the Little Giant, called the RevolutionXE, also will be introduced to the market soon. This product was originally designed for the military and is made of a special alloy produced through Alcoa aluminum that is typically used for fighter jets.
Moss explains that a few years ago, the company created an innovation and design team when it saw there was a unique opportunity to make a difference in the market. The team is just beginning to introduce new products; Moss predicts that Select-Step will "revolutionize the stepladder market."
The new ladders place a focus on ensuring comfortable working conditions, he explains. For example, the SelectStep features a large platform step to stand on and an AirDeck handrail and tool tray accessory, which was designed to make work more comfortable and place less stress on the user.
"When we are not at ease at the top of a ladder; we are shaky and we tend to overreact, and that is the reason why many ladder accidents happen," Moss says. "We look at the reasons for accidents, take them into account and find opportunities to create better ladder systems."