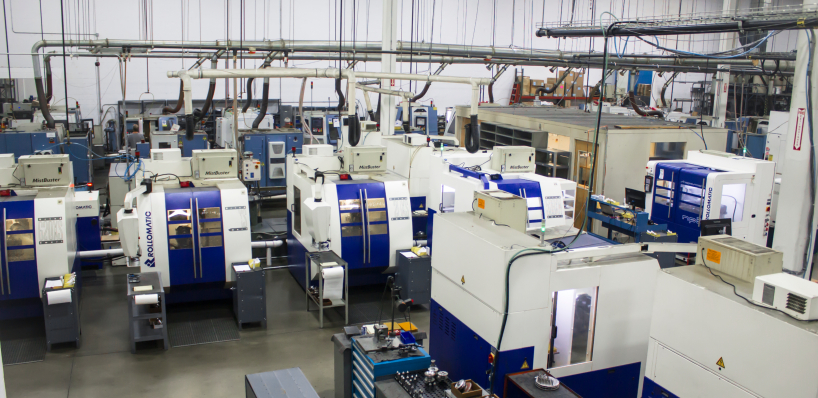 Melin Tool Co. is a modestly sized company, but this gives the company an advantage over its larger competitors, President Mike Wochna says. "[We] can make changes on the fly and respond to the customers in ways that our competitors can't," he says.
Based in Cleveland, Melin Tool specializes in premium high-performance and conventional carbide and cobalt HSS end mills, drills and custom solid carbide cutting tools. Founder William Melin started the company in Michigan in 1940 as one of the early manufacturers of end mills.
Over the years, the family owned company relocated to Cleveland in 1950 where it now has two locations and offers more than 18,000 SKUs that include commonly used, as well as, unique high-performance and general-purpose tooling. This variety sets the company apart, North American Sales Manager Tom Hensel says.
"Most of our competitors are either good at one or the other," he says, noting that the company increased its selection of high-performance tools in recent years. This included the introduction of its VXMG end mills, which are available in four, five, six, seven and nine flutes.
Melin Tool also sets itself apart with its excellent customer service, Hensel says. If a customer can't find a tool from its large standard offering, it will custom build them a tool to meet their needs within two to four weeks.
While the company's competition usually spends twice that amount of time building tools, its family owned structure helps it deliver products sooner. "We have the ability to cut through the red tape," Hensel says.
Melin Tool also distinguishes itself with its technology, which allows it to better service customers. Recently, "We've increased the capacity of our coating furnaces," he says, noting that the company currently has four. "Many of our competitors have to send out their tools to get coated, but it's something we do in house."
The company is making room to add more machines. While it currently occupies a multi-tenant building at its headquarters in Cleveland, "We're acquiring the bay net door," Wochna says, adding that this will grow Melin Tool's space to approximately 42,000 square feet. It also will allow the company to add more grinders and an enhanced R&D facility.
Keeping Busy
Melin Tool serves a customer base that ranges from small machine shops to large corporations. This reflects the company's niche, which is largely aerospace machining, Hensel says.
Business also is booming for Melin Tool. "The current economic situation is growing," Wochna states. "Our market is currently up 10 percent and we are fortunate to be above market pace."
Because of the substantial increase in business, the company needed to make sure it is well prepared to fulfill orders. "We've had to make adjustments with raw materials to have those on hand to manufacture more, and make sure we cover our customers' needs," he says.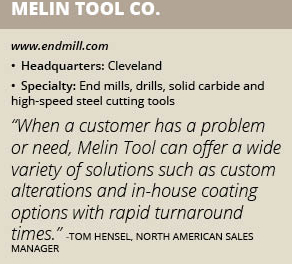 Ensuring Quality
Manufacturing quality is an important focus at Melin Tool. According to Wocha, the company commits every day to supplying products that meet or exceed the detailed specifications of its clients.
But another major goal is monitoring and improving upon the processes it uses. As part of this effort, "We have made and continue to make substantial investments in inspection equipment," Wochna says.
The company currently uses machines from Zoller, Walter and others that have "the ability to inspect all the complicated details of a cutting tool," he says, adding that Melin Tool operates an inspection department.
The company's quality efforts also include implementing lean manufacturing practices, as well as providing training for its employees. "We're constantly trying to get new employees that don't know that much about the industry trained to do what we do," Wochna says.
But Melin Tool's training is not limited to its employees, Hensel notes. "We have consistent product training that we'll do with our distributors as well to keep them up to date on our latest products," he adds.
Making it Easy
After all these years, Wochna is proud of Melin Tool, which strives to be an easy company for clients to do business with. "When a customer has a problem or need, we offer a lot of help," he says, noting that this has nurtured a strong base of repeat business.
"We definitely have customers that buy the same things over and over again," he says, but asserts that it also embraces new business. "We're constantly looking at new things, whether it's specials or new products, that we try to launch that solve somebody's needs."
Going forward, he says, Melin Tool plans to stay focused on the cutting edge with its tools. It also will "focus more on the aerospace side of things in terms of materials," he says.
Sidebar — Fantastic Features
Melin Tool Co. provides many value-added features in its products. For example, its tools are all CNC finish ground, while "most HSS tools are produced using M42 cobalt, but priced at M7 prices," it says.
"[We have an] excellent inventory of 'in between' 1/64th sizes so that you can get the exact tool needed for the job," the company says, noting that its cutting tools are available exclusively through industrial distributors in the United States and across the world. "Our network of sales representatives provides in-depth assistance to our distributors and customers."