Mid-Continent Engineering
Quality over quantity – it's a maxim that has been uttered throughout the business world, but one can accuse its proponents of not putting the words into practice. At Minneapolis-based Mid-Continent Engineering, CEO Sanders Marvin discovered the company would survive only if it truly began to focus on the quality of its work and not how many contracts it took on – a difficult change in mindset for an aerospace and defense manufacturer in business since 1949.
"We did a lot of work starting in 2003 in kaizen and lean operations," Sanders explains. This included restructuring the company, with Sanders chopping away at its client lists to find the ones that may not have brought in the most contracts, but the most profit, and had the greatest potential to grow over time.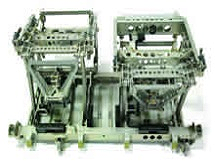 "Over the course of six months, we eliminated over 80 percent of our customers in order to focus on exceptional service for a select group of customers," Sanders says. "Our revenue shrank by 10 percent in 2006, but our profitability soared to record highs. Our quality ratings improved and lead times collapsed, freeing up space, inventory and cash."
For example, Mid-Continent took a complicated aluminum weldment from a manufacturing lead-time of 12 weeks down to two weeks.
This led to the customer increasing their volumes with Mid-Continent from $2 million per year to more than $6 million. "Prior to the restructuring, we were chasing top line growth," Sanders states. "With the restructuring, we downsized overhead and stopped taking on customers that weren't profitable." In addition, he acknowledged that the company needed to cut payroll, which took an added hit with the recession, but notes that employment is back up at Mid-Continent from 65 employees to 80, along with profit margins.
"We've done very well attracting good, profitable work, so my expectation would be to continue double-digit growth for the next three to five years," he asserts. "That said, we're a 60-year-old legacy manufacturing company working to make ourselves relevant in today's globally competitive market. At the end of the day, top line is fine, but generating bottom line results and cash flow from operations is the name of the game."
New Focus
Possibly the most significant change at Mid-Continent has been its shift in client focus. Healthcare, which was once 20 percent of its business, now takes up 75 percent of all sales, due to its adoption of lean manufacturing. Sanders explains that defense products are often short-term contracts that leave the plant with no use for its manufacturing cells after two or three months of work. But with healthcare, "something can be around three, five, seven years as a medical component; it's something that has consistency to it and lends itself to our lean manufacturing practice."
A partnership with GE Healthcare has brought Mid-Continent several new contracts that total around $4 million. Interestingly, GE Healthcare has enough trust in Mid-Continent that it has contracted the company to custom-design a new X-ray product. "It's a new endeavor for [GE Healthcare] to completely hand over the design of the project to a sub-tier," Sanders says. "It's a good feeling, and a bit intimidating," he adds. "There is so much visibility across GE Healthcare." The prototype project will be unveiled at GE Healthcare's industry tradeshow in November. We are already pretty well down the line, the show's in November and other divisions are showing interest," Sanders notes.
Adapt and Change
Mid-Continent has not quit altogether on its aerospace and defense lines, and Sanders notes that the company has a strong relationship with Lockheed Martin building precision munitions components and complex, ruggedized cabinetry for naval radar applications.
Now that the company has made dramatic improvements to its manufacturing capabilities, Sanders says the next area to look at is supply chain management. "It's an area, along with quality, that can be a real point of differentiation," he states. "I think that could be a real significant opportunity to have a world class, robust supply chain management capability. This would need to be far beyond what we have now. We could potentially not only use, but potentially sell this capability.
"We just celebrated 60 years, and it's a good thing and a bad thing," he adds. "It's good in terms of longevity and long-term relationships with customers, but if we are going to make it the next sixty years, we are going to have to adapt and change at a much faster pace. We are not going to be a quarter-billion-dollar company – that's not our goal – but we're a good place to work and we treat employees well, and yield a good return for shareholders.
"We're keeping a good pace of change for a 60-year-old company, but we need to run even faster," Sanders notes. "We're not thinking the same way we were five years ago or even six months ago. That can be a tremendous asset if managed well."