Fully fabricated
From within a large fabrication facility in Ireland, MSL Engineering Ltd has built upon an expertise that has seen its demand continually rise
The roots of MSL Engineering Ltd date back to 1979 and through its 36 years of trading experience, the company has built up gradually from an initial small scale fabrication yard to its position today as a large, multi-skilled contractor. Engaged in the mechanical engineering contracting industry it has successfully grown to emerge as one of the leading mechanical engineering contractors in Ireland in the delivery of both large mechanical construction projects and responsive maintenance support contracts.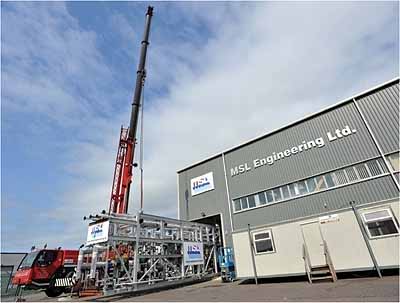 "We specialise in process and utility pipework fabrication and installation, platform and steelwork fabrication and installation and heavy equipment installation. We utilise our fabrication facilities to produce and assemble process and utility piping before site installation and testing," said Maurice McGrath, managing director, in a previous interview with Manufacturing Today Europe's sister magazine European Oil and Gas. With the larger portion of its work undertaken in the Cork region of Southern Ireland, in 2012 the business invested in relocating to a brand new 20,000 sq ft premises, increasing its fabrication space for all types of pipe work from carbon steel to stainless steel and chrome, amongst other materials.
Its extensive, fully equipped workshop and facilityfabrication facilities today consists of a 17,000 sq ft carbon steel and stainless steel pipe shop with overhead gantry crane, lay down areas and storage compounds. This facility is conveniently located just off the M8/M7 Cork – Dublin Motorway. Adjoining these facilities, an additional 1,700 sq ft clean room facility is due to begin construction shortly. Following the construction of this purpose built clean room facility, workshop capacity will be increased to include high purity pipework projects for its clients in the biopharma sector.
The overhead gantry crane and bespoke height clearance of the workshop (12m at apex) provides the business with the capacity to fabricate modules at its facility before transportation to various sites throughout Ireland and the UK for clients such as Henkel Ireland (now BASF), Merck Sharpe & Dohme and GlaxoSmithKline. Capable of handling module constructions weighing up to 150 tonnes and over 20 metres in length, this method ultimately reduces the number of man-hours required on site, which has many advantages from a safety perspective, with work undertaken in a controlled environment.
Developing as a business, in 1990 it received recognition of its capabilities, winning a series of significant contracts that ultimately positioned it as an automatic choice on the tender list for consultants working with multi-national clients. Having received a contract for maintenance work on the offshore production platform with Marathon Petroleum on the Kinsale Head gas field, it continued to hold that contract for five years during the peak production period, undertaking a great deal of work that relied on an unblemished record in its production process. Through establishing relationships with clients that would last decades, the business has continued to execute numerous projects in this field. Subsequent projects in the oil and gas sector include taking charge of all its clients maintenance work at the Whitegate Refinery and the Bantry Bay Terminals, as well as ad-hoc contract extensions for which its fabrication expertise is a heavily relied upon asset.
Today, its client base features a combination of multi–national and indigenous companies across a spectrum of industry sectors including, pharmaceutical, chemical, oil and gas, power & utilities, transport infrastructure, food and beverage, process drainage, medical devices, data storage and recently, fire protection. Reflecting strong growth within Ireland, the majority of the company's work is with pharmaceutical companies, power generation businesses and agriculture/dairy industries, but has also undertaken a number of large distillery projects such as that with Irish Distillers (Pernod Ricard), fabricating and installing over 16,000 metres of pipe over an 18-month period. Working in industries that are inherently hazardous, the business has for a long time taken an uncompromised standing on safety, which has been a major element behind the company's success, and that standing is reflected not only by the high standards and safety record but also by MSL's Safety Management System attaining the IOSH Safe-T-Cert accreditation in 2012.
"In our business quality is something that can be very easily measured, with our welding and fabrication subject to thorough monitoring and NDE (non-destructive examination). The work is also very labour intensive and the personnel that we employ and depend on have a lot of knowledge and an excellent skill set," highlighted Maurice, before he addressed the impact of the skills shortage on the business and industry: "As many of the older generations leave the industry they need to be replaced by new entrants. This potential shortfall needs to be addressed by the continuous assessment of industry needs and the introduction of suitable, relevant training and courses." On a global scale, there is a great demand for people in all trades across the industry, and as such a number of skilled tradesmen have emigrated as they search lucrative opportunities. In response, MSL Engineering has an apprenticeship training programme which takes on new participants every year. The emphasis MSL places on quality is underpinned by its Quality Management System, which attained ISO 9001:2008 accreditation in 2012.
The Cork region benefits from a long tradition of developing the skills required in this industry, leading to a great deal of valuable experience in the region. As a result, the ability to deliver quality, timely projects and responsive maintenance, has seen MSL regarded by its clients as an integral link in their supply chain. This reputation is vital to the company's ongoing success as it is faced with a very competitive market in which a number of companies are operating. However, as other markets in the UK and Europe continue to expand, the resources of MSL become ever more demanded and as such the business looks set to leverage off its experience and build on opportunities in new markets. Recent mechanical projects by MSL in Geel, Belgium and Glascow, Scotland may be just the beginning.
MSL Engineering Ltd
Products: Process and utility pipework fabrication and installation, platform and steelwork fabrication and installation, equipment installation
Sites:One
Employees 150