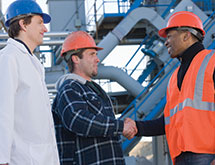 New England Miniature Ball
After 50 years, New England Miniature Ball (NEMB) stays successful by keeping flexible, President Pat Demarco says. As a supplier of high-quality precision and semi-precision miniature balls, the company constantly copes with changes within its business.
"We're always adjusting the size, the surface and the roundness," he describes. "We have to adjust constantly to meet those demands."
Based in Norfolk, Conn., NEMB supplies miniature balls for a variety of applications, including industrial slides, ball and thrust bearings, test equipment, pumps, ball screws and valves. The company started operations in 1965, and today, it has operations stateside and offshore.
In the United States, its facility in Norfolk operates with a staff of 25 that handles its high-precision products, Demarco says. "We produce items that have to be U.S. manufactured plus standard industrial products," he says.
It also has an operation in Shanghai  that is a mirror image of what NEMB does in the United States, including its employee policies and safety regulations. From there, "We have customers in Singapore, the Philippines, Thailand, Vietnam, Malaysia and domestic China," he says.
"We're a specialized ball company," he notes, adding that customers can refer to the company's website at www.nemb.com for specifics.
Production Pride
NEMB takes pride in its manufacturing process, Demarco says. "We take raw wire, we form it, we massage it and we make it into a very lustrous, high-precision product," he says. "We're proud of the end item."
But to ensure it produces a quality product, NEMB has implemented an internal, continuous improvement program. The company is certified ISO NQA and is presently pursuing TS 16949 in its China operations.
"We have specialized equipment for measuring surfaces, the roundness of shapes and size variance in accordance with ABMA standards," he says. "We provide products through the AMS and ASTM standards."
Lean and Small
NEMB runs a very lean operation, according to Demarco. "Each and every manager carries more than one responsibility," he explains. For example, the company's production manager also serves as its purchasing agent as well as its fire inspector.
"We have trained operators that are capable of controlling more than one machine," he says. "We have equipment on the floor to satisfy our output and minimal to run it."
NEMB also strives to keep its wire and finished goods inventory minimal, Demarco says. However, "If we have an overrun, we have a luxury," he notes.
"We can reduce the ball to another size," DeMarco explains, noting the benefits for customers. "So there's ways to save some pennies and materials."
Customer Favorite
After all these years, Demarco is proud of NEMB and its staff. "I think the fact that we run so lean and mean and service our customers to a point where we don't lose them is something to be very proud of," he says.
This has enabled NEMB to retain customers that have used the company for at least 20 years. "The work force excels very nicely," he continues. "We'll get people who ask us to do miraculous things. We don't quite do that, but we'll get close to that."
Sometimes, "The weather's against us," he says. "[But] these folks get in here and get the [machines] running."
Demarco sees a strong future for NEMB. "We did a forecast this morning and we're shooting for eight percent growth," he says.
He adds that the company recently moved into providing balls for linear slides. "That's a new arena for us, both in the U.S. and foreign," he says. "[It involves us] providing a ball to a different specification and grading that's required for linear slides, versus a ball bearing."