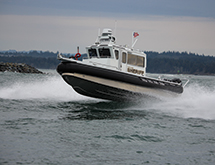 Like many businesses, North River Boats (NRB) felt the grip of the recession when the company witnessed the recreational boat business dry up. Coupled with a leadership shakeup, the company saw its capital and workforce dramatically reduced. Five years later, however, the company is thriving thanks to new leadership and a rebounding economy.
Founded 28 years ago, NRB manufactures premium heavy-gauge aluminum boats, serving government, recreational and commercial customers. In its early years, NRB developed a reputation for building top-of-the-line recreational aluminum jet boats. NRB added a line of heavy-gauge commercial and government vessels through the purchase of Washington-based company Almar about a decade ago. Almar's operations were folded into North River Boats' operations shortly after that acquisition. The company grew to become the largest manufacturer of heavy-gauge recreational aluminum boats in the United States by 2007, selling more than 1,200 boats per year.
However, when the company faced a leadership shakeup in 2009, a receiver was appointed who ran the company for three years. During this time, the workforce was reduced dramatically. But despite these changes, CEO Brent Hutchings praises NRB's dedicated staff for keeping the company afloat.
"NRB's dedicated employees protected the company's sterling reputation for quality, service and craftsmanship while in receivership," Hutchings says. "The company also won contracts from the U.S. Coast Guard and U.S. Navy during this period, in addition to orders from many other municipal and commercial customers."
In 2012, things turned around for NRB when a large investment firm purchased the company's assets. Hutchings, a seasoned manufacturing executive with a long record of improving and growing manufacturing businesses as both an operating executive and board member, was brought in as interim CEO and permanently took the post in early 2013.
"Due entirely to the spirit and commitment of its employees, North River Boats survived in spite of being thinly capitalized and understaffed," Hutchings says. "With an excellent team, new capital and new leadership, the company has improved dramatically."
Hutchings notes within the last two years, North River Boats has secured:
> Significantly lower raw material and component costs
> Advantageous credit terms from the vendor community
> Valuable new staff to take advantage of what it has identified as clear market opportunities.
"Collectively, these steps lowered the company's operating costs, gave it additional working capital and dramatically increased the company's sales and earnings growth," Hutchings says.
Built by Design
From dive boats and landing craft to fire boats and U.S. Coast Guard passenger inspected vessels, the all-welded aluminum boats NRB designs and builds can be crafted to meet its customers' needs.
Utilizing state-of-the-art computer aided design (CAD), Almar by North River Boats customizes boats to exacting specifications for nearly any purpose without sacrificing structural integrity, finish detail, strength, seaworthiness or durability. Customers also have the choice of power and propulsion systems from inboard jet, all brands of outboards and gas or diesel inboard/outboard drives. CAD drawings are supplied to customers for the more custom applications.
NRB's recreational product line consists of a series of standard models, led by its respected Seahawk line, ranging from 18 to 25 feet in length, and its Seahawk Offshore line, ranging from 24 to 32 feet.
"North River Boats carry a premium price compared to the competition, but the rapid growth in sales of these boats demonstrates that customers understand and value the superior design, materials and craftsmanship that distinguish each North River Boat from the competition," Hutchings says.
Recreational products are sold to end-users through a network of dealer customers. NRB recreational customers can choose from a wide variety of options to suit each owner's personal taste.
Hutchings says the commercial and government vessels may be even more customized depending on each customer's requirements, and fall into one of several model categories, including the Valor, Liberty, RAIV, Sounder, Fireboat, Landing Craft, Pilot, Crew and Cathedral. NRB sells these vessels to government and commercial customers throughout the United States and the world.
Manufacturing Changes
During its transitional period, NRB had to move to multiple different facilities during receivership, dramatically increasing costs, hampering internal communications and reducing manufacturing efficiencies.  However, in early 2013, the company purchased its former manufacturing facility, which was customized to handle the larger vessels that now comprise the majority of sales. Hutchings says all of the company's manufacturing now occurs at this location.
Like many boat manufacturers, NRB is essentially a job shop. Quality is maintained throughout the manufacturing process, with rigorous production standards and careful inspection at each stage of production.
"North River Boats uses state-of-the-art welding equipment, and enjoys the best reputation in the industry for its superior weld and paint quality," Hutchings says. "The company is committed to the safety of its people, and has an impeccable safety record."
Full Speed Ahead
Despite the recreational boat business being severely hampered by the economic downturn, Hutchings says the company is recovering quickly today with the improving economy.
NRB rehired all 70 employees who were working for the old company at the time of the asset purchase in 2012. Additionally, the company increased its staff by 60 percent in the last year, including rehiring many of the company's former employees.
Hutchings explains that NRB continues to actively hire to keep up with demand, adding the company's rapid growth has provided a meaningful boost to the local distressed economy. Today, NRB enjoys long-standing relationships with customers. A majority of the company's sales are made to repeat customers, and from referrals from satisfied users. Hutchings says the company is equally committed to building strong relationships with its suppliers by partnering with every vendor to ensure the relationship benefits both.
"With a talented and committed workforce, loyal customers and a hard-earned reputation for best-in-class products, North River Boats has a bright future ahead," Hutchings says.