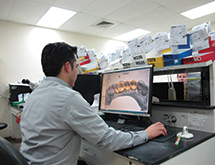 The landscape of the dental industry is constantly changing, and keeping up with it requires strategic planning and execution.
"We can't survive by relying on what's been successful in the past" says Jim Caruso, vice president of administration and new business development. "We have to embrace the challenges of our industry and turn them into opportunities." And that's exactly what the Ottawa Dental Laboratory does.
"We're up against a variety of factors that requires us to adapt," Caruso says. "Many of these variables are beyond our control, such as the economy and global competition."
Personalized Service
What Ottawa Dental Laboratory can control is its commitment to the investment in innovative equipment and materials, as well as new product development. Through investment in CAD/CAM technology, such as design software and milling capabilities, the lab has achieved its goal of offering a broad range of products and expertise. "This enables us to remain competitive while offering the highest quality that our dental clients are accustomed to," Caruso says. "The technology and new materials we've invested in has allowed us to introduce several new products over the past few years; and we plan to introduce more in the coming year. It's a necessity in order to remain on the cutting-edge of dental technology. It wasn't long ago that 5 percent of dental restorations were made in offshore laboratories. Today, that figure has exceeded the 30 percent mark, so the investment in digital dentistry is a must in order to maintain and grow our marketshare."
Providing personalized service to the dentists who make up its customer base has always been an ingredient to the lab's success. This includes general customer service, case planning and consulting and pickup and delivery service. "Most labs don't offer a personal delivery service. We do," Caruso says. Today the business has a fleet of 12 cars that travel about 2,500 miles a day. "In addition, the team approach is one that we believe in," he says. "We work direct with the entire dental team in order to provide the best possible outcome for the patient. Not every laboratory has the resources to do that."
Thorough Education
Another value-add Ottawa Dental Lab offers clients is thorough education. It believes in putting manufacturer partnerships to good use by hosting seminars. This allows Ottawa Dental Lab to bring education into the marketplace. Additional educational formats include in-office lunch-and-learn and study club support as well as sponsorships. Slated for this spring are programs geared toward treating the edentulous patient, impression techniques, material selection and cementation recommendations, just to name a few.
The Ottawa Dental Laboratory extended that mission of providing personal service with the addition of Ottawa Dental Laboratory of Lockport in 2007 and Ottawa Dental Laboratory of Chicago in 2010. Establishing a presence in the heart of the city proved to be a success. "We took a chance inserting ourselves downtown," says Caruso, who oversees the satellite operations. Another area of growth Ottawa Dental Laboratory is experiencing is in dental sleep solutions. "Obstructive sleep apnea is a serious condition that can have an effect on one's overall health and well-being, and it's nice to see the dental community taking an active role in the detection and treatment of it," Caruso says. "When we fabricate a dental sleep appliance for a dental patient, we're potentially helping to save a life, and that's pretty awesome." The making of all ODL sleep appliances takes place at the Lockport lab.
Ottawa Dental Laboratory is equally committed to employees as it is to customers and the dental patients it serves. All employees have an opportunity for career growth and personal achievement and thus continued education is a core value. The adoption of new technology and CAD/CAM has also contributed to the creation of new jobs at the lab. Ottawa Dental Lab has an on-site director of training and education, which is ever-so valuable given the disappearance of dental technology schools in the state of Illinois.
Mom's Case
It was 1937 when Lucien "Tony" Caruso founded the Ottawa Dental Laboratory. His philosophy was to "treat every case as though it were for your mother." What may have sounded like a simple mission laid the foundation for a thriving business that has continued to survive seventy-seven years and is still going strong. This deep-rooted family business continues to grow as its dedication and loyalty to the dental community remains constant. The Caruso family is committed to thrive and the key to a successful future will be to continue embracing the foundation of why the lab was founded in the first place: "to provide the finest dental prosthetics in the Midwest."