A comfortable position
With over two decades of manufacturing experience and an extraordinary history of continued development, Nowy Styl Group has grown from an office chair manufacturer to a European leader in comprehensive furniture solutions for office environments and public spaces
While the roots of the Polish Nowy Styl Group can be traced back to 1990, the company was officially inaugurated in 1992 when brothers Adam and Jerzy Krzanowski established a furniture manufacturing company in Krosno, Poland. Today Nowy Styl Group is a European leader in delivering bespoke furniture solutions, while its flexible approach to customer service, innovation and an exceptional organisational culture has made the Group one of the biggest and the most dynamically developing furniture companies in Europe, with an annual revenue of over €300 million. The company combines entrepreneurial spirit and elasticity with corporate efficiency to leverage support functions and manage the whole value chain. Its customer base is strongly differentiated, from major multinational companies buying their own offices, to construction companies and smaller local organisations. To meet the varied needs of clients the company has developed a portfolio of six product brands that includes Nowy Styl, which is its historical brand that today represents a wide product range for all channels.
In addition to its traditional Nowy Styl brand, the group's product portfolio is comprised of its BN Office Solution, Grammer Office, Rohde & Grahl, Forum Seating and SITAG lines, with SITAG AG becoming part of Nowy Styl Group during August 2015. SITAG represents a manufacturer of chairs and office furniture that operates its own sales structure and production plant within Switzerland. The addition of SITAG was the group's third acquisition within the space of four years and will expand the company's distribution network in the developing Swiss market. This development is in line with the group's focus on expanding its furniture portfolio and growing both organically and through acquisitions. All of the brands operated by Nowy Styl Group are supported by the company's international distribution network comprising of local sales structures in 17 countries all over the world and 29 showrooms located in Warsaw, London, Paris, Düsseldorf, Munich, Prague, Bratislava and Moscow, to name a few. Nowy Styl Group manufactures its products in more than a dozen production plants equipped with the state-ofthe- art technologies that are located in Poland, Germany, Switzerland, Ukraine, Russia and Turkey.
In order to allow the business to continue to develop its comprehensive portfolio of brands and furniture solutions, Nowy Styl Group announced during October 2016 that it had established a new Research and Development Centre project. The project will provide new research infrastructure, a dedicated staff of scientists and its research agenda will further increase the company's technological development and facilitate the process of implementing new furniture solutions into the market. The new R&D Centre is valued at around €2.92 million and will be located near Nowy Styl Group's production plants in Jasło. The new site will employ approximately 200 members of staff and through the undertaking of opening the facility the company will modernise its current technical centre building and fit it out with new research equipment, such as a laboratory for testing furniture ergonomics, a chamber for carrying out acoustics tests and a workstation for testing the UV resistance of materials.
A key objective of the new R&D Centre is to move Nowy Styl Group further in to the realm of 'Production 4.0'. The centre will also be used to develop production and implementation processes through the use of product lifecycle management (PLM) software – a modern 3DExperience platform created by Dassault Systèmes. In connection with 3D printing technology and reverse engineering, the system will allow for changing designing methodologies for new products, which will facilitate the prototyping stage by making it faster and more flexible. "Nowy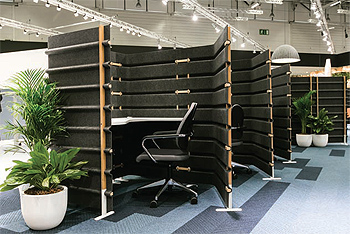 Styl Group is a leading furniture enterprise in terms of the innovative character of its production and in recent years, our investments in the area of R&D amounted to 25 per cent of the company's turnover. We are gradually implementing Industry 4.0 technologies:smart devices that aid in automating production and optimising processes using data gathered in the real time," says Tomasz Bardzik, CTO at Nowy Styl Group. "By using these technologies, we will be able to shorten the time needed to implement products into the market, the so-called 'time to market,' and increase the manufacturing efficiency of short series at an industrial scale. This will allow us to adapt existing products to our customers' individual needs, which is necessary in order to respond to those needs quickly and precisely."
Nowy Styl Group presently sells into more than 100 countries globally, with around 81 per cent of its products going into the export market. Investments in to initiatives such as its new R&D Centre will allow the company to continue to deliver innovative market solutions, while it seeks to further its presence across the world's markets. To this end Nowy Styl Group attended the Orgatec trade fair in Cologne in October 2016, a major event that allowed the company to show case its current innovations and ambitions for future growth. "The fair gave us a golden opportunity to present our product novelties. For example, in response to trends in home office design we have launched two lines of wooden furniture: an office furniture range called Levitate designed by the WertelOberfell studio, and a new line of multifunctional chairs and tables called Tauko. This required an implementation of new technologies in our Wood Processing Plant in Rzepedz," said Magdalena Tokarczyk-Cyran Marketing Director at Nowy Styl Group. "We also showed the Panthera chair created by Ray Carter, which ensures dynamic sitting; and the amazingly unique modular Tapa pouffes created by Przemysław Mac Stopa, which are an ideal solution for informal meeting zones. Modular systems are becoming more important as they can be used to create single sitting places in undisturbed work zones, spontaneous meeting areas, as well as relaxation and waiting zones, e.g. at the reception. The ability of furniture to be configured in multiple ways is becoming more desirable, and this is also reflected in the Tepee range designed by Hilary Birkbeck. The Tepee walls have acoustic properties and in order to manufacture these Nowy Styl implemented a new type of a felt into its manufacturing processes."
At Orgatec Nowy Styl Group also presented products manufactured by the Swiss brand Sitag. Notable products include the SITAGACTIVE desks with manual or electric height adjustment and the SITAGTEAM chair line designed by German studio 2DoDesign (the line's conference chair was awarded the prestigious Red Dot Product Design Award 2016). "However, I would like to stress the fact that our company doesn't care about products only, but also about the ability to apply them to a particular office space properly. We equip office and public spaces thinking about the people who will use them – about their needs and expectations," Magdalena emphasised. "An office adjusted to the needs of an organisation is an investment that allows employees to use their potential and helps the company function effectively. That is why later on we are going to talk with our clients about how to adapt our furniture solutions to a particular organisation in order to ensure they will serve it best. We highlight our competences in this field with the following motto: We KNOW HOW!"
Nowy Styl Group
Products: Furniture solutions for office environments and public spaces