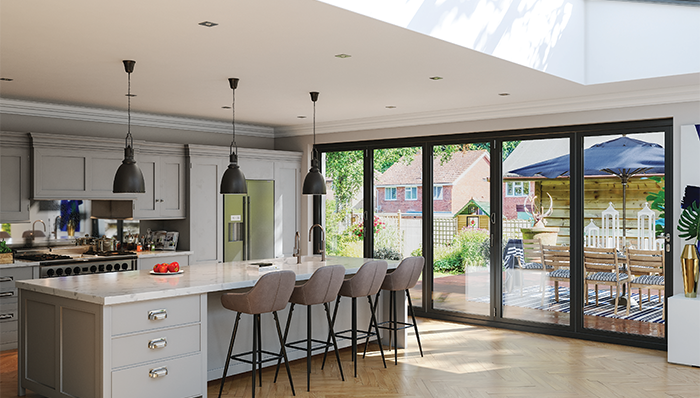 Opening new doors
Origin Doors and Windows is taking over the manufacturing industry with best practices, fresh perspectives, and a vision to be a dependable name for clients looking to innovate their home spaces
Origin Doors and Windows was brought to life by Victoria Brocklesby and her cousin Neil Ginger. Both had a passion for good customer service, and had inherited a keen eye for innovation from their fathers, who specialized in high end swimming pools. Now, based in High Wycombe, the business has become the UK's leading manufacturer of bespoke aluminium bi-folding doors, sliders, front doors and windows. We learn more from Victoria's husband, Ben Brocklesby, who also serves as the company's Sales and Marketing Director, about recent successes and developments that have continued to open windows of opportunities for the business.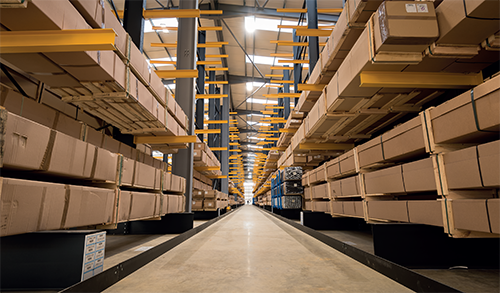 "Victoria and Neil saw a trend emerging in bi-fold doors, and felt that it would be an excellent business venture. They then took the practices they knew and those that they felt would help set them apart, got the ball rolling, and launched a very successful aluminium bi-fold door that was manufactured in the UK. This is also a key trait to our name; none of our doors or windows are fabricated by anyone other than us, so when you buy an Origin product, it is manufactured by us in our factories here in High Wycombe.
"Then, about ten years ago, our partner network came to us with concerns that we weren't utilizing our full potential, which was when we began to move into aluminium windows. That was the starting point of expanding the operation, and becoming a fully-fledged window and door business, rather than simply a bi-fold specialist," says Ben.
He continues to elaborate on a particularly unique touch that the Origin leaders bring to the company. "Victoria and Neil's success lies in the fact that neither of them have backgrounds in doors and windows, which gives them a different perspective to the vision of their products. Above that, what they have filtered across the whole business is the ethos to put the entire door and window industry first, and then secondary to that is the homeowner. We want to help them innovate their property in order to make the most of their home space," he says.
Trusted brand
At the core of Origin's family culture is the determination to execute every task to the best of its ability. As a result, the company has expanded its range, and now hosts a diverse offering of window systems, front doors, sliding patio doors, and gables, which has allowed it to successfully share its products on an international scale. "Basically, anything you can imagine that can be designed and manufactured in aluminium, we cover. It has been a phenomenal journey, so much so that within the last seven years, we have extended into the Middle East, and the US," Ben shares.
He notes that this exceptional growth was also recently fuelled by the pandemic. Because everyone was required to spend more time at home, there was a nation-wide desire for homes to be renovated, and Origin was called upon to support this demand. "People not being able to go away on holiday or spend their money how they would usually, meant they were looking to redirect those funds, and make the most of their home spaces. As a result, they looked to the market to see what sorts of aspects could be changed or improved, and our brand was geared to make the sort of lifestyle changes they were after. For us that was a fantastic driver for the growth that we have witnessed over the last year, and it has enabled us to continue to invest, and ensure we are in a good position to maintain that increase," he expresses.
Above that, Ben is excited to share information of more recent developments happening within the company, especially the new 55,000-square-foot storage facility that enables the company to maintain stock, and service clients more effectively. "We've nicknamed that 'the ark'.
After Brexit was announced, we realised that in order to maintain a high level of manufacturing, we needed to uphold our quick manufacturing time. We were a bit of a disrupter in the market place by introducing very short lead times for our doors and windows. The industry standard when we started was approximately a twelve-week lead time, and some of that was down to the fact that they were coming from Europe, and we needed to have control over various different aspects of that cycle.
"Quite a few of our competitors have struggled with that sort of thing, which has pushed lead times even further out, and there is a huge degree of uncertainty, especially in our industry. So, in order to stabilize the market, and show our partners and homeowners that we are investing, we have kept the ark well-stocked to reassure them that they can rely on us to get those renovations underway," Ben says, adding that Covid-19 has highlighted how important it is for Origin to be that brand its clients can trust, and when the company says that a project is going to be manufactured within a certain timeframe, customers can trust that it remains true to its word.
Continued expansion
Tying in with the news of the ark, Ben is also excited to share that the business has a product launch on the horizon. "That is our aluminium internal door system, which has been driven by homeowners getting in touch, and also partners explaining to us what's needed within the market place. In all honesty, we never want to assume growth is going to happen. We want to be proactive about it, which is why we depend on the thoughts of our partners and clients who show us the areas where we could either design a new product, or improve what is already in our catalogue."
Another key factor that is going to support the business's growth plans moving forward is its ongoing investment in the Origin family. "The value of a team around us has really come to the forefront, given the skilled labour shortages that are widely discussed in the media at the moment.
"We're making sure we are up-skilling our staff, and that they know when they join the team in whatever capacity, whether it be manufacturing in High Wycombe, or part of the customer service team here in Cressex, we will invest in up-skilling in order to keep paving out a career for them. It's a massive benefit on two fronts. Not only do we ensure that they enjoy what they do, but we also take time to give them the rewards they deserve. This means that they work to the best of their ability, and our partners and customers reap those rewards as well, because they get to engage with highly trained and motivated staff who give them the right experience," he expresses.
Moving forward, the three-to-five-year goal for Origin is to continue its sustainable and profitable growth, and Ben has high hopes for the future of his family's business. "My goal has always been to have the company be the door and window brand of choice, and that has been part of the drive for the last few years in particular, but that will require continued investment across all fronts. On the international side, our US business is going from strength- to-strength, and the demand for the types of products we are designing and manufacturing is going up. I feel that this is a direct result of the knowledge and influence that we are bringing to the US market, and I can see it continue to gain traction. In five years' time, I would also love to see Origin become the dominant aluminium door and window supplier of choice in the US market and beyond, as a brand that homeowners and the commercial world trust," he says.
Having reflected on the journey of his business, Ben brings our discussion to a close with a message to current and potential clients: "Whatever your property, whatever your circumstances, I would love you to be aware of us, and we would love you to consider putting Origin Doors and Windows at the forefront of your project to help make your visions a reality."
Origin Global
www.origin-global.com
Services: Door and window manufacturers