Paragon Rapid Technologies
Manufacturing a revolution
Additive manufacturing has the potential to fundamentally change the way that components are made. MTE spoke to Léonie Hilsdon, Marketing Manager at Paragon Rapid Technologies, to learn about the benefits that 3D printing can offer
Established in 2003 by Managing Director Phill Adamson and Technical Director Peter Humphrey, Paragon Rapid Technologies offers prototyping and low volume production services through three distinct brands: Paragon AM Technologies, Paragon Rapid Technologies, and Paragon CNC Technologies.
It is through the Paragon AM Technologies brand that Paragon offers its Additive Manufacturing/3D Printing expertise, and as Léonie explained, the range of technology available from the company means that it can print larger functional models, prototype patterns and even production parts with superior surface quality, reduced finishing times, accuracy and high levels of detail. "3D printing technology has radically changed the face of product development – prototyping was always considered the most expensive component of production (casting aside the cost of tooling for production purposes). It was costly in time and materials, and of course, following testing and recreation, the costs could escalate.
"Additive manufacturing is enabling better designs and faster design cycles. In some cases, it's driving down the cost of manufacturing by eradicating a need for tooling. In others, it's a means of producing better, more accurate tooling and more resilient pattern masters. It's increasing operational efficiencies and reducing the risk of failure," Léonie noted.
Paragon's additive manufacturing capability is spread across four technologies – SLA, SLS, FFF and Carbon® Digital Light Synthesis™. "We have small and large bed, state-of-the-art SLA printers, including three NEO 800s, which carry an open materials platform. For tough, durable, heat resistant functional parts we also offer SLS printing and Fused Filament Fabrication,"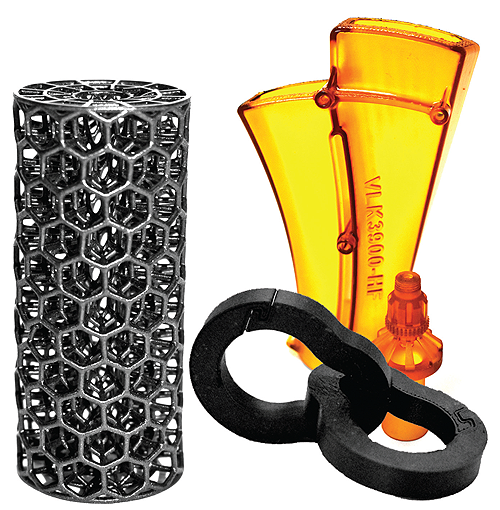 she continued. "We are also the first UK production partner for Californian tech giant, Carbon Inc., and offer its revolutionary Digital Light Synthesis technology."
With additive manufacturing already regarded as revolutionary, Digital Light Synthesis technology is altering that landscape yet again. The technology prints up to 100 times faster than traditional 3D printing methods. Its array of production-ready resins deliver stronger, smoother parts – all the qualities of injection moulded parts without the need for tooling. Such technologies are emerging all the time, and they're creating opportunities for product design, development and manufacturing like never before. "Digital Light Synthesis technology has been adopted as a production process by the dental and medical industries and is already making waves in the automotive sector, with manufacturers such as Ford and Lamborghini using the process for end-use parts. Recently, US sports equipment giant Riddell invested in the technology to create customised cushioning for American football helmets," Léonie added.
"Digital Light Synthesis technology's continual production process enables multiple iterations of a design in one print. The advantages here are that multiple prototypes can be created simultaneously. It also means that prototyping can turn into production without having to create tools. A further advantage is that the process works with economies of scale. The more efficient we are with platform utilisation, and the more parts are printed, the more economical part production becomes."
As Digital Light Synthesis technology is so new, Paragon has been working closely with its customers to craft solutions for their particular problems, and as Léonie pointed out, this approach is already bringing success: "We worked with one of our customers, Agrifac BV, a major agricultural machinery manufacturer, on the creation of a nozzle that is affixed to the booms of its trailed crop sprayers. Agrifac's R&D team had identified 3D printing as a production process for this part; we were delighted when the Carbon rigid polyurethane resin and process stood up to rigorous testing in durability, water and chemical resistance and tolerances. In fact, the part has worked so well that it has been nominated for the Industrial Product Application Award at the forthcoming TCT Awards."
The properties that Digital Light Synthesis technology brings to 3D printed parts, plus temperature resistance and flammability ratings have also seen the process used by McLaren for production purposes. "We have been printing air intake nozzles for the automotive manufacturer which are being used on production cars," Léonie added.
The process has also been making waves in the consumer sector. "We partnered with model railway manufacturers to print a limited-edition range of model railway wagons. The process is so precise we are even able to print wires. Seeing the waves this has created in this niche sector has been quite exciting.
"The medical sector is also an interesting one," Léonie continued. "Due to the demands of regulations, clinical trials, licensing and so on, their race to market is often more intense than in other markets. Additive manufacturing lends itself well to a number of medical applications, from anatomical models for education, to precise replicas of organs for surgery planning, to component parts for orthotics and medical devices. We are starting to see an increased interest in the Digital Light Synthesis technology from this sector, because all resins used within the technology are biocompatible, and there are certain resins such as MPU 100, which have sterilisability and chemical resistance ratings not found in other resins. The process is so precise, that tiny, bespoke parts can be printed quickly time and again without compromise."
In fact, the range of sectors that is discovering the usefulness and flexibility of 3D printing seems to have no bounds, and some may be unexpected, as Léonie pointed out: "One of the biggest users of our services is the entertainment market. Our large bed, state-of-the-art NEO 800 printers, with their exceptionally good finishing processes that eliminate the need for polishing, and fairly rapid printing speeds, are a popular resource for model and prop makers. We're all sworn to secrecy but there is a definite buzz across the factory as we assemble large statues and iconic characters for film and television use."
While all of these sectors are seeing benefits of additive manufacturing, it wouldn't be possible to discuss the drivers of this revolution without mentioning the aerospace industry. "They seem to provide the development benchmark not just in new technologies, but also new materials, be they metals or plastics, designed to meet the stringent quality and safety standards of the sector," Léonie agreed.
"The transition from prototyping to production and manufacturing has been very exciting for us," she concluded. "It has been a steep learning curve in many respects – the UK is traditionally slow in adopting new technologies and the manufacturing environment, whether we like it or not, has been impacted by the uncertainty of Brexit. But, it's taking off now and there is nothing more exciting than seeing someone's innovation come to fruition and knowing that that innovation has the potential to change lives."
Paragon Rapid Technologies Ltd
Services: Paragon provides a wide range of technical services and support to the product development industry
www.paragon-rt.com