There are countless tales of immigrants leaving behind their homeland for a chance to live the American dream with nothing more than a suitcase and unbridled ambition. In the case of Benjamin Platt, the man who founded Platt Luggage 90 years ago in Chicago, this leatherworker from Russia instead used his skills in making suitcases to create a new legacy for his family in the free world.
Although the company no longer manufactures the leather products that Platt first offered in 1921, Platt Luggage remains a family owned and operated producer of industrial-strength cases for a variety of applications. Platt Luggage says it was the first company to introduce combination locks on luggage, cushioned handles, custom hardware and urethane pallets. Today, the company offers customization of foam inserts, colors, pallets, hardware, molded-in logos, nameplates, silk-screening and embroidery.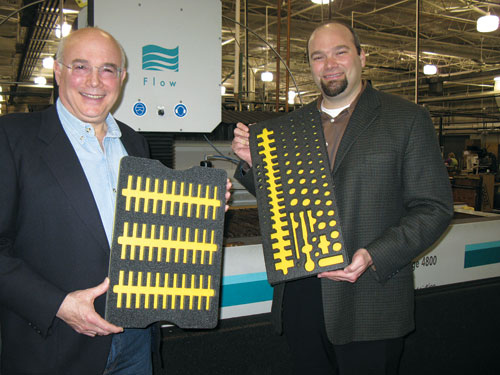 President Marc Platt – Benjamin's grandson – says Platt Luggage's business is split evenly between standard tool and foam-filled cases sold through distributors to consumers and customized products for OEMs. Through­out the case industry, the Platt name has become synonymous with durable products that last a lifetime.
"Our cases are known as the highest quality," says Daniel Platt, vice president and Marc's son. "They can last for decades. We often hear, 'My case is fine, but I broke a wheel after 25 years,' or, 'The pallet on the inside has crumbled after 30 years.' Quality and durability has always been our hallmark."
In-house Capabilities
With oil prices hovering around $100 a barrel thus far in 2011, Platt Luggage has seen its bottom line take a hit since much of its raw materials are oil-based products. For instance, foam is a major component of its cases, and the company once outsourced the installation of foam in its cases at a cost. Now, foam fabrication is all done in-house, reducing cost and increasing flexibility.
To combat the rising production costs, Platt Luggage has integrated a number of these capabilities into its in-house operations. At its 70,000-square-foot facility, the company performs most of its own manufacturing operations, which allows Platt Luggage to be more flexible than the competition.
For instance, while a large portion of the case industry has outsourced its sewing operations to the Far East, Platt Luggage has kept this capability in-house. Marc Platt says this allows the company to delivery smaller orders with a shorter lead time than competitors.
"Not everyone needs a thousand of something," Marc Platt adds. "Not everyone needs a molded case – some like soft cases. If people need 100 to 200 of something, going to China and waiting 16 weeks is not a good alternative for them, even if you can find a Chinese manufacturer interested in producing small quantities."
Making its Case
About half of Platt Luggage' business originates from a catalog of standardized products. The other half is customized, and these customers work with the Platt Luggage engineering team to determine the specific needs for each application, including hardware options produced by Franzen In­ternational. For the custom side of the business, Platt Luggage regularly offers new features for its customers.
"We've had some standard products in our catalog for decades, but we also get a new custom project every single day," Daniel Platt says.
"We try to add new features to cases as often as we think of them, especially if we see a need in the market for that specific application."
In addition to selling its own manufactured cases, Platt Luggage is a key distributor of Pelican Products. For more than 15 years, Platt Luggage has supplied the industrial, military, medical and electronic sectors with Pelican Products, providing exceptional service and customization.
To improve on its lead times, Platt Luggage embarked on a lean journey about 11 years ago. The company implemented visual manufacturing by Infor, using a drum-buffer-rope system to "pull" its items through the manufacturing process. The demand-based system helped prioritize which jobs needed to be worked on most urgently. Once implemented, the company saw its lead times decrease from four weeks to two, even for custom orders.
Quality and Security
Considering the goods typically transported in Platt Luggage can be quite expensive, not only is durability nonnegotiable, but so is security. Daniel Platt says OEM customers demand that the products they place in Platt Luggage are protected.
"If you have a $10,000 medical device, it needs to get where it's going intact," Daniel Platt says. "Professional appearance is a big part of these cases, too, because a lot of customers are taking in new products to display to their customers." Marc Platt says his company is the first to offer integrated Transpor­tation Security Admin­istration-ac­cept­ed locks (DSPA) on tool, foam-filled and custom cases. These specialty locks require a master key only TSA employees have.
"The customers of our cases want durability and don't want any mis­haps," Daniel Platt says. "When our customers check their tools or product in on a flight, the most important thing is that all of the contents get to where they're going. To lose tools or products because a case mistakenly opened in baggage handling or on a conveyor belt would be unacceptable for our customers. We build our cases to ensure that would never happen."