The future is bright
Today the leading manufacturer and supplier of roof lights in the UK, Roof Maker's strategic acquisition by Next Wave will continue its success story with further domestic and international growth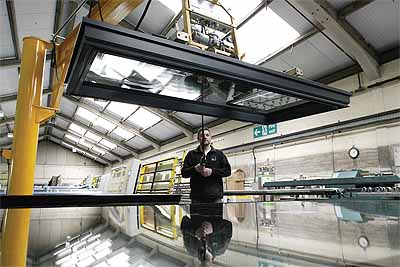 Delivering its high-quality glazed products to customers both local and global since 2001, family company Roof Maker has developed a solid reputation as a pioneer in the manufacture of high-performance glass units in overhead glazing structures. Taking great pride in the development and manufacture of its innovative, premium quality products in-house, the company operates at its state-of-the-art facilities in Leicester where it has full control of quality, performance and lead times. Investing time and experience, the company creates high performance products that can't be found anywhere else. Exclusive to Roof Maker, these products include unique aluminium extrusions and Reflex sealed glass units; the latter of these is featured in a number of rooflight products, for which the company has a 20-year limited warranty.
This way of working ensures customers are provided with cutting edge products that not only meet the highest standards, but also their unique demands. "Half of our customers are residential home owners, while the other half are people who specifically build or architect for the home owners. As a bespoke company, everything we make is for the customer as opposed to delivering standard pieces that sit on shelves; however, we do also make standard sizes of products, but they are to customer specifications in terms of finish. When it comes to projects, we supply to small residential homes up to larger residential projects and because we are bespoke we can work with most product requests," says Paul Mildenstein, Chief Executive Officer at Roof Maker.
Striving to design, manufacture and deliver the best quality products and services, the company has remained firmly committed to research and development, and the continual improvement of its products with new design features and components. By keeping innovation at the heart of its operations, the company has remained at the forefront of the roof light market – the most recent example of its innovative capabilities being a new glass range that is due to be launched in the final quarter of 2017. "Most customers get a standard specification of glass when they order a roof light so what we will do is offer a specification glass that is fit-for-purpose. Previously people used to buy roof lights based on their aesthetics and, to a degree, performance, but we want to demonstrate that the performance of the roof light is as important, if not more important, than the aesthetics. With this in mind we will be introducing a very strong solar protected glass, which enables the customer to enjoy the benefits of a phenomenal amount of light transition without the associated harmful sun rays. We are also offering a secure range, which means if the roof lights are in a location that could be easily accessible they are no longer seen as a security risk."
On top of this, Roof Maker is also introducing glass with exceptional acoustic properties – an innovation that will be particularly appreciated by those with noisy neighbours or who are located close to a railway station or busy road. "Whether it is rain or external noise, the noise will be minimised by the effective sandwiching of glass; these triple glazed acoustic products are extra special," highlights Paul. "Additionally, we are aiming to have the best energy efficiency on the market for roof lights."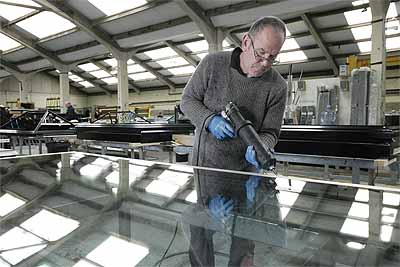 While the dynamic company has been developing new products in line with market trends and developments, it has also recently been through a major milestone in its relatively short history. Acquired by Next Wave in November 2016, Roof Maker today is supported by private equity, with founders Rachel Owen and Scott Nicholas re-investing into the business. "The purpose of this transaction was to bring in new investment and to drive an opportunity to scale the business further so we can reach some of our product and market ambitions," says Paul.
He continues: "The key thing is that we have set a large vision to make our business much greater and set ourselves up as a continual leader in the roof light market sector. We want to deliver absolute brand differentiation, so people talk about Roof Maker rather than roof lights; to make this possible we will improve customer service and front-line execution, build brand identity and have a pipeline of innovative, technologically superior products."
In line with these growth plans, the company is moving into a new manufacturing facility in the second quarter of 2018 that will not only increase capacity but also enable Roof Maker to bring more activities in-house. "By no longer relying on third parties for parts of our processes, delivery times will be faster and we will benefit from quality improvement; we will also be able to employ more people and focus on product development in new sectors that are allied to roof lights," says Paul.
With diversification of products and strategic expansion into new geographic markets on the horizon, Roof Maker will be seeking to recruit engineers and product developers to support its growth strategy over the next five years. "We also recognise that we are in the digital age and that we are an e-commerce business first and foremost. By maximising our reach and responding to customers through the digital online space we will continue to enhance our e-commerce position. Another area we are looking at is trade as we feel there is an opportunity to work closely with trade on grander projects in the future, which will also result in repeat business. Ultimately, we want to develop new, innovative products and go international with our brand," Paul concludes.
Roof Maker
Products: Manufacture high-performance glass units in overhead glazing structures