Home free
With 25 years experience in the manufacture of bespoke luxury motorhomes, RS Motorhomes has established itself as an award-winning leader in its field of expertise
Officially established 25 years ago, Yorkshire based, family owned business RS Motorhomes' history dates as far back as 1982 when Managing Director Mick Rowe built his own motorhome for motorsport. This soon became a desirable product that has gone on to become world-class with global demand. Since these early developments, RS Motorhomes has progressed from supplying specialised motorhomes to the motorsport market and expanded, with significant success, into the leisure market.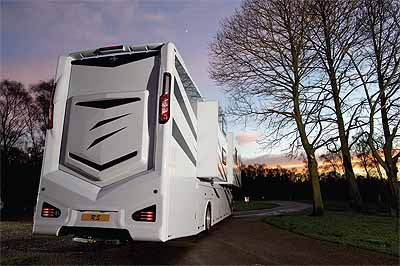 "RS Motorhomes has established itself as an award-winning bespoke luxury motorhome manufacturer that now builds motorhomes for all kinds of needs; these include motorsport, which is mainly motorcross, however we do also provide vehicles for racing cars, quads, buggies and many other racing platforms; leisure and disability," says Mick Rowe, Managing Director of RS Motorhomes. "Today we hold 80 per cent of the UK niche/completely bespoke motorhome market, selling to all corners of the UK and further afield."
As a renowned leader in delivering high quality products created from exceptional designs and an ongoing commitment to innovation, the company continuously strives to ensure that owning one of its vehicles is as fulfilling as possible for customers. Because of this, customers receive the same level of care and craftsmanship for each project, whether the client is requiring a 40 foot motor race support vehicle, motorhome or a van conversion.
According to Mick, RS Motorhomes' customer centric approach to business is key to ensuring optimum customer satisfaction during the process of production: "AT RS Motorhomes we can do just about anything the customer wants to a vehicle, from smaller bespoke items such as hydraulic leveling legs to extending slide outs to being able to fit a racing car in the back of the vehicle; in fact, we have built vehicles where the whole back lifts up to unveil a large garage space fit for a whole racing team.
"To make this possible, we work extremely closely with all of our customers, as each vehicle is completely bespoke we ensure that we have as much input and communication with clients as possible. The customer will regularly visit our design team and production plant throughout a project to ensure we deliver a vehicle to their exact specifications."
Operating as both manufacturer and dealer, the company is able to react to a customer's requirements and welcome their input; it also encourages both existing and potential clients to visit the facility and see for themselves the level of quality that can be appreciated by experiencing an RS Motorhome as well as the services on offer.
Within the company's RS model range, from smallest to largest, is Eros, Equinox, Endeavour, Evolution, Envoy and Emotion. Discussing the manufacturing process, Mick states: "We always use the latest chassis from either Iveco or Mercedes-Benz; a model we are particularly proud of is the Elysian. In fact, we are the only UK manufacturer of an A-Class, and the amount of design and technology that goes into this model is staggering. During manufacture, we completely transform the chassis, giving the vehicle a new face that we make on-site in the fiberglass shop.
"Within our range of products, the RS Elysian is a high quality, great value for money motorhome; we are proud that customers come back year-after-year to replace their older model with the latest version."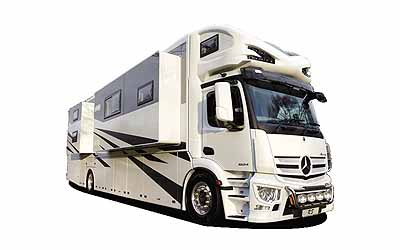 Injecting a high level of passion and charisma in every item it makes, the company's employees are driven to building the perfect motorhome and, as such, each product is built by hand with the enthusiasm and care for detail that the customer deserves. "We have a very Motorhomesstrong team that will always make sure each vehicle rolls out of the factory no less than perfect. From quality control officers to lean manufacturing managers, we will do everything we can to ensure that customer satisfaction is achieved," says Mick.
Following solid sales levels in 2015, with more than 10,500 new motorhomes registrations and sales reaching pre-recession levels that were the highest annual figure since 2007, RS Motorhomes is in an enviable position as the UK becomes one of the fastest growing markets in Europe for motorhomes. Moreover, the currency difference between the euro and sterling gives the UK leverage as an ideal place for European manufacturers to invest in; with all of these positive developments, it is anticipated that sales in the UK in 2016 will exceed those in 2015 and thus offer RS Motorhomes ample opportunity to strengthen its foothold in both the UK and beyond.
"Our goal over the coming years is to continue our expansion into Europe and are also looking at growth in areas such as South East Asia with potential partners. We have been very successful in the UK market and our long-term goal is to achieve this success overseas. To do this we aim to design and manufacture motorhomes across the world, meeting the expectations of customers like we have here. Ultimately, we want to design products that continue to exceed the competition and guarantee that the customer returns year-on-year," Mick concludes.
RS Motorhomes
Products: Motorhomes and specialised vehicles