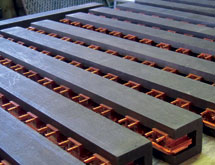 Scarrott Metallurgical Co.
There is no room for mistakes in the aerospace industry. For that reason, firms turn to Scarrott Metallurgical Co. (SMC) for the final steps in manufacturing components. Metallurgist Edward Arata, Ph.D., says, "We're very good in our niche."
Los Angeles-based SMC provides high-quality vacuum heat-treating and brazing services for the aerospace, defense, medical and computer industries. "We are currently approved by all of the major prime aerospace companies, and hold a NADCAP heat-treating certification," Arata says.
President David Scarrott co-founded the company with his partner, Robert Fairbanks, in 1977. Fairbanks and Scarrott, both metallurgists, formed the company after seeing an opportunity to serve the U.S. space program, General Manager Jose Catano says.
"When the Space Shuttle Program began, there were some exotic metals that needed to be heat-treated in a super clean environment," he explains. Niobium was one of these alloys. It was used for the nozzle and expansion chamber of the Space Shuttle Reaction Control System. These chambers were formed and required multiple anneals to relieve the work-hardening effect.
Any contamination would cause in-process cracking and failure. There were 48 such engines on each Shuttle vehicle. SMC processed every one of these engines without failure – in either manufacturing or operation due to heat treatment.
Today, SMC is still involved with similar aerospace programs such as 737 MAX, 777X, AIM-9X Sidewinder missile and Falcon dragon that delivers cargo to the space station. "We also process parts for machine shops and small manufacturers while adhering to the standards of the prime contractors," Catano says. "We take pride in what we do. We always make sure our equipment is maintained correctly."
The Family Business
Scarrott's daughter, Sales Manager Shannon Scarrott, says SMC is a family run company and plans to stay that way. "I will eventually take the chair of president," she says, noting that she has been with SMC since 1992.
"My son Anthony and my daughter Stephanie are here supporting us daily," she continues. "They are also both in school getting their education, so they will be a part of our future growth, as well."
Both Shannon Scarrott and her daughter's involvement are significant in what has been a male-dominated industry, she says. "I'm proud to see more and more women take the reins," she declares. "I've had the pleasure to work with so many women buyers, auditors, metallurgists and other positions that are leading our industry into its future.
"We have made a breakthrough over the years," Scarrott continues. "The respect gained by both genders is an earned one, not a given one, and we should be proud of that."
Key Factors
SMC's success is largely due to its focus on quality, Scarrott says. "Everything we do is about quality first and producing the best results that can be possibly achieved in this industry," she says.
To achieve those results, SMC stays in tune with technology. "We're continuing to improve, upgrade and add more equipment," Catano says. "We're striving to give our customers what they're asking for by using new technology."
SMC's most recent additions include new furnace controlling systems from Honeywell, and digital technology that records the temperature profiles of its furnaces. Although it previously used a paper-recording system, "Our focus is to go completely paperless eventually," he states.
Its success is also due to "the contribution of our wonderful customers," Scarrott adds. "We would like to send a warm thank you to Ace Clearwater and all of our customers. We appreciate their continued support."
Metal Detectives
SMC's work is never easy, Catano admits. "A lot of the time, customers bring us very difficult parts [to work with]," he says, noting that SMC enters at the final stage of its clients' manufacturing process. "We have to be extremely careful when handling the parts; we always wear surgical gloves."
SMC also helps its clients' engineers cope with problems that they might have in their own processes, Arata says. "We will talk to these engineers to provide technical information or support … to sort out their issues. It's a lot of detective work.
"SMC's customers often will thank us for our help," Arata says. "That's what I'm most proud of – the people coming back and saying that we did a good job."
Doing Its Best
Many were hit hard by the recent economic downturn, but SMC avoided layoffs, Catano says. "We were lucky to keep all the people here," he says, noting that several have been with SMC for more than 20 years.
The longevity allows SMC to easily train new employees, but the company keeps up-to-date with new standards. "We enroll our people in different courses hosted by the American Society of Metals," Catano says.
SMC also encourages its team members to attend seminars on work-related subjects. That way, "We make sure that we're using top-of-the-line equipment and alloys in the market, so that we achieve our best work," Catano explains.
A Better Future
After the rocky times of the recession, "We definitely see a better future coming towards us," Catano says, noting that SMC plans to add more equipment this year. "We are looking forward to that."
The company also will remain strong thanks to customer loyalty, Arata says. "Most of our work is for returning customers," he states, noting that some clients who had tried other heat-treaters have returned to SMC again.
Catano adds that one of SMC's latest projects included working on parts for NASA's Optical Payload for the Lasercomm Science Project. "We have been involved in just about every aerospace program from satellites, rockets, airplanes, jet engines, missiles and experimental programs," he says.
Lastly SMC would like to thank Manufacturing Today, for the opportunity to reach new companies and reflect on the company's service history in the aerospace industry.