Change for better principles
SFS Intec is part of The SFS Group construction division, the world's largest manufacturer and distributor of carbon and stainless steel fastening systems for metal and flat roofing, cladding and facade systems
SFS intec UK dates back to 1891 when the American Screw Company started to trade from a Liverpool warehouse under the name of The British Screw Company Limited. It wasn't long before the company relocated to a larger manufacturing site on Kirkstall Road in Leeds, where it still stands. At the time, the US was in a severe recession, so all the machinery from one mill
was dismantled and shipped to Leeds, where it was set up and a local workforce trained. The company survived various economic challenges, a fire, various restructuring and was eventually sold to SFS Stadler, a Swiss company, in 1984. "It proved to be an excellent fit as SFS Stadler had established a reputation as the leading problem solver for roofing and cladding fastenings, offering comprehensive services backed by the most advanced research and development facilities available for fastener manufacturing," said operations manager at SFS Intec, Darren Gunga.
The success of SFS Intec is due to its ability to detect emerging markets and work closely with its customers to develop unique products. Today SFS Intec UK supplies the widest range of innovative high performance roofing, cladding self-drilling fastener systems, hinges and window installation systems in the UK and the Middle East. "The range includes self-drilling fasteners, blind rivets, accessories and installation tools for single and twin-skin cladding systems, standing seams, composite panels and metal and non-metal rain screen panels. For single ply membrane flat roofs, not only do we supply the fastening systems to cover every application, but installation tools to ensure correct fixing and increase productivity," said Darren.
"Our Leeds factory focuses on the finishing processes of the product. The main body of the fixing is supplied in bulk from a SFS Group factory and then finished here in Leeds, in particular powder-coating," added Darren. The process is the modern and more environmentally friendly alternative to traditional wet painting, producing a more aesthetically pleasing product with a better warranty on colour stability. Powder coating helps prevent galvanic corrosion between dissimilar metals and rust and is resistant to lubricants, fuels, hydraulic fluids and most commercial solvents. It's durable and complies with major OEM specifications. The finish can be applied to a wide range of metals and components and is suitable for both internal and external applications and it is this diversity that is causing a rapid growth in the demand for powder coatings, combined with the development of new materials, formulations, equipment, and applications advancements.
As market requirements for powder coating increased SFS Intec redeveloped the UK plant as part of a £6 million investment programme. The new production and logistics facility included the latest high-speed curing technology for the process and inventory optimisation using a computerised Warehouse Management System (WMS). Darren introduced Ian Morgan – Supply Chain Manager to discuss the success of a particular aspect of the WMS, the automated retrieval system regarding customer service staff: "We now have paperless workflows, barcode scanning utilisation, extremely quick put away times of received goods and the ability to pick goods quickly and accurately with short reaction times. The modern, automated packaging facilities with bespoke labelling appliances use all recyclable and reusable packaging material. We also provide EDI links to parcel carriers with collections by specialising parcel and pallet carriers for customers to track their orders."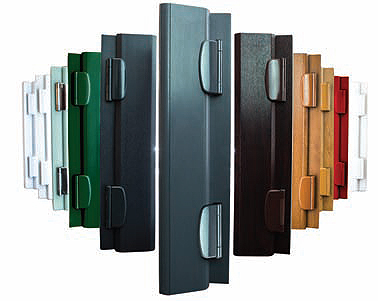 More recently in 2015 new compressors were installed in the factory, but in December that year the River Aire flooded its banks and many businesses along Kirkstall Road were damaged. "We coped amazingly well with the flood due mostly to staff commitment. Many team and family members turned up at the premises on Boxing Day to initiate flood defence procedures," said Darren. Due to flooding the clean up operation couldn't begin until 28th December. A major refurbishment ensued and the plant reopened its doors on January 4th 2016, the scheduled return to work day prior to the flood, following the Christmas holidays. Darren adds: "We were 70 per cent operational, but within the week we were back up to full capacity." It may have been a bad start for 2016, but it proved to be a record year in terms of production and turnover for SFS Intec UK, a shining example of the resilience of the company and its workers. Over the last three years annual output of powder-coated fasteners in Leeds has increased by approximately 124 per cent and is continuing to grow. It looks like an exciting year a head for SFS Intec as it heads into 2017.
In January 2017, new energy efficient lighting has been installed in the factory and initial savings are forecasted to be five per cent with a reduction in the company's carbon footprint of 65 tons per annum. The next steps are to install a more efficient heating system and reduce landfill to zero per cent. New products will be launched later in the year.
The SFS Group is also investing heavily to increase capacity and productivity at major sites in Switzerland. The group continues to show its commitment to European manufacturing from supply right through to its local operations such as the Leeds site. This strategy ensures quality for products and systems, keeps expertise and know-how in house and ensures lead times and customer expectations are met and exceeded.
Darren concludes: "Our plans for 2017 are to review the production processes and reorganise our working methods to further develop our capacity and meet fluctuating market demand. As part of our commitment to the Kaizen 'change for better' principles of continuous improvement and to remain extremely responsive and flexible to customer demand, we are investing in training to ensure flexibility within the team. We are also working on setting new specific KPIs to further enhance our monitoring of supply chain performance and eliminate any waste within the process."
SFS Intec Limited UK
Services: Global market leader for mechanical fastening systems and precision formed components