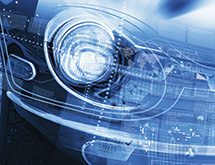 Shape Corp. is a leading full-service provider of design, engineering, testing and manufacturing of metal and plastic solutions. With a presence in North America, Europe and Asia, the company is known for advanced custom roll forming and injection molding capabilities. The company is active in a number of industries, including automotive, office furniture, medical and agriculture.
Started in 1974 as a custom roll forming company making metal components for the furniture and appliance industries, Shape Corp. truly found its calling a little more than 10 years after its creation. At that time, the company began making original bumper reinforcement beams for the automotive market. In the mid-1980s, the company also developed a method of roll forming ultra-high-strength steels, following that up by patenting some tubular high-strength steel processes in the 1990s.
"We grew rapidly making bumper beams for the big-three American auto companies, as well as for Japanese car companies," CEO Gary Verplank says. "As we continued to grow, we invested in a large plastic injection molding capability to make energy absorbers, and we started building plants around the world in the mid-2000s."
Age of Expansion
Today, the company has a physical presence in countries such as China, Mexico and the Czech Republic. A lot of its growth is a result of its global expansion, and the company is now the premier supplier of high-strength steel bumper beams around the world. Shape Corp. is also seeking to grow its footprint domestically while working to enhance its product offerings.
"We have expanded the scope of the products we are making, as we now have two injection molding plants in North America," Verplank says. "We are doing a lot of molding business in Mexico, and we are building a new plant in Alabama to make large plastic molding undercarriage components. In addition, we have plant in Texas that makes grill components for large SUVs."
Shape Corp. can also create specialty items such as 3-D roll forming shapes thanks to its roll forming equipment. It produces a lot of pedestrian impact equipment and does quite a bit of product testing, working with customers and consultants to help the company stay ahead of market trends.
"We look at everything that is happening in the industry, such as the long-term trend of driverless vehicles," Verplank says. "That is why we are looking to diversify our product line. As far as growth is concerned, our customers drive part of our strategy. They have expanded their footprints, and they have wanted suppliers to follow them around the world. It has taken a lot of energy and capital to build our footprint."
People Matter
Verplank says the company would not be where it is today if not for the quality of Shape Corp.'s workforce and culture. Transparency has been a key part of fostering that culture, as the company shares all P&L figures with employees on a quarterly basis. It also offers substantial profit-sharing bonuses to employees.
"We want to get our people involved and aware of what is going on with company," Verplank says. "Weekly communication blasts and quarterly publications help inform and highlight our people. Our culture is something we've tried to take with us overseas."
Workforce training is critical for Shape Corp., which has been named to Training magazine's Training Top 125 list in the last few years. The company's human resources department runs more than 150 in-house classes, and the company also provides financial support to those associates that wish to continue their education.
"There is a lot of competition for good people now, and we are trying to prepare to become a billion-dollar company," Verplank says. "To help with that, we are working with the University of Minnesota's business school."
The company has emphasized those aspects of Shape Corp. when expanding its global footprint. All company manuals and materials are published in local languages as part of its effort to connect to the local workforce. In addition, whenever it starts a new plant, the company's leading people in departments such as roll forming, welding and injection molding spend time on location to train the workforce.
"The key people overseas also come here to learn," Verplank says. "That helps us to build great relationships."
Employee wellness is another important aspect of operations for Shape Corp. In fact, the company's wellness programs date back 20 years, years before wellness became a trend. "We have long believed in helping our people to be healthier and save money on insurance costs," Verplank says. "We have a wellness center and offer exercise opportunities and classes on issues such as nutrition and stress management. Supporting efforts to stop smoking and manage weight are also important."
Having experienced a great deal of growth over the years, Shape Corp. is focused on keeping its financial house in order and looking forward to developing and expounding its capabilities. For example, the company is embarking on new venture in Thailand to serve the Thai and Indian markets. Thanks to a thorough understanding of how to weather the ups and downs of the automotive business, Shape Corp. has reason to be optimistic about its future.
"Right now, we are grooming the future leaders of the company," Verplank says. "The important thing will be for us to keep ourselves healthy and our capital structure in line."