Speedboard Assembly Services
Full speed ahead
In a fast moving and competitive market, Speedboard attributes its success to its collaborative approach to business and its investment in manufacturing equipment that ensures consistently high quality
Starting life as a bare-board manufacturer in 1983, Speedboard tackled its first Contract Electronics Manufacture (CEM) assembly project in 1988; for a then pioneering developer of electronic personal organisers. Today, the CEM is renowned for supporting its customers in high-tech sectors – such as communications, defence, industrial, medical and security – by adding value to outsourcing arrangements.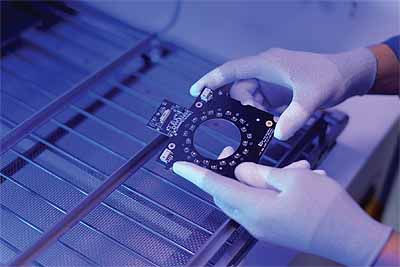 In FY 2014-15, the company turned over £9.23 million, its best year on record and up 24 per cent on the previous year; a remarkable achievement in a market that, according to the latest Plimsoll Summary Analysis report on UK Contract Electronics Manufacturing, only grew four per cent over the same period. So what is the secret of Speedboard's success?
The company's CEM activities fall broadly into two categories, as Managing Director Neil Owen explains: "The first is printed circuit board assembly (PCBA) work, and our investment in the latest manufacturing techniques and equipment enables us to tackle increasingly complex projects. Some of the work is traditional build-to-print but increasingly we are working closer to our projects customers' engineers on both Design for Test (DFT) and Design for Manufacture (DFM) issues. The second main activity is final assembly. For some customers this can also include packaging and shipping product to their customers."
Speedboard has all of the standard manufacturing equipment you would expect of a traditional CEM, including five Surface Mount Technology (SMT) lines which, between comprise 15 Siemens SiPlace machines. The company also has a variety of standard test capabilities, offers Kanban stock holding and operates a Quality Management System which is BSI-certified as being compliant with ISO 9001.
A key differentiator between Speedboard and the vast majority of UK-based CEMs is that the company's owners were previously customers of the company. This has instilled an extremely customer-focused approach to business and is reflected in its high customer retention rate. Speedboard's longest standing customer has been working with the CEM for over 23 years. Staff retention is high too. Neil comments: "Some of our key staff have been with us since our bare-board days in the early 1980s. Impressive in its own right but that's also great expertise for any CEM to have in-house."
Another differentiator is Speedboard's willingness to invest in manufacturing equipment, and the associated training of personnel. In the last 18 months alone, Speedboard has invested a CAPEX value of around £200,000 in two additional manufacturing techniques.
The first investment was a Vapour Phase oven. Compared to traditional convection reflow soldering, Vapour Phase affords much better control and stability over the entire soldering process, irrespective of variations in the board's thermal mass. During the process, the PCB is suspended in the vapour of a boiling, inert liquid (which has a boiling point slightly higher than the solder reflow temperature). The PCB physically cannot become hotter than the vapour, thus minimising the risk of over-cooking heat-sensitive components.
The second investment was in a Selective Soldering line; ideal for tackling increasingly complex double-sided, mixed technology PCB assembly projects. The process has much in common with wave soldering but components are soldered on a pin-by-pin basis and without disturbing pre-placed neighbouring components.
Neil comments: "Both investments were made in light of the increasing complexity of PCB assemblies and to ensure we deliver consistently high quality."
Speedboard's success is not just down to its investment in manufacturing equipment, though. Neil stresses that the CEM-customer engagement model must be mutually beneficial if both parties are to grow their respective businesses. "We firmly believe that the traditional outsourcing arrangement model, which is transactional based, is no longer able to produce win-win situations for the customer and the CEM. Instead, the engagement model needs to be collaborative, and more akin to how an OEM engages with its in-house shop floor. This is particularly the case where new product introductions are concerned and if continuous improvements are to be made."
Proof of the 'more collaborative' relationship between CEM and customer working, and producing great results, is Speedboard's recent receipt of an Outstanding Customer Service award from motion capture specialist Vicon Motion Systems Ltd. The award recognises how the CEM rose to both technical and logistical challenges during the launch of Vicon's latest camera, Vantage, in 2015.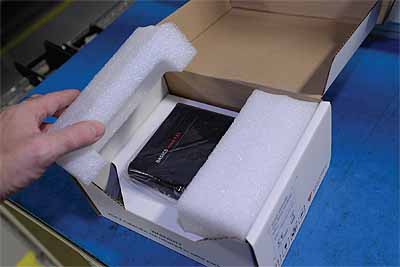 "A Vantage camera comprises three circuit boards," explains Neil, "all of which present significant manufacturing challenges. Its processor board is complex by virtue of having 16 layers, 800 PTH vias, 6,500 blind/buried vias and more than 30 BGA-packaged devices. Its strobe board is a metal backed single layer substrate, ruling out traditional convection reflow and warrants Vapour Phase. Lastly, the camera's sensor board is a mixed-technology PCBA, dominated by a high-end, through-hole sensor device with several hundred pins and a tight pitch. For that we recommended Selective Soldering."
Regarding the logistical challenges, one included addressing Vicon's concerns over outsourcing so much work to a single CEM, as Speedboard is also responsible for the manufacture of another of Vicon's popular camera ranges. Speaking at the award presentation, CEO of Vicon, Imogen Moorhouse, said: "Whilst outsourcing so much to a single CEM may seem risky to some, we enjoy a particularly open and trustworthy relationship with Speedboard and we have a variety of jointly-developed business risk reduction measures in place that enable both parties to focus on their key areas of expertise. During the development of Vantage, we were able to treat Speedboard as if they were our own shop floor, and we do not believe any other CEM could have supported us in this way." Speedboard also coped with a last-minute 50 per cent increase to already demanding launch quantities.
Also key to the successful launch of Vantage was the use of Speedboard's New Product Introduction (NPI) model. It extends beyond a typical build-to-print scenario by including an early review of the Bill of Material, the securing of long lead items (which can often be a governing factor in how quickly a product can reach market) and considerable DFT and DFM guidance. "These days, NPIs require a very open book policy," says Neil, "as it is only through the sharing of information and allowing the CEM to contribute its expertise as soon as possible that realistic launch dates can be set and hit."
Speedboard sees collaborative engagements as the way forward and has recently formed dedicated customer teams to support this. Each team is responsible for supporting a number of customers, and the allocation of customers to a team is based on a variety of factors such as product complexity, assembly complexity and whether or not box-build (final assembly) is required. Continuous quality improvement is on the agenda too, and Speedboard has signed up to the SC21 supply-chain improvement programme.
"We're not resting on our laurels," says Neil, "we're on track for our turnover hitting the £10 million mark this year and we want to hit £15 million within the next five. How will we do this? We're setting our stalls out to become 'the CEM partner of choice' for complex, demanding projects – and we envisage that the majority of the engagements with our customers will soon be collaborative, virtual shop floor type arrangements."
Speedboard Assembly Services
Products:
• PCB Assembly
• Final Assembly
• New Product Introductions
• Full Lifecycle