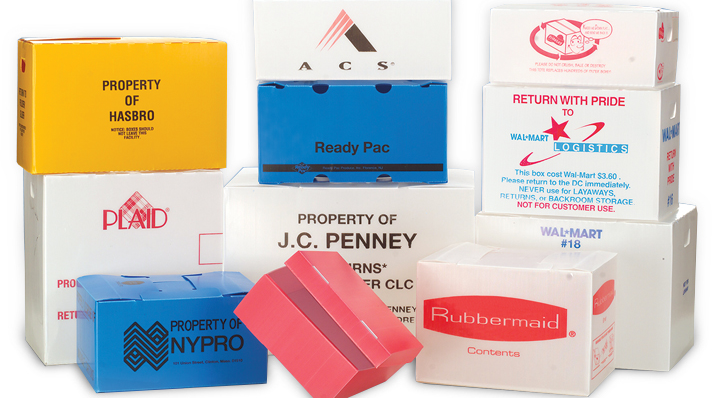 Technology Container Corp.
These days, companies are focused more than ever on being green in their operations, making it a good time for Technology Container Corp. (TCC) to be in business. Based in Desoto, Texas, the company supplies reusable plastic corrugated boxes, signboard to the Graphic Arts Industry and paper boxes to clients worldwide.
President Fred Dowd explains they identify clients who have a reusable distribution loop, where they can control and reuse TCC's plastic boxes over and over again. These customers have an opportunity to drive costs down in a material way. Reusable plastic boxes provides them with a sustainable alternative to paper distribution boxes, which are simply not as durable.
Reusability equals cost reduction and a smaller environmental footprint. In fact, TCC's boxes can be used for hundreds of cycles. For example, "We sold a customer 10 years ago 100,000 boxes, and they still have 67,000 boxes in their system," he reports, adding that this client continues to buy boxes from TCC to this day.
This durability provides TCC's customers with multiple advantages, including the reduction of greenhouse gases, solid waste and energy consumption by 50 to 80 percent. It also drives down their distribution packaging costs to only a few pennies per shipping cycle. "Due to their durability, another benefit is better product protection. Plastic boxes are unaffected by moisture and humidity. They do not crush under load. Customers report a significant savings in product damage claims because the boxes are so strong," Dowd says.
In addition, there are a lot of soft cost savings associated with a reusable program. Once the customer's system is fully charged, they no longer have the repetitive paperwork and material handling of purchasing paper boxes on an ongoing basis. This saves on clerical processing and forklift handling labor.

Due to its high-speed, one-step manufacturing process, TCC can competitively service customers around the world. Even though there could be $0.25 or $0.50 in added freight to remote regions, the cost impact is negligible when you divide the freight cost by 100 to 500 shipping cycles.
RFID Technology has helped TCC's customers keep track of their boxes. "When it first hit the market, it was a nice replacement for conventional bar code technology," Dowd recalls. "Customers can now passively track the boxes. This has been helpful to our sales since it is easier for clients to track their fleet of boxes with a simple, reliable system that doesn't require labor."
Sustainable and Simple
During TCC's manufacturing process, the company uses virgin polypropylene or 50 percent recycled material to manufacture its boxes. When using virgin polypropylene, "We can give customers any color they want," Dowd says.
When using the recycled material, TCC often manufactures its boxes with a black tint, "because the resin comes to us mixed," he explained, adding that recycled material can be produced at a lower cost. "Customers also like to say they're using a recycled product versus a virgin product."
TCC also sets itself apart, Dowd adds, by utilizing a vertically integrated manufacturing process that his father created. Today, "We're the only ones that can print, die-cut, fold and glue corrugated plastics like we do our paper boxes," he says. TCC extrudes its own sheets starting from resin and then processes sheets into boxes in a one-step, high-speed process.
This one-step process, he notes, allows TCC to efficiently fill larger orders at production speeds of up to 4,000 boxes/hour, while its competition often has to hand stitch their product together. "That makes it hard to be time and price competitive when shipping products all over the world," Dowd says. "We export product to Europe, Latin America and as far away as Japan."
Planting Seeds
TCC is currently focused on a strategy to educate the public about the benefits of reusable packaging. "We're constantly planting seeds at trade shows and doing our best on the web," Dowd says. "Reusable projects can take months or years to germinate."
Recently, the company appeared at ProMat 2019, where it saw healthy interest in its products. Not only has the rise in paper prices driven their attention, but also "people are taking a fresh look at things as a result of environmental concerns," he says.
"Every time there is one of these catastrophic storms, people take interest," he says. "When you see a neighbor's house floating by, it touches the heart and rings true that everyone has to do their part whenever they can."
TCC has also sought out new market opportunities. For example, "We've invented a new box which may have large scale market implications for certain segments of the market that presently use paper boxes. We think this new application of our technology will be successful," he says.
The company is just starting to get the word out about these products, and will soon meet with potential customers. "We're working to evolve some static, traditional markets that need a solution whether they know it or not," Dowd says.
Legacy in Boxes
Dowd is proud of TCC and how it has prospered over the last 30 years. "We consider ourselves the world's expert when it comes to automatic lock bottom paper and plastic production," he says. "We really pioneered the reusable plastic box technology."
Dowd sees a strong future for TCC. "We're going to continue to grow the company and try to push the technology," he says, adding that it plans to expand its location in Desoto at the end of the year.
"We have 200,000 square feet and have plenty of space to expand," Dowd says, explaining that will add up to $4 million worth of equipment to expand its extruding capacity as well as its boxing making and sign boarding capacity.
"We also have a fairly large R&D effort on our own, trying to find new and successful ways to implement this technology in numerous markets," he adds. "We like to do the weird and different."