Redefining manufacturing in Industrial Automation
With more than 5000 projects completed since 1977, Tronrud Engineering AS has developed a strong reputation as a leading provider of cutting-edge technology and specialised engineering solutions
Founded by Ola Tronrud in 1977, in a workshop that was based on the ground floor of his house (Ringerike county), the Norwegian firm Tronrud Engineering remained a one-man business for seven years before Ola bought a new property to serve as the company premises in Hole County (Norway). From then on, the company saw extensive expansions – both in terms of acquiring larger and well-equipped production facilities as well as the increasing number of manufacturing projects that it was undertaking. In 2011, the company relocated to Ringerike county and celebrated having its entire operations consolidated at one address – Eggemoen. And the company then began operating out of two brand new buildings with an area totalling 12,000 cubic metres.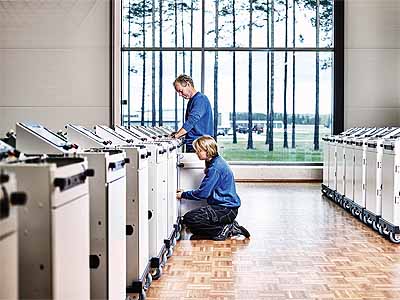 Tronrud Engineering offers customised industrial products and technical solutions to a wide range of sectors including secondary packaging, defence, telecom, healthcare, oil and gas, maritime, aviation, wood-processing, automotive, recycling, energy and environment, food and beverages, photovoltaics and textiles. The company has also acquired a special competence in rendering services. They undertake both internal and external R&D assignments, machining through an optimal combination of manual and CNC controlled machines, programming of PLC, PC control, servo systems and databases, and design and assembly of a range of products. Tronrud Engineering also conducts steel and aluminium welding, water jet cutting and steel sheet work. The company's core business, however, can primarily be categorised as 'product development' and 'specialised machinery and standard products'.
Standing by its motto of 'Putting Ideas into Practice', Tronrud Engineering offers an ideal setting for innovation and optimisation. As a part of its product development capabilities, the company offers prototyping, R&D, mock-up possibilities with fast and in-house assembly and testing, design and engineering, software development, production and assembly and complete production lines. During the design and development stages, the company employs advanced equipment and technologies such as additive manufacturing, which is a process by which digital 3D data is used to form a component – layer by layer – through the use of materials available in a fine powdered form. This technique enables creating products with increased design flexibility, lightweight yet stable construction; and the possibilities for rapid prototyping and mass customisation. Much of the specialised machinery that Tronrud Engineering offers started off as designs on the drawing board in its product development wing.
The company also manufactures standard off-the-shelf products that include secondary packaging machinery such as the TCP 160 (Case and Tray Packer), NCP 400 (Unique Compression Packer) and WP 3000 (Wrap Around Case Packer); the automated pallet label applicator LabelEx 255B, the TE Titan suppressor, the TC2 (a digital Jacquard loom), wax applicator machine, Speedex (packaging machine) and machinery for proof coin production.
Since its inception, the company has completed more than 5000 projects and successfully met the needs of thousands of customers in different sectors across the globe. In fact, the history of Tronrud Engineering – in many ways – mirrors the manner in which industry has evolved in Norway, with the company's main customers originally coming from the mobile phone and photovoltaic sectors. Following this, the company took on projects within the growing oil and gas sector as well as medical projects. More recently, the company has taken up projects catering to the food packaging industry. But over the years, the company's regular customers have been the automotive and air & space industries.
Key to Tronrud Engineering's foray into the food industry is its acquisition of NOR-REG Systems AS – a developer and manufacturer of machinery in the highly specialised area of end-of-line packaging automation – in August 2015. The acquisition not only involved taking over all of NOR-REG Systems' existing assets, intellectual property, patents and technology, but also taking on personnel from the firm. With the food industry at the heart of NOR-REG Systems' expertise for more than 30 years, the company has developed packaging machinery for products such as dairy, frozen foods, fruits and vegetables, confectionery, tea and coffee, beverages, pet food and snacks. The company has extensive experience in handling both primary and secondary packaging at high speeds. With this strategic takeover, Tronrud Engineering aims to build on some of NOR-REG Systems' technology and also become a reliable partner for the delivery of secondary packing machines to both existing and new customers of NOR-REG Systems.
Making sure these aims are met is Rune Nordby, Sales and Marketing Director of Tronrud Engineering AS, who joined the company in October 2015. "Since joining the company, my focus has been the acquisition of NOR-REG Systems and the integration of this company and its products into ours, so that we can meet the needs of the food industry across the globe. This acquisition has not only ensured that we maintain a stable project delivery, but will also increase the turnover by taking up more projects and diversification of our customer base. Our expansion into the food industry has been into the meat, fish, dairy and snack sectors. In line with this development, we have focused on R&D, particularly for the fish industry, which of course requires the development of special machinery," he comments. "We are currently looking at exploring new markets in the food and snack industry with these new system machines. The food industry is still a new market for us and we are looking forward to developing further in this sector."
Having diversified its market presence and strengthened operations, Tronrud Engineering 63aims to continue delivering optimum solutions to customers. Rune speaks of the road ahead: "We are currently involved in a lot of new projects in varied sectors – oil and gas, food industry, healthcare to name a few. We have recently entered into a contract with Pepsi Co., a leading American brand with a global presence within the snack food and beverage industry. As a part of this project, we are making packaging machines for their plants. We have also made some special machinery for Norsk Titanium, who will be an important customer for us over the coming years. We are producing three 3D additive manufacturing machines to help them meet the increasing demand from a number of leading commercial aerospace and defence manufacturers."
With its staff numbers increasing from 128 to 156 over the last eight months, this dynamic company is all set to deal with the influx in demand for its products and services over the coming years. "It is all about providing quality, affordability and reliable solutions and services to our customers. By continuing to lead the way when it comes to technology and service, we not only give our customers a competitive advantage in the market, but also increased profitability," Rune concludes.
Tronrud Engineering AS
Products/Services: Supplier of specialised machinery