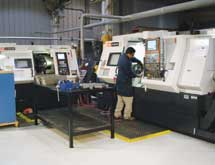 Global expansion is a high priority for Tube-Mac Industries Inc. (TMI). The Stoney Creek, Ontario-based company, which manufactures non-welded hydraulic piping systems and components, recently expanded its Madrid office into a full warehouse facility and opened another office just outside of Rio de Janeiro. In addition to the international offices and two U.S.-based facilities, the company also has distributors and agents throughout North America, Europe, Australia, Asia and the Middle East. This year, the company expects to complete an acquisition in Europe, furthering its presence on the continent.
"North America has always been our home, but we realized the need to expand our business globally due to ever changing market conditions," Vice President of Sales Chris Peitchinis says.
The company continues to invest in its North American operations. It recently expanded its main facility in Stoney Creek by 5,000 square feet, giving it more than 55,000 square feet of manufacturing space.
TMI serves customers in the steel, marine, offshore, pulp and paper, mining, oil and gas, automotive, and petrochemical industries. "Basically, we serve wherever there is hydraulic and lubrication piping," Peitchinis says. "Our customers expect quality piping systems that are installed quickly, are leak free and have no contaminants."
Non-welded piping systems offer customers a cost-effective and easier-to-install alternative to traditional systems. "In today's world, skilled high-pressure welders are becoming more difficult to find, especially in remote parts of the world," the company says. "Cleanliness and environmental issues are becoming a major concern in industry. There is absolutely no valid reason that piping systems should be installed in the same manner they were 50 years ago, with high labour costs and inadequate cleanliness practices."
Manufacturing Dedication
TMI draws on three non-welded piping technologies; a 37-degree flared flange configuration, a retain ring flange configuration and its PYPLOK® connecting system. All products are manufactured using the latest CNC lathes, CNC machining centers and EDM machining equipment.
"We constantly reinvest in the latest manufacturing equipment and customized cutting tools in order to be able to machine parts quicker while maintaining the quality of our products," Peitchinis says. "Our investment in the latest manufacturing technologies and inventory storage systems allows us to meet the demand of our customers."
The company is capable of adjusting its manufacturing to meet customer requests. "Our product lines really don't change, but our customers are constantly asking for various non-standard sizes, which pose no issue for us to redesign and manufacture if the volume is there," he adds.
In addition to manufacturing equipment investments, TMI also recently invested in eight computerized lean lift storage units, which reduced the amount of floor space used for inventory and allows for quick part retrieval.
"Being both a component manufacturer and project-based company has its challenges," Peitchinis notes. "We maintain a certain level of emergency stock on our shelves and rely on our distributors to carry inventory.
"Disruption occurs when changes in the field on a project results in stopping a production machine to produce a few parts required on a project," he adds. "We have to weigh the costs to have several men waiting for parts in the field versus the breakdown and set-up costs to machine a few parts."
TMI is able to meet its production and other challenges through the dedication and knowledge of its manufacturing personnel and office staff. "I'm most proud of our people," Peitchinis says. "Most of the office staff have been employed by Tube-Mac for more than 20 years, and the dedication of a key group of individuals in our manufacturing facilities also rubs off on new employees."