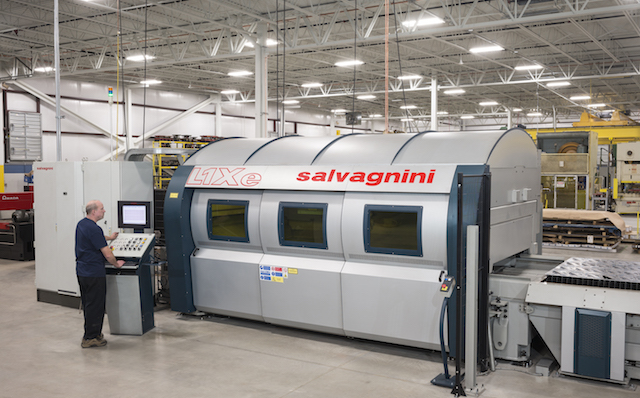 Ultra Tool & Manufacturing
For nearly 50 years, Ultra Tool & Manufacturing, Inc. has earned loyal clients in the electronic, lawn and garden, military and motorcycle markets. "Once they get accustomed to working with us, they enjoy the quality and customer service," owner Terry Hansen says.
Clients particularly enjoy how they encounter few issues when working with Ultra Tool. "Many of our customers call us 'the silent supplier' because they never have to micro manage us," he says.
Based in Germantown, Wis., Ultra Tool specializes in metal stamping, tooling and metal fabrication. Hansen's father, Lloyd, founded the company in 1969. At the time, "It was a small tool and die shop," the younger Hansen says.
But Lloyd Hansen recognized that the company would be more profitable and grow faster if it entered the manufacturing space. "We started doing work for Harley-Davidson and Briggs & Stratton," Terry Hansen says, noting that its clients have grown to include Rockwell Automation Inc. and Honda Power Equipment.
Today, Ultra Tool is a high-end metal stamper "that can take a project from the cradle to the grave," he says, noting that the "cradle" represents the design stage. "We're very good at helping customers improve part design to reduce cost."
Doing It Right
Hansen started working at Ultra Tool by doing odd jobs at the age of 10. When he was older, he began working in its pressroom and operated punch presses. "I also served a tool and die apprenticeship, built stamping dies and migrated through the various manufacturing functions," he recalls.
He took over leadership of Ultra Tool in 1988. "My philosophy has always been to take care of the customer, keep them happy and profits will follow," Hansen says. "That's been my mantra.
"If you do the right thing, you'll be successful," he says, noting that the company also does the right thing when it comes to equipment. "I always try to focus on buying equipment that's going to be there for the long haul and doesn't require a lot of maintenance."
This philosophy is reflected in the company's recent investment in a new 135,000-square-foot facility in Germantown. "We added an 800-ton punch press with a 168-inch bed length," Hansen says. "That has taken us into new markets, new customers and the ability to make larger parts."
Thanks to the press, Ultra Tool added the Woodsville, Wash.-based Precor Inc. to its clientele. "[They are] in the exercise equipment field, which required very large, thick stainless steel stamping," he says.
Quality Control
Ultra Tool focuses heavily on manufacturing quality parts and it starts with tool design and construction. "You must have a good die that will make a consistent part, stroke after stroke, in order to have success at delivering a quality part," Hansen says.
But performance is not the only factor that Ultra Tool looks at. "Everybody wants a good-looking part that not only just meets the specifications," he says, noting that the company's focus on quality starts in the planning stage to insure that parts are handled cautiously to prevent cosmetic damage.
Ultra Tool also handles finishing processes including heat treating, plating, painting and packaging to deliver ready to assemble parts to the customer's assembly line. "To manage all aspects of production requires that all processes be evaluated and scrutinized for quality control," Hansen says.
The company also has implemented practices such as visual management, 5S and EOS (Entrepreneurial Operating System) management philosophy. "It's aligned the whole company based on accountability," Hansen says. "While we're still early in the process, we've seen a lot of benefits mostly by getting people on the same page regarding values and goals and creating measurements to track our progress.
Plex, an ERP system, was implemented in 2013. "It continues to get rave reviews from everyone we show it to during customer audits or ISO audits," he says. "It's all Internet-based, or SAAS, and since implementation we have never had a production interruption caused by an internet failure." The most impressive part about this system is how strong the quality tools of the system are. PPAP, FMEA, ECR, and Audits are all included.
Way of the Future
Ultra Tool is positioning itself for growth, Hansen says. "We're looking to expand in other areas, whether it is in different markets or geographically," he says.
The company also plans to look at streamlining and automating its manufacturing process. "It's just the way of the future," Hansen says. "We have the ability and mindset to implement automation into our processes."
Ultra Tool already has several out on its floor, but wants more. "We are evaluating different robot manufacturers and implementing semiautomatic techniques on a constant basis," he says.
Employee Investments
Ultra Tool & Manufacturing Inc. invests strongly in its associates through its Training Center for Advanced Learning. "It was developed to provide each Ultra Tool employee with a solid base of knowledge related to our business," the company says.
"It includes courses in metallurgy, tool and die, plant safety and various software applications," Ultra Tool says. "The goal is to help new employees adjust to a new environment quicker and to increase the skills of existing employees."
The company also focuses on its employees' health and wellness through LIVE LEAN, a program that is dedicated to providing tools and resources to improve the workers' well-beings. "The program is designed to address all the different aspects of employees' lives from physical, to emotional, to financial health with individual, family and community-based events," it says.
Adding Value
Ultra Tool's investments also include putting more than $6.1 million towards technological developments over the past five years. These have included new presses, process tools, an in-house sensor lab, more facilities and design software. The company adds that it also is certified to ISO 9001:2008.
The company also focuses on providing additional services. "Many times, customers want to simplify the final assembly of their stampings," it says. "So Ultra Tool offers sub-assembly services, an added value that can take many forms, including welding, kitting and adding hardware or other purchased components."