One of a kind
Unique Window Systems' extensive portfolio of fenestration and building products is designed to suit all of its customers' new build, home improvement and refurbishment project needs
Prior to 2005, Sunil and Atul Patel had started out in the domestic fenestration sector. In fact, such was their success that increasingly the pair found themselves picking up larger projects, which were in effect commercial undertakings. It was this experience that saw the brothers establish Unique Window Systems, a company that they would steer towards the trade and
commercial sectors.
"This decision proved to be a very fruitful one," begins Joint Managing Director, Sunil Patel. "Today we are operating on a much larger scale, with trade and commercial departments that have both gone from strength-to-strength. Together with our Commercial and Special Project Director, David Rowley, and Trade Sales Director, James Raven, we have built an invaluably talented and experienced team here at Unique Window Systems."
Now a well-established designer, fabricator and manufacturer of PVC-U and aluminium fenestration and building projects, Unique Window Systems specialises in the supply of quality products, including contemporary bi-fold doors, residential entrance doors, French doors, casement, tilt and turn, and vertical sliding sash windows, all of which are fabricated to the highest standards at its Leicester-based production facility. "In our trade department, we excel in the supply of quality products that help installers to win, work and develop their businesses," Sunil continues. "Our commercial division, meanwhile, works with some of the biggest housebuilders in Britain to showcase how our products can deliver solutions for all manner of projects, from retail and educational, to medical and residential."
The company's impressive range of products, together with its ability to deliver these with optimum quality and excellent lead times, is one of its core strengths. From a commercial perspective, its in-house estimating, design, manufacturing, project management and installation capabilities help Unique Window Systems to provide a streamlined service to its customers. By working closely with said customers it is able to ensure realistic leading in periods and, ultimately, the best value solution for the delivery of fenestration for all projects, from estimating to final installation.
"Continued investment in state-of-the-art machinery has also helped us to optimise efficiencies and reliability, helping us to maintain our competitive-pricing policy, as well as our reputation for product quality and accurate delivery schedules," Atul adds. "We have the capabilities needed to process projects from £100,000 to over £4 million in value, and in 2016 we opened up a brand-new aluminium facility in order to further streamline production for the benefit of our customers.
"We have invested almost £1 million in a full suite of Emmegi machinery for this new factory. The machinery acquired includes a new Quadra L2 sawing, a Satellite XT five-axis CNC machining centre, two Classic Star electronic computerised saws, and a range of Itaca Solution NC controlled crimpers, automatic bead saws and handling equipment. Arguably our most important investment however has been the Graf Synergy SL4 FF.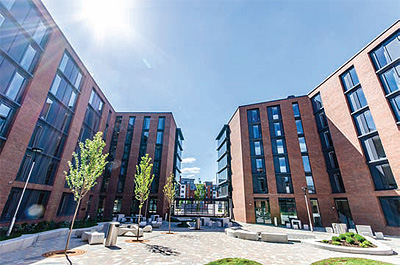 "However, our focus isn't solely with our aluminium production; we are continually investing in our PVC-U machinery too. We have purchased a second BDM cutting and machining centre, with additional saw blade and end milling capabilities for our PVC-U production line, an urban frame line, complete with SV 800 corner cleaner, two six-head welders and an urban sash line with three quad welders. A brand-new LINK-9045 two head welder and miller, and a SV530S-C CNC corner cleaner will see this set of PVC-U equipment equate to almost £2.5 million worth of machinery investment."
Unique Window Systems has also developed its own curtain walling and bi-folding door systems, which it has named Tufacade and Unifold respectively. In 2016, Unique also began fabricating the innovative WarmCore system. It has since identified this as a key product for the company and one that has a huge amount of potential when it comes to the company's trade customers and commercial projects. It has found that when there are thermal requirements for a project, WarmCore offers priceless adaptability and high performance.
Two recent commercial projects that Unique Window Systems is particularly proud of involved work on the Lumis Student Living redevelopment, and on the Eden Girls' and Boys' Schools. The former involved the fabrication and installation of windows, doors and curtain walling as part of the redevelopment of a former bus station site in the historic heart of Leicester. Comprising four buildings and providing 567 student bedrooms, as well as substantial amenity space, the Lumis Student Living project features windows and doors from aluminium specialists AluK, as well as 58 BW window systems and a GT 55 commercial door, which were carefully selected by the Unique Window Systems' commercial team.
In the case of the Eden Girls' and Boys' Schools, two of the newest secondary schools in the West Midlands, the company fabricated and installed the latest Modus window from Eurocell. The designs for each school were identical and included £250,000 of frames and fenestration installed. The 72 frames came in four different configurations, while all the window units measured up to 2.4 metres tall.
Having been ranked 21st in the 2016 Real Business Hot 100 back in November 2016, a list that reveals the 100 fastest growing private SME companies in the UK, Unique Window Systems followed this up with being included in the London Stock Exchange Group's 1000 Companies to Inspire Britain 2017 report. "First and foremost," Sunil stated at the time of the report's release, "this news is testament to the fantastic work of the whole team. This is a company brimming with talent and a drive to succeed, while major investments have also played a significant role, allowing us to optimise our efficiency and product quality to a superb standard. To be identified as one of the fastestgrowing and most dynamic SME's in the UK affirms us as a company making significant waves in our industry."
Atul concludes: "Everything we have done, and the growth that we have seen, is the product of a lot of hard work, as well as the reputation that we have developed for product quality and service. Some people say that there is no money left in the industry, but we know that it is there to be earnt if you put money back in and build for the future. We have a good product mix, which we are pitching at the market at the right levels, and the investment we have made in machinery and in automation is what allows us to process high volumes, while still retaining quality. That is something which we see as defining the market more and more going forward, and we will be looking to invest further still into our production capabilities as we move towards the second half of 2017, and into 2018."
Unique Window Systems
Services: Manufacturer, fabricator and installer of PVC-U and aluminium fenestration products