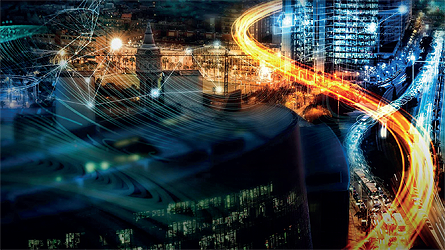 This new solution establishes an end-to-end digital thread between equipment manufacturers and the owner/operators of that equipment by leveraging elements of the Xcelerator portfolio from Siemens Digital Industries Software and IBM Maximo®.
"This new collaboration combines two industry-leading offerings into a unique solution for the industry," said Kareem Yusuf Ph.D., General Manager, IBM AI Applications Business. "OEM's and owner/operators can leverage the new solution to help them reduce operational costs and increase up time of their equipment."
The integration of asset management and product lifecycle management (PLM) technology can help owner/operators to stay up to date. The solution also enables OEMs to receive critical data about asset performance, maintenance and failures in the field. Leveraging IoT technology, manufacturers can gain insights on wear and tear, operating conditions, parts failures, and other patterns that lead to design or manufacturing updates. This data can be used to help manufacturers lower maintenance costs, reduce risks, and improve asset resiliency.
"IBM's Maximo Enterprise Asset Management software provides key technology to further extend the capabilities of the Xcelerator portfolio," said Tony Hemmelgarn, CEO for Siemens Digital Industries Software. "By leveraging the world-class product configuration management capability within Teamcenter, companies can bring product design, manufacturing and service together to maximize their software investment, while also minimizing downtime, improving quality and reducing inventory costs."
Perseverance and ingenuity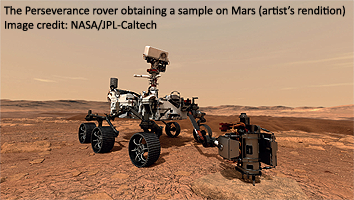 In July, NASA will be sending its fifth rover to Mars. Its main mission is to collect soil samples that will be analyzed on Earth at a later time. NASA's Jet Propulsion Laboratory (JPL), is carrying out the mission, and has asked maxon to produce ten drives for the rover. As with almost all previous Mars missions, these drives are based on standard products from maxon's catalog with modifications. For the first time, NASA is using brushless DC motors, including: nine EC 32 flat and one EC 20 flat in combination with a GP 22 UP planetary gearhead. Working closely with JPL specialists, maxon engineers developed the drives over several years and tested them thoroughly to achieve the highest standards of quality.
The rover will also carry a helicopter called Ingenuity. It weighs 1.8 kilograms, is solar powered and will perform several short flights, as well as take aerial images. The main goal of this experiment is to test the concept for further drones of this kind. maxon has six brushed DCX motors with a diameter of ten millimeters controlling the tilt of the rotor blades and the direction of flight. The drives are very light, dynamic and highly energy-efficient. These properties are crucial, because every gram counts on the Mars helicopter.
Accelerate expansion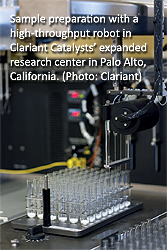 Clariant Catalysts is picking up speed with the successful expansion of its high-throughput R&D center in Palo Alto, California. Thanks to a significant investment, the upgraded facility is fitted with the latest high-throughput equipment, and will be home to an expanded team of technical experts.
High-throughput R&D combines state-of-the art hardware, robotics, automated procedures, and specialized software – including machine learning and other Artificial Intelligence (AI) tools – to enable up to 100 times faster experimentation compared to traditional practices. Clariant leverages this innovative methodology, along with its well-established expertise and knowledge in catalyst development and production, to accelerate time-to-market by reducing the catalyst discovery and development phase by three to four years.
Stefan Heuser, Senior Vice President & General Manager at Clariant Catalysts, commented: "The expansion of our Palo Alto high-throughput catalyst R&D center represents an essential milestone of our business strategy. Thanks to its location, the center capitalizes on the high-tech nature of Silicon Valley. We are very excited about the advances in catalyst technology we plan to achieve here for our customers."
Anthony Volpe, Head of the Palo Alto R&D Center, added: "Increasing our capacity allows us to boost both productivity and innovation, which will result in faster development of catalysts for our customers. We are also accelerating our work to advance the state-of-the-art in high throughput technologies, especially in supporting catalyst scale-up and production."
Enhanced view
Emerson has introduced augmented reality (AR) technology to its Plantweb™ Optics asset performance platform, delivering enhanced access to real-time diagnostics and analytics, as well as live remote assistance, to industrial plant workers responsible for maintaining and optimizing plant equipment. With AR technology integrated into Plantweb Optics, companies can improve productivity, collaboration and operational performance, without being limited by shortages of skilled workers or travel restrictions.
Plantweb Optics leverages artificial intelligence, machine learning analytics and data contextualization to provide real-time visibility into plant reliability and operational performance. Unlike standalone AR solutions that require custom engineering, AR is integrated into Plantweb Optics, providing immediate access to a wealth of data and translating into easier, less costly implementation and a faster return on investment. For use by manufacturers in the life sciences, food and beverage, chemical, metals and mining, power and water, pulp and paper and energy industries, Plantweb Optics is part of Emerson's award-winning Plantweb digital ecosystem of technologies, software and services.
Augmented reality for Plantweb Optics transforms the way field technicians accomplish complex tasks through enhanced situational awareness, live remote assistance and analytics delivered in context of the plant. As a field technician walks an industrial plant with a mobile device, Plantweb Optics uses spatial computing technology to map assets and provide technicians with critical maintenance information relevant to their location. Plantweb Optics overlays real-time analytics, equipment health status and technical support documentation on their field of view, so technicians can safely resolve issues sooner.
Essential connections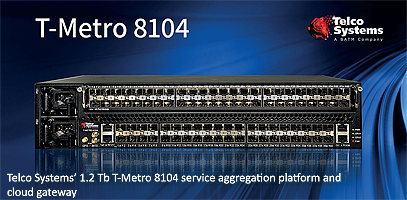 Telco Systems has completed new deployments of its 1.2 Tb T-Metro 8104 service aggregation platform and cloud gateway for multiple service providers across North America.
Telco Systems reports that these service providers are deploying T-Metro 8104 to increase their network capacity, rollout new high bandwidth services and keep up with the ever-growing customer demand for more bandwidth. The use cases for these deployments include high-capacity, resilient inner-ring aggregation topologies, data center interconnections (DCI), mobile backhaul (MBH) and high-density 1G/10G service aggregation of businesses, residential complexes and E-rate education campuses.
The recent Covid-19 outbreak has brought into focus the importance of high bandwidth connectivity with services such as multi-user video conferencing and secure enterprise VPN home connections, enabling business to continue operating in this uncertain time.
"As broadband connectivity becomes critical infrastructure to ensure business continuity, more and more service providers across North America are partnering with us on strategic 100G network expansions," explained John Ryan, Vice President of Sales and General Manager for North America at Telco Systems.
Green solution
Toyota Motor Corporation (Toyota) has developed new plating technology that reduces the environmental impact of the process, used in the manufacture of electronic parts.
In the new system, metal ions pass through a polymer membrane (solid electrolyte membrane) to apply plating like a stamp, exclusively to those areas which require plating. The technology is used in the plating process for forming copper, nickel, and other metal coatings on substrates.
The new stamping-type plating machine eliminates the dipping process currently required in the most common plating techniques, where parts have to be immersed in multiple baths of plating solution. This dramatically reduces the waste solution and CO2 emissions.
Rocketing ahead
Relativity Space, the world's first autonomous rocket factory and launch services leader for satellites has formed a strategic partnership with 6K, the world's leading developer of microwave plasma technology for the production of advanced materials used in additive manufacturing, lithium ion batteries and other industrial markets.
The partnership is intended to create a closed loop supply chain where certified scrap materials produced at Relativity are turned into powder by 6K, which can then be reprinted by Relativity. The two companies will also explore new materials created specifically for rocket manufacturing and space travel.
Billion dollar deal
On 29th June 2020, INEOS, one of the world's largest manufacturing companies, announced its intention to purchase the global Aromatics and Acetyls businesses of bp for a consideration of $5 billion. $4 billion will be payable upon completion with the remaining $1 billion deferred until, at the latest, June 2021. Commenting on the deal, Sir Jim Ratcliffe, founder and chairman of INEOS said: "This acquisition is a logical development of our existing petrochemicals business extending our interest in acetyls and adding a world leading aromatics business supporting the global polyester industry."