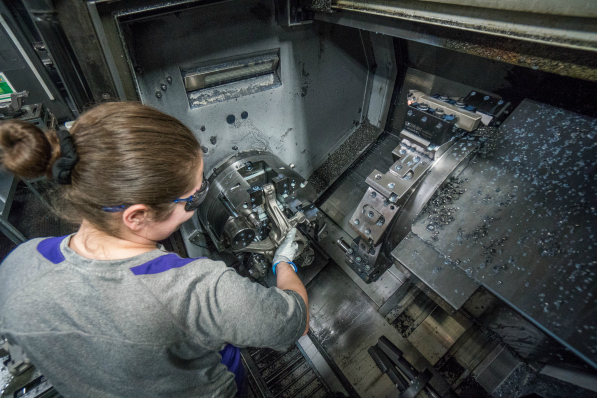 Based in central Illinois, Versatech specializes in manufacturing, engineering and consulting solutions. Providing full service, value added solutions to manufacturers in a wide array of industry segments, Versatech delivers a broad range of engineering, manufacturing and consulting services to best meet customer needs.
"Versatech is an engineering company at its heart," Special Projects Manager Micki Vandeloo says. "We can help with any project, big or small. We do a lot of automation work, with many companies requiring robotics integrated in their projects. They may want to automate one area of a project or a whole project, and we can meet their needs thanks to our automation capabilities, our marketplace knowledge and our large cadre of engineers."
Finding Growth
Having started its operations in 2008 with three people and $500 in business in the midst of recession, Versatech has grown into a $14 million, 110-employee business. As the company has sought growth, providing automation solutions has become a key part of its value proposition.
"It continues to grow as a percentage of our business, and robotics will bring us to new areas, expanding revenue and business opportunities," Vandeloo says. "We want to see steady growth this year and look to robotics and automation to continue to grow as a percent of our revenue."
As a manufacturing operation, Versatech has an understanding of the challenges that face many of its customers. Its culture is such that employees look at challenges from an ownership perspective and strive to be sympathetic to the needs of its customers. For example, it created its VersaCELL Modular Machine Tending Cells to provide machine shops with a simple, compact, cost effective system for automatic part loading, transfer and unloading.
"That shows that we try to innovate internally and can show customers that we can do the same thing for them," Vandeloo says. "We listen closely to customers, understanding their budget challenges and approaching projects in phases if needed to help make it more affordable."
"We also look at different markets so we are not fully tied to one or two markets," Automation Program Manager Mitch Stevens adds. "Diversifying our customer base is important to us."
As it works to meet the needs of customers, Versatech understands that many customers want to see simulations and proof of concept. The company utilizes simulation software and works with robotics manufacturers, often before – or as part of – a project quote.
"Simulations let the customer see what we can offer and provides them with a high comfort level," Stevens says. "Since we have some automation and robotics in our internal manufacturing, we can show them what we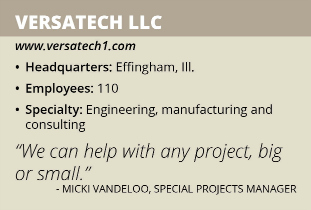 do here and what we are capable of."
Indeed, Versatech understands the need to find more efficiency and to do more with fewer people. Its VersaCELL concept is the perfect example of how to tie machines together so operators can do more with less, utilizing robots to move equipment.
"Many companies look at robotics as an alternative to increasing headcount," Vandeloo says. "We are no strangers to that, as we are in a rural area with limited access to people. The VersaCELL concept can offer companies savings in labor by doing more with less."
Versatech sees that as an issue that is not likely to abate. Many employers have a hard time keeping trained employees, and its solutions can allow customers to best utilize their skilled labor by partnering their expertise with robotic technology and increase their production rates.
"We can work with customers on cost benefit analyses to determine what they should automate, how to best use automation to increase quality, analyze the ramp up time and provide training for their people," Vandeloo says.
The Right Pace
As the company seeks continued development, it knows it must expand to new markets and develop new services, but also keep serving its current customers well. Versatech offers turnkey solutions that extend from concept and manufacturing through to installation and warranty. It must continuously improve systems for monitoring and scheduling projects.
"We do a wide array of projects with a wide array of lead times," Vandeloo says. "We do revenue scheduling and project scheduling to balance everything. Customers are looking for shorter lead times and lower costs, and we try to meet their budget and schedules. We have to innovate and invest in new and better equipment to meet our own needs and better serve customers."
Over the last year, Versatech has continued to diversify, picking up customers in 15 new industries. As it works with more customers in more industries, it gains an understanding of the industry's needs. Because it can do design work and help customers establish the right solutions to fit their budgets, Versatech is confident that it can continue to excel from design and build to installation and after sale service.
"Customers appreciate that we help them from start to finish and help them understand how the machine works and how to maintain it," Vandeloo says.
Versatech is also looking forward to showcasing its capabilities at the 2016 International Manufacturing Technology Show.
"At IMTS we will be showing our robotic solutions, work holding solutions and data solutions," Stevens says. "We can take information from machines to computer dashboards that allow customers to look at the entire cycle of parts from holding to process automation to feedback for managers to use in decision making."
In the end, ensuring future success for Versatech will require a continued focus on responding to customer needs. The company is committed to investing in the highest quality equipment and expanding its facility, staff and technology to develop and improve its infrastructure. This will position Versatech to be a top engineering, manufacturing and consulting solutions provider for decades to come.