Windows to the future
Environmentally-conscious work practices are nothing new to Vrogum, a window manufacturer with a long history of sustainable production
In many ways, Vrogum has always been ahead of its time. Since the company was established in 1957, sustainability has been at the heart of everything it does. "It has been a focus since the company started," CEO Frans Vindbjerg states. "Of course, in the last few years it has been very modern to talk about sustainability and I think people are beginning to show more interest in it, but our company was actually based on this attitude. It's been a part of our strategy all the way."
Located on the west coast of Denmark, Vrogum has been a manufacturer of wooden window and door solutions for over 60 years. In that time, the way the company sources its materials has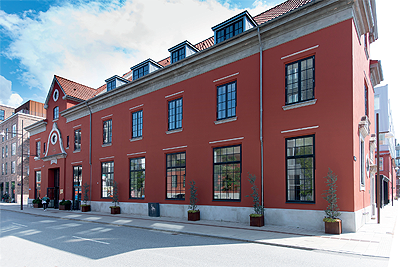 changed very little and it prides itself on using only the highest quality timber from FSC certified forestry in northern Scandinavia and the Arctic Circle region.
"We think timber is the best and most beautiful solution for windows," Frans explains. "Especially the timber we get in northern Scandinavia. The long winter and short summers mean that its slow-growing, giving
it remarkable strength and resistance. Not only does it give you the most beautiful surface for windows, but pine wood has better insulation qualities than other kinds of timber, so there's a lot of ways it contributes to being a sustainable option."
Vrogum's product range can be separated into three main areas: Classic, Solborg and Svarre. "The Classic line has been the basic product since the company was founded," Frans expounds. "Of course, a lot of development was made within this range and eventually this led to the Solborg vertical sliding window – a very common window in the UK market, but not so much in Denmark and Germany where it is more used for restaurants, small houses, and English style cottage designs."
The latest line of products the company has introduced is the Svarre range, which utilises a completely new, three-way glazing technique, meaning the timber can be covered by the window's outer pane. "This is the new generation of timber windows," Frans proclaims. "Aside from occasionally repainting, you don't have any maintenance to do on the timber from the outside."
Frans, who took up his role at the company in 2011, admits that this is not the only low maintenance option on the market, but it's the only solution that aligns with Vrogum's ideology. "In the volume market, when you want something with less maintenance, they tend to go for an alu-clad window that combines timber and aluminium. Aluminium has never been an option for us. We don't see it as a sustainable solution like timber and glass. VrogumThe fact is, our solutions are more expensive than alu-clad windows, but we are not in the volume market. We look for customers that like our windows and still want to go for the sustainable, beautiful solution."
According to Frans, this unyielding commitment to the company's founding values, along with a focus on quality over quantity in production, have both been key factors in assuring Vrogum's longevity and continued success. "It's always been important for us to stay focused on our niche strategy," Frans says. "Many of our competitors have taken a more volume-orientated approach, and certainly there is a need for that too, but here we are more interested in bespoke solutions. We have some basic product lines, different window designs, and from that starting point we try to adapt our product to what the customer needs. We are a more specialised kind of business."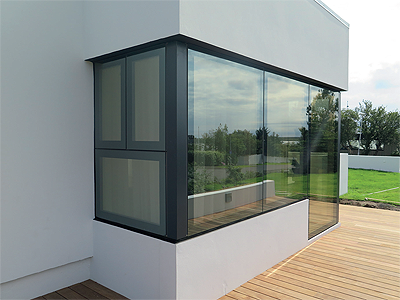 A strong focus on product customisation means that Vrogum's manufacturing processes are not always typical of a company its size. The organisation takes a more fluid, adaptable approach to production, blending technology with the vast expertise of its staff. "We have to be very flexible," Frans remarks. "We use a combination of machines and handcraft, because to make these customised solutions we need very skilled people who can operatesmall machines. We have a lot of very capable employees who do manual work, but we also use high-level IT systems."
As technology develops, the question of whether or not to invest more heavily in automation is at the forefront of many manufacturers' minds. While Frans suggests that automation can be useful for a company like Vrogum, he insists that only certain machines would be compatible with the company's specialist manufacturing processes. "In a way, we are going for more automation, but our focus is on flexibility. The capabilities of CNC machines are improving and becoming more flexible all the time, but we would not be interested in simply producing the same component at a very high volume. A lot of machines do that and that's not our focus."
On the sales front, Vrogum continues to experience success in Denmark and the rest of Europe, establishing particularly strong markets in Germany and the UK. Around two years ago, the company installed bespoke, tinted, sliding Solborg windows at The Old School Yard in London. More recently, Vrogum fitted the new headquarters of a Danish company with products from its Classic range, as part of a business development in Copenhagen's harbour district.
As well as regular smaller projects for villa owners and on listed buildings, Vrogum's newest product line is opening up opportunities for the company in the new- build market. "We have always been popular with renovations, but with the Svarre range, you can see that we have a product with great insulation and soundproofing values that is relevant for new-builds in some areas," Frans comments. "The Svarre window has the potential to be integrated with buildings that can generate their own electricity and so we have some very interesting projects in our pipeline."
With modern trends moving closer to the company's way of thinking, Vrogum, an organisation that has always stayed true to its roots, is preparing for many more exciting years to come. "The future looks good for us," Frans says. "The public focus on sustainability is a development that has benefited us and we are very positive about what comes next."
Vrogum
Services: Manufacturer of sustainable windows and doors