Sitting pretty
Identified as one of London Stock Exchange's 1000 Companies to Inspire Britain in 2016, Warings Furniture Ltd's ability to deliver bespoke, high quality furniture has resulted in strong growth and an enviable customer base
Owned by husband and wife Graham and Rachael Waring, Warings Furniture Ltd operates from a 17-acre site in Norfolk where its offices, manufacturing units and warehousing are located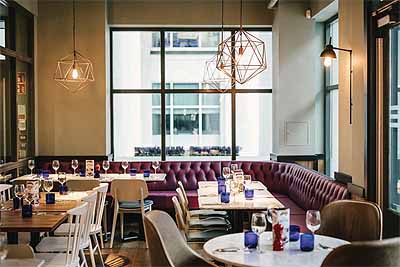 together to ensure the highest level of efficiency between all departments. The company was established in 1986 following a history of furniture manufacture for retail clients in Graham's family, which ended in the 1970s. Created to satisfy an entrepreneurial desire, it was then developed to create an organisation that is in control of its own production, as Rachael Waring, Joint Managing Director of Warings Furniture comments: "By having this control over production we can ensure reliability and efficiencies that our clients can depend upon. We originally traded as a traditional contract furnishing business that offered furnishings and furniture, however, the intervening 30 years have seen constant organic growth and for the past 25 years our focus has been on the manufacture and provision of furniture alone."
Boasting a continually expanding product range and over three decades of expertise in furniture manufacture, Warings Furniture has gained an enviable customer base that includes many of the hospitality industry's leading operators. This predominantly includes high street operators as well as hotel, pub and fine dining clients. As the requirements differ in each sector, Warings Furniture is able to strengthen its portfolio via product development.
"We are extremely proud of our prestigious client list, which includes many of the leading operators in the UK such as recognisable brands including, Costa Coffee, Center Parcs, Jamie's Italian, JD Wetherspoons, Leon, Premier Inn, Pret a Manger, Pizza Express and Travelodge. As virtually all of these successful brands have opened sites globally, we have carried out a number of projects in different locations across the globe. For example, we have carried out a large-scale rollout in the US for Pret a Manger, delivered sites for Jamie's Italian from Russia to Australia; delivered stores for Costa Coffee in China and Dubai, and also worked on a Travelodge in Spain. As you can see, brands in the UK have proven hugely successful on a global scale, and, in my opinion, this is mainly due to the exceptional designers that we have in the UK. The result is that Warings Furniture has been afforded some excellent export opportunities over recent years."
Able to deliver bespoke furniture designs, Warings Furniture has its own in-house product designers who work with the software SolidWorks to produce technical manufacturing drawings, as well as initial design renders for clients during the decision making process. This way of working enables the client to provide a brief description or hand drawn design ideas, which Warings Furniture develops from concept to final production. "This service is invaluable to our clients, and to our production staff, to ensure every element of the design is worked through prior to production. Furthermore, where large volumes of products are required, and where time allows, we provide a prototype service that affords clients a design tweak opportunity," says Rachael. "Meanwhile, when a client is carrying out a redesign for rolloutthroughout their stores, it is always preferable to be involved in the early stages of design. This ensures that the financial implication of material specification is made clear at an early stage to ensure the eventual satisfaction of budgetary requirements."
Further strengthening these capabilities is the company's commitment to reaching deadlines, its in-house quality-conscious joinery factory, polishing shops, product design, metalwork shop, sewing and upholstery teams and own logistics fleet, which further ensures reliability for customers. "Our business is also managed on a day-to-day basis by its owners and its two loyal, hardworking and knowledgeable directors who are prepared to step into any role as required, which is hugely beneficial," highlights Rachael. "We also have 30 years of experience gained from past mistakes and this experience is invaluable as it can be shared with staff and clients alike."
Benefiting from financially successful clients and a strong foothold in the hospitality sectors it operates in, Warings Furniture was delighted to be recently identified as one of London Stock Exchange's 1000 Companies to Inspire Britain. As Rachael comments: "It came as a surprise to us that we were include in the list. It is certainly an accolade that Graham would have been amazed to have achieved back during the company's inception in 1986. It has been interesting since we were included as it has generated interest in the business and has proved helpful in cementing the idea in our clients' minds that we are a strong business in which to entrust loyalty."
With more potential customers seeing what Warings Furniture can offer, the future looks positive for the company as it seeks to add to its customer base and increase export trade over the coming years. "From a manufacturing perspective, we intend to invest in our assembly and dispatch areas and work with some new materials to develop some exciting new products," concludes Rachael.
Warings Furniture
Products: Furniture for the hospitality industry