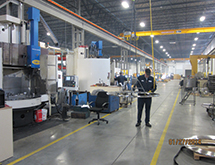 Western States Machine Co.
Western States Machine Co. has been manufacturing centrifuges for nearly one century and its commitment to keeping its customers' machines running – no matter how old – along with its dedication to innovation, continues to set the company apart.
The Fairfield, Ohio- based company was founded in Salt Lake City, Utah and incorporated on April 11, 1917. By 1920, Western States established a relationship with Cuba, the world's leading producer of cane sugar at the time, and from there it expanded to Canada, Peru, England, Mexico, Puerto Rico, Santo Domingo, Scotland, Korea and Japan. Today, the company manufactures centrifuges for the sugar, pharmaceutical and chemical industries in more than 35 countries.
"We have been around since 1917 and when we first started, we were one of the first players in the market and we controlled it," Director of Sales and Marketing Bob Sinnard says. "We dominated the sugar industry across the globe." The competitions today is fierce, but it is that same competition that pushes Western States to innovate every day, making sure it stays relevant to its customers and ahead of the curve.
Churning Out Ideas
Western States' centrifuges remove liquid from a solid product. The company purchases commercial products to add to its offerings and manufactures its own baskets, which is the heart of the centrifuge machine, Operations Manager Scott Kunkel says. "The basket we manufacture is the key to our product and we manufacture that in-house," he explains. "The baskets require fabrication, welding and various components to be machined." Upon completion of the basket, the company balances it and then tests the machine once it is fully assembled to make sure it meets specifications.
To set itself apart from competitors, Western States provides its customers with a five-year guarantee on its continuous baskets, which Sinnard says is unheard of in the industry. "We feel our baskets are the best out there and we stand behind it with the longest warranty in the industry," he adds.
Sticking to its promise to be innovative, Western States introduced a new product, the Universal Discharger, in January. The Universal Discharger eliminates the need for multiple inventories, reduces maintenance and helps increase throughput by drastically reducing downtime on G8 machines. "With our Universal Discharger, adjustment time is decreased from four hours to 15 minutes," Sinnard explains. "Assuming a machine produces one ton of sugar per cycle with 20 cycles per hour, we've gained 3.75 hours, which equals 75 tons of additional sugar produced."
Western States also provides its customers the option of ringless baskets, which increase usable basket volume up to 20 percent without changing the 2-speed motor or other major components. "Because of advances in technology, we can eliminate those rings and make the baskets bigger," Sinnard explains. "Customers can go from a ringed to a ringless basket, which increases capacity without having to buy a new machine. It's a real advantage to them."
Increasing Capacity
Western States moved into a new manufacturing warehouse space in July 2013 to accommodate further growth. The location includes 60,000 square feet of manufacturing space and 17,000 square feet of office. "It's designed and laid out in an efficient manner so we have room for growth immediately and long-term growth," Kunkel says.
More than $5 million in inventory is stocked in the new warehouse. The inventory offers a variety of parts, including those that were made for 60-year-old machines to present day technology. "One of our company mottos is that there is never an obsolete machine," Sinnard adds. "Scott's group has to be working continually on new products that upgrade or modify new machines and for machines that have been operating over 50 years."
The large inventory ensures that if a customer needs a product, Western States has it on-hand for quick delivery. "Centrifuges are critical to the operation in a sugar mill and when customers run into trouble, we make sure they aren't down for long," he adds. "No doubt our inventory sets us apart." Western States maintains its inventory by focusing on what parts are on the shelf so customers don't have to worry – they can always get the part they need. The company's inventory is vast now, and it has been increasing its volume over the last five years.
Depending on the individual customization of a centrifuge, Western States can deliver its continuous machines in 12 weeks and its batch machines in about 16 weeks. Kunkel says this year the company is focused on improving that delivery time. "That time is dependant on what the customer wants on the machine," he adds. "If there is a specific motor or drive, we are at the mercy of the manufacturer."
A major focus area of Western States in 2014 is rebuilding capabilities for older machines. If a customer is not in the position to purchase a new machine, it can send Western States parts to have them refurbished and operating like new, Sinnard explains. "That is an area that is growing by leaps and bounds and something we are pushing," he adds. "The basket, head, motor and gate assembly are all things that customers can send back to us that we can refurbish."
In the future, Western States will continue to look for opportunities to grow through its product line and with acquisitions. "We are constantly monitoring the areas where we feel our strengths are and where we feel we can gain a competitive advantage," Sinnard says. "At the same time, we are looking to new markets that offer us new opportunity to expand. We get excited about the idea of expanding Western States and what it stands for to new regions of the world. We are always looking at moving in new directions."