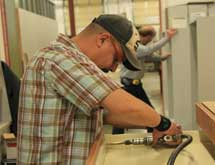 In February 1985, a young Dennis Milsten opened Westmark Products, which specializes in custom cabinetry and casework for commercial applications. Milsten, the company's president, has steered the company to a projected $30 million in sales this year. Milsten began his career in 1975 as a salesperson for a millwork company and knew the industry very well when the opportunity came up to purchase a millwork company of his own. "The owners wanted out, but I decided it might be better to start from scratch," he says.
Starting from Scratch
The first thing Westmark Products had to do was build a factory. "We didn't even have a building, just the property," Milsten says. The company had only two employees, but was fast at work building sales samples, preparing its catalog and looking for projects it could start Sept. 1 – the day the 20,000-square-foot factory would be ready to go.
"Things really just fell into place," he says. "The building was completed on time, the machinery was in place and we had orders to start working on Sept. 1."
Just two years later, the company made its first addition to the building. This happened twice more, and now the Westmark Products' facility is up to 90,000 square feet.
These days, Westmark Products builds cabinets, solid surfacing, metal fabricating, trim and paneling for commercial contractors and homebuilders. The company performs custom millwork and its pre-finishing department can apply any type of finishing the customer wants. And Westmark Products doesn't stop with just manufacturing products – the company has in-house engineering and installation departments.
Westmark Products even created its very own software program to keep the day-to-day business operations flowing smoothly. "[The software] manages all the company activities including accounting and payroll," Milsten says proudly.
According to Milsten, Westmark Products gets to work when the company receives an architectural drawing or even just a sketch. The engineering department then creates a shop drawing, which is sent to the customer for approval.
Upon approval, the engineering department creates its final draft, incorporating any changes made by the customer. The factory then cuts and tags the material of the customer's choice, packages the pieces and sends it to the job site for installation. "We make sure everything is in order so installation can commence without delay," Milsten says.
Clients and Customers
Westmark Products manufactures its products for a wide variety of industries including educational, healthcare and laboratory facilities.
The company builds tough cabinets and other fixtures for educational facilities including elementary, high school, university and trade school environments. The cabinets and other fixtures typically found in educational facilities provide instructors with the teaching and storage space they need. Whether it is teacher stations, administrative desks, library stacks and shelving, computer desks, music cabinets or a fully functional laboratory, Westmark Products provides the product that fits the need for any school, the company says.
Westmark Products also supplies cabinets for a wide range of healthcare projects. In recent years, the company has fabricated cabinets and casework for major hospitals and clinics throughout the western United States. Healthcare facilities have their own special needs, and Westmark Products furnishes commercial casework for patient rooms, nursing stations, general administration, storage and laboratory facilities.
While most facilities use laminate surfaces, more traditional designs using natural wood surfaces have become quite popular within the healthcare industry.
Finally, Westmark Products supplies laboratory cabinetry and casework for high-technology research facilities. The Benaroya Research Institute in Seattle now houses several research programs, and Westmark Products supplied all the cabinetry and casework for the laboratories and the center's support facilities. Well-suited for this environment, these cabinet exteriors, interiors, edges and counters are resistant to reagents, solvents and alkalies.
LEEDing the Way
All of the company's products are made to order, so there's not a lot of inventory in its facility. "With so many LEED variables, different styles of hardware, sizes and materials to choose from, it would be counterproductive to manufacture things in advance," Milsten says.
He adds that LEED really changed the manufacturing process – so much so, in fact, that the company recently trained a current employee to assist Westmark Products with all its upcoming LEED projects. Westmark Pro­ducts also recycles and uses recycled materials whenever possible, he adds.
"About 60 percent of our projects are LEED-certified," Milsten explains. "We try to buy sustainable products whenever we can, and we prefer to work with architects who specialize in LEED materials."
Party People
For its 25th anniversary in February, Westmark Products celebrated with cake and a party. While remaining in business for 25 years is impressive – especially in the current economic climate – Milsten believes his greatest accomplishment is creating the team of employees he has at Westmark Products over the years.
"We all view the company as an independent entity that has to be taken care of," he says. "We have to practice good ethics in all our business from the customer to our employees to our vendors. We have to be accountable to all our stakeholders. It's not easy taking care of employees, vendors and customers while still making a profit."
Part of being accountable is training new employees and making sure all Westmark Products employees are well-schooled in safety matters.
"The craft training is done in-house," Milsten says. "It's a lot of on-the-job training, and the seniors passing along their knowledge to the juniors." For safety and software training, employees are sent off site to the appropriate training  facilities.
Good Times, Bad Times
During the 1990s, Milsten says Westmark Products picked up several awards for its recycling policies.
In fact, just last year the company was recognized by the Architectural Woodwork Institute with an "Award of Excellence" for its performance at the Skagit Valley Hospital in Mount Vernon, Wash.
In 2008, Westmark Products em­ployed 220 people and now that number has shrunk to 175. "As orders decreased, we had to let some people go," Milsten says.
The company also stopped purchasing assets like new machinery, put a freeze on salaries, and had to cut down employees' hours and eliminated overtime work. "When things get better, we have every intention of bringing these people back," he adds.
"At Westmark Products, we take care of the customer," Milsten says. "We won't be fighting [them] over minor details. We help solve problems, we don't create them. We want the project to be on time and within the budget."
Westmark Traditions
Westmark Products' total responsibility from shop drawing to final installation is the key to the company's ability to deliver quality casework for all types of installations. Its state-of-the-art fabrication equipment enables the company to produce quality products.
Casework is manufactured to exacting standards using metric sizing for the component parts. Pride of workmanship and intimate product knowledge, born from years of experience in cabinetry and casework, is a Westmark Products tradition.
Experienced finish carpenters install the products. Westmark Products' craftsmen ensure quality control through all phases of a project. They are equally at home working with fine hardwood or laminate materials. The company offers hardwoods ranging from popular domestic red and white oaks and walnut to exotic imported species from sustainable harvested forests.
Laminates are available from all major high-pressure laminate manufacturers. "We often provide contrast-edging materials, such as oak veneer or distinctly colored PVC with laminates for special design effects," the company says.