Chandler Industries
---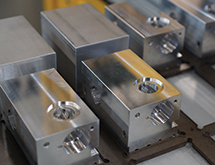 Two of the latest trends in manufacturing to which Chandler Industries has responded are regionalization and risk mitigation. OEMs are doing business with component manufacturers that are located near their production facilities and which – in the event of a natural disaster – can manufacture in multiple locations.
"Time-to-market, pricing, quality – all that comes into play, but the new items OEMs are talking about is regionalization and risk mitigation," Vice President of Marketing and Sales Matt Mountain reports. "When you take a look at the precision-machining industry itself, about 90-plus percent of companies that play in this field are small, family owned operations with one facility."
Chandler Industries has four manufacturing locations in Minnesota and one each in Changzhou, China, and Chihuahua, Mexico. "We are probably 10 or 15 times bigger than the average machining company," President Don Alter adds. "We're in a class by ourselves. What we do is offer the opportunity for our customers to put a large diversity of work into one company with multiple sites and multiple capabilities and only have one supplier on their list. We're doing very well with their strategy of supplier regionalization." Alter says Chandler Industries is well-aligned with current market trends and needs. 
---