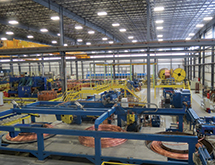 Manufacturing employees at Cambridge-Lee Industries (CLI) do not look at themselves as being button-pushers. Instead, equipment operators see their role as one that's not only critical to the company's success, but key to the quality of the products they make. "Instead of our operators saying, 'I just run a machine,' they have ownership of that machine and its role in our manufacturing process, with the ultimate goal of creating value for our customers.  We have experienced, hard-working employees, and we want to hear what they have to say in how we can better serve our customers," says Andrea Funk, CEO of the Reading, Penn.-based company.
Every equipment operator is fully accountable for a number of key metrics including safety, delivery, cost, quality and innovation, and reports his or her progress to management daily. "We are driving lean principles and 5S down to all the operators on the floor and want to get them involved in the process," says Vice President of Operations Les Shearer, who joined the company in October 2013, and is leading CLI's lean transformation.
In addition to daily gemba walks – during which each operator is observed and reports on progress – CLI is employing other common lean methodologies such as standard work, visual controls and root cause analyses.
CLI's lean journey has already proven to be a successful one in terms of customer focus, productivity and the company's overall growth. "It's exciting to see the changes [Shearer] has been able to lead here in just a short time," Funk says. "These changes have helped us really  engage all our employees in being customer-driven, and recognizing that anything that any of us does that is not creating value for our customers is just plain waste."
The company is the second-largest manufacturer of copper tube in the U.S. plumbing tube market, and has a 24 percent overall marketshare. Led by Dave Zellers, Vice President of Plumbing Sales, CLI has earned that position through a commitment to customer service and valuing long-term customer relationships. CLI's plumbing products are mainly available through plumbing wholesalers, with select products also available at home improvement retailers such as Lowe's and Ace Hardware. "We say to our employees that when they're walking down the street, one out of every four buildings they see uses tubes they produced to deliver water to the people inside," Funk says.
CLI traces its history back to the early 1900s, when tubing manufacturer Reading Tube Corp. was founded in Reading. CLI itself was founded in 1963 in Allston, Mass. CLI was acquired by Mexico-based conglomerate Industrias Unidas S.A. de C.V. (IUSA) in 1993. Three years later, the company purchased Reading Tube, relocating its headquarters from Allston to Reading in the process.
Investing in the Future
Plumbing tubes are just one of CLI's major product offerings. In addition to its plumbing tube division, the company has a division that manufactures linesets, which connect the outside air compressor/condensing unit to the inside air handler; and another that makes industrial OEM tubes, which are used in manufacturing air conditioning and refrigeration products. CLI also operates an industrial metals division, which distributes copper bars, sheets and coil, tellurium copper, brass rods and brass sheets and strips. The company operates four manufacturing facilities and a main warehouse in Reading, Pa., and has 12 distribution warehouses located throughout the United States.
All of the company's tubing products are 100 percent made in the United States at CLI's Pennsylvania campus, while the industrial metals division sources products from around the world, including CLI's parent company, IUSA. The industrial metals division also acts as a nationwide distributor.
Even though the industrial metals division's products are not manufactured by CLI, with the support of parent IUSA, the group has also been able to plug its large OEM customer base directly into the manufacturing process so they can make sure their requirements are met. By developing layered relationships with many of its customers, Cambridge-Lee is going beyond the traditional salesman-buyer relationship.
"We have cross-functional teams from IUSA, Cambridge-Lee and our customers all working together to develop product specifications," Executive Vice President of Industrial Metals Dan Erck says. "This unique relationship has enabled us to achieve far more than we would have with only third party manufacturers."
Manufacturing operations are a regular area of investment for the company. Between 2005 and 2006, IUSA invested $57 million to improve the Reading plant's finishing capabilities and efficiency. The company in 2006 also invested $3 million in expanding and consolidating its warehouse operations in Reading.  In 2014, the company plans to invest over $5 million in various quality and safety enhancements, including upgrades to its lineset and ACR production lines.
More recently, CLI in 2013 completed work on a 200,000-square-foot addition to its manufacturing operations. The $60 million addition houses cast and roll processes and an annealing furnace. This technology allows the company to produce copper tubes that can be drawn down to  significantly thinner wall-thicknesses with much more precise eccentricity, can be delivered to customers in a much larger package, and are more malleable than tubes produced using traditional extrusion methods. These tubes are commonly used in the production of evaporator and condenser coils within HVAC systems, Funk says.
The addition, dubbed the "Eagle facility," will allow the company to penetrate the commercial HVAC market and add 60 million pounds to its annual manufacturing capacity. "We are excited to win our customers' confidences and become a major player in the industrial OEM market by combining our philosophy of customer focus and using the most state-of-the-art superior manufacturing methods available for high quality copper tube production," says Phil Pope, vice president of Industrial OEM Sales. The facility is ISO 9001:2008 certified.
Other production facilities include a refinery, which processes scrap copper; two press and finishing facilities, which produce straight length, coiled and large outside-diameter tubes through extrusion; and a finishing plant where linesets are produced. CLI can produce pipe ranging in various sizes  up to 100 feet in length.
A Customer-Driven Culture
CLI's focus on lean operational excellence and employee engagement, as well as its other core values of data-driven decision-making and profitable growth, have all helped it attain its corporate mission. "We've identified our mission as being customer-driven," Funk says. "What this means for us is that all employees' efforts and everything we do is focused on creating value for our customers.
"Many of our products compete in a commodity environment, but what we truly believe makes a difference is a focus on serving customers and fostering a number of long-term relationships," she adds. "We never compromise on quality – we make sure our customers have what they need when they need it, and we are responsive to them." As part of this philosophy, the company is also kicking off a strategic inventory initiative to bring customer service levels even higher, and is offering different pricing options to help customers deal with COMEX fluctuations.