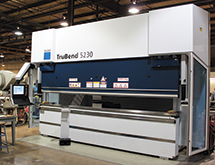 Kansas-based Bunting Magnetics has been providing manufacturers with magnetic solutions for more than 50 years, and President and CEO Robert Bunting Sr. says the key to the company's success is simple. Naturally, Bunting Magnetics takes great pride in its ongoing ability to create magnetic equipment that helps manufacturers address specific needs in their facilities, but Bunting says the operation is able to achieve that success only through one specific attribute.
"It's always your people," Bunting stresses. "If you don't have a person who knows how to do the job correctly, all the equipment in the world won't make a difference."
The strength of Bunting Magnetics' people is one of the primary reasons why the company has become a leading provider of magnetic solutions and other product lines for manufacturers across a diverse cross-section of industries. The company was started by Bunting's father in 1959 in Chicago, where it focused on distributing magnets and magnetic assemblies. In the early 1960s, the company's focus switched to manufacturing its own magnetic assemblies, and by the late 1970s it had relocated to its current home in Newton, Kan. Bunting says the company relocated so that it would have space to keep up with the growing demand for its products, and today the company has more than 90 acres of property ready for new facilities. The company also has sites in Illinois, Pennsylvania, England, China and Australia.
Bunting Magnetics specializes in equipment including magnets, magnetic separation units, metal detection units and magnetic printing cylinders. However, the company also provides non-magnetic solutions such as material-handling conveyors. Bunting says the company has recognized that more manufacturing is done with plastics than steel, and so Bunting Magnetics has expanded its product lines to continue serving its customers whether they work in steel or plastic.
Nevertheless, Bunting Magnetics continues to focus primarily on magnetic equipment, and Bunting says the company's biggest competition comes from customers choosing non-magnetic solutions. However, with its high-quality equipment and emphasis on problem-solving for its customers, Bunting Magnetics has the parts in place to stand toe-to-toe with any option its customers may have.
"We're trying to solve industrial problems through the use of magnetic equipment and related products," Bunting says. "You have to show the customer how they can do the job better through the use of magnets."
People and Equipment
Bunting says Bunting Magnetics works hard to ensure that its products are always exactly what its customers need, at a cost that fits their budgets. He says a major part of ensuring the company's products are high-quality is having a top-notch workforce in place and making sure they have what they need to give their best efforts. "It all comes down to getting the right people in the right place," he says.
Being a family owned and operated company goes a long way toward ensuring Bunting Magnetics has the right people in the right place because of the stability and security that it provides. Bunting says the company is committed to bringing the third generation of the family into the business and remaining a privately owned company. By showing its employees that it is interested only in being around for the long haul, he says, the company inspires its employees to give it their full commitment.
"People who have a secure job will make the community better, and we want to make our employees feel comfortable that they can invest their time into us," Bunting says.
Bunting Magnetics has made some significant investments itself, too. The company continues to invest in the latest and most advanced equipment as a means of keeping its operations as efficient as possible. Bunting says this is important because an efficient operation means lower costs for customers. Most recently, the company invested in a new press brake that can accommodate 12-foot panels, as well as replaced several pieces of equipment that required upgrading.
The company also has moved with its customers into areas of manufacturing that aren't directly related to magnets. For example, Bunting Magnetics has incorporated metal detectors into its product line to help customers such as food processors who need to identify and remove metallic elements from their products. Bunting says the company also entered the non-magnetic conveyor market in response to the shift in the beverage industry to aluminum cans, which are non-magnetic. "At one time, the beverage can industry was all steel," he says.
Innovation at Work
Over the years, Bunting Magnetics has introduced a number of innovative new products that have made life easier for its customers in a variety of ways. The company says its in-house engineering team has been instrumental in developing numerous groundbreaking products, and remains one of the key elements of its success.
For example, the company has been manufacturing magnetic cylinders for the printing industry for more than 30 years. In 2005, Bunting Magnetics leveraged its experience in the industry into the development of the X-treme magnetic die cutter, which the company says was the first magnetic die-cutting cylinder in the world with a total run-out accuracy below 80 millionths of an inch. "In fact, the run-out tolerances on our X-treme Series cylinders are so precise, many competitors do not have the tools necessary to measure them," the company says.
The X-treme Series is augmented by the company's proprietary Cerface magnet design, which was developed internally by Bunting Magnetics' own design team. The Cerface ceramic magnetic circuitry boasts a higher quality than other magnets found on the market because of the unique and innovative design for bonding magnets within the cylinder, according to the company.
For its magnetic separator line of products, Bunting Magnetics touts the effectiveness of its TurboGrate Magnetic Separator, which removes ferrous metals from powder and other granular materials. The company says its streamlined design allows the TurboGrate to handle the most difficult materials, including cocoa, flour and starch.
One of the company's most recent developments is a new self-cleaning plate housing magnet. The product, which has applications for the grain and milling industry as well as other industries with dry material processes, uses rare earth magnets to remove metal from flow-resistant materials. These materials typically are those with high moisture, oil or fat content. The magnets are automatically self-cleaning, meaning they require little maintenance and therefore can be installed in difficult-to-reach locations, according to the company.
Customer Service
Another area in which Bunting Magnetics always is looking to make improvements is in customer service, Bunting says. He explains that the company strongly believes in maintaining strong bonds with its customers. "No. 1 is making contact with them," he says. "You've got to be able to stay in contact with your customers because no matter what you sold them yesterday, they might not come back to you if they feel like you've forgotten about them."
To that end, Bunting says the company works hard to ensure that customers always have a direct line to someone who can solve their problems. He says no matter how successful a company is at selling its products, it won't mean much unless that company can continue to keep the customer satisfied after the initial sale. "Selling is a contact sport, and you just can't deny the fact that you've got to keep in contact with those customers," he says.
Future of Magnets
Even though the company has diversified its product line over the years to help meet the needs of its customers as they move from metal to other materials, magnets remain the primary focus of Bunting Magnetics, and the company says the potential for magnets to play an increasingly important role in reducing the world's energy consumption.
"With today's increasing focus on protecting the environment, magnetic energy is often overlooked as one of the answers to our energy needs," the company says. "It should be noted that magnets provide an ongoing power source that never needs to be thrown away."
Bunting Magnetics points to recent studies on so-called "spin batteries" that are charged through the application of a large magnetic field to nano-magnets in a magnetic tunnel junction. "This new technology is a step towards the creation of computer hard drives with no moving parts, which would be faster, less expensive and use less energy than current ones," the company adds. "In the future, the new battery could be developed to power cars."
Growing Demand
Bunting says the company always has its eyes on the future. Its strategic plan is reviewed and revised quarterly by managers and supervisors, who review opportunities for new product lines and develop strategies for attracting new customers. For example, Bunting says, the company is pushing to gain more of a presence in the food processing industry.
The future looks promising for Bunting Magnetics, Bunting adds, because the demand for goods continues to grow throughout the United States. He singles out the Southwest region as an area where growth is strong right now, and he says the company is working on entering the Canadian and Mexican markets in the near future.
Even without foreign markets, Bunting says, Bunting Magnetics sees good things coming out of the domestic market for the foreseeable future. "As long as the population of the United States is growing, there's going to be manufacturing going on," he explains. "A growing population is always going to have a demand for products."