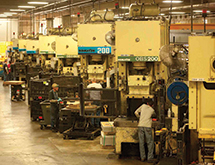 BTD Manufacturing has been serving the contract and custom manufacturing needs of many top brands since 1979. The company's extensive range of contract and custom manufacturing capabilities, along with its growing geographic footprint, are helping BTD live up to its mission of growth, service, quality and innovation.
"What we are focusing on as a business is to keep growing our ability to be a one-stop shop for metal fabrication for our OEM customer base," President Paul Gintner says.
Founded in 1979 as Bismarck Tool and Die Co., the current incarnation of BTD came into being in 2011 when Miller Welding, Performance Tool & Die and BTD Manufacturing Inc. combined. BTD has been a wholly owned subsidiary of Otter Tail Corporation since 1995.
BTD has five facilities in the Midwest. Headquartered in Detroit Lakes, Minn., the company also has two locations in Lakeville, Minn., and single locations in Otsego, Minn. and Washington, Ill. BTD strives to set itself apart from the competition through quality control, cost containment, innovation and rapid delivery.
Serving the Best
Today, BTD offers a vast array of custom metalwork services to a number of the world's top brands. It works with clients in the United States, Canada and Mexico. Among the world-class brands that BTD can count as customers are Polaris, CNH, Caterpillar, GE, Honda, John Deere, Siemens and Toro. This represents a small slice of the dozens of companies that have chosen to partner with BTD.
"We work in a number of industries," Gintner says. "We do a lot with recreational vehicles, heavy and light construction, agriculture, lawn and garden, and the energy sector in natural gas and wind. Those are our primary industries."
"We can help our clients deal with issues like the skilled labor shortage and supplier consolidation," he adds. "They expect us to be the metal expert and to have leading-edge technology. We can be their engineering arm and help them drive out cost, making their parts more cost effectively so they can sell more units."
From assembly, finishing, tooling, stamping and fabrication to tubing, welding, machining and quality control, BTD has an impressive list of capabilities. Its custom metalwork services include metal fabrication, forming, tool and die work, machining, powder coating, prototyping, laser cutting, robotic welding, stamping, cutting, CNC and EDM. The company is equally comfortable working on projects where customers need engineering and manufacturing of a single component, or if it is needed on a metal fabrication project from beginning to end.
"The backbone of our company has always been tool and die," Gintner says. "Today we have 110 people in our tool and die division alone. Over time, it has been a journey for us to go from tool and die all the way to building a finished product for the OEMs."
Regular Investment
An ISO 9001:2008-registered company, BTD regularly invests in metal fabrication innovation, partnering with another leader in the industry or developing new metalworking solutions. By investing in people, equipment and facilities, the company can offer value to its clients and ensure that it is always in front of their contract and custom manufacturing needs. "We've added many capabilities over the years and expanded what we do," Gintner says. "Now we have duplicated that model and expanded it to multiple locations in Minnesota and Illinois."
Additionally, the last few years have seen the company expand and improve its tooling division. To ensure that it wasn't hamstrung by a limited capacity, the company has been systematically growing its tooling expertise to enhance what has traditionally been the foundation of the organization.
The company also created a speed-to-line program that tracks every part from the time it is ordered through the time that it is production-ready. This has helped the company become production-ready on its projects within 30 days on average.
"That helps us to ensure we are ready to go and avoid bumping our work up against the OEMs' production schedule," Gintner says.
To make sure it can continue to grow its footprint as needed, BTD has put in place what it believes is a strong business management system that documents every process. That way, it is in a better position to duplicate its capabilities as it expands.
As BTD heads into the future, it believes it must continue to partner with the right people. It has a solid customer portfolio now of roughly 40 significant OEM clients that have national and worldwide brands. BTD's plan is to add one or two OEM customers to its arsenal each year. "As we add new OEMs, we need to be sure they are good fit and can use all our capabilities," Gintner says.
"We're also growing the depth of our leadership. We've grown by volume, doubling in size since 2009, but talent development will be key for us as grow geographically. Fortunately, we already play with some big brands and have great people here that support our diversification."