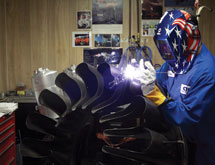 Ace Clearwater Enterprises
"If it's made out of metal, formed, welded and machined, we can make darn near everything," Vice President Gary Johnson says.
Based in Torrance, Calif., the company specializes in such services as welding, machining, drop-hammer forming, hydro-forming and hydraul­ic forming for clients in the aerospace and power generation markets. Tim Dodson founded the company in 1961 after learning how to weld.
"He is good at anything he's ever done," Johnson says, adding that Dodson grew the company through acquisitions, including Clearwater Tool and Die, a metal forming operation that was one of Ace Clearwater's largest vendors. "It really helped define what Ace Clearwater is today."
In the 1980s, Dodson chose to step down from the company and turned over leadership to his daughter, Presi­dent and CEO Kellie Johnson. "She took over the reigns and grew the company to where it is today," Gary John­son says, noting that she added human resources and accounting departments.
Today, Ace Clearwater employs a staff of more than 183 people and brought in a revenue of approximately $32 million last year. "This year, we'll be close to that or possibly a little bit higher," Johnson predicts.
Kellie Johnson says the company's customer focus has made it successful. "We're basically a service organization," she says. "It's really about pleasing our customers. I think that's what gives us a competitive advantage."
Embracing Green
Another area where Ace Clearwater places a strong focus is environmentally friendly initiatives. "We're always looking at sustainability," Gary Johnson asserts. For instance, the company recycles zinc and has reduced the operation's use of cardboard boxes.
"Our fluids in all of our machines are organic," Johnson says, noting the company utilizes products like vegetable oil. "We [also] have a closed loop clean line system that basically uses strong orange juice."
By embracing sustainable initiatives, Ace Clearwater has improved its bottom line, Kellie Johnson says. "Our location in Southern California [can be expensive]," she admits. "We've had to em­brace energy conservation just to stay competitive."
Giving Direction
Ace Clearwater also participates in training and education programs, which are in the company's best interests, Gary Johnson asserts. "We are very involved with local junior community colleges [where] we spend a lot of time with people," he says.
Additionally, students from the University of Southern California's School of Engineering visit its location and solve manufacturing problems. "It is really cool when you [watch] those kids see the real world of manufacturing," he says.
The company also gives tours to school children, which it has found rewarding. Johnson recalls one in­stance where a student from a school in South Central Los Angeles discovered a vocation during a visit. "[He] said, 'Why do I want to get into manufacturing?'" Johnson recalls. "'I want to make movies or make websites.'
"The head of our machine shop said, 'I only have a high school education, and I have designed parts that are built and used on the planet Mars,'" Johnson recalls, noting that the student later attended an engineering school in central California.
Additionally, the company has en­gaged in workforce development, through participation in the Manu­facturing Institute and Kellie John­son's role as madam chairwoman of the National Association of Manufac­tur­ers, Small & Medium Manufac­turer's Board. "Gary and I have been big proponents for work force development," she says.
She adds that Ace Clearwater tries to hire employees that come from trade schools or community colleges that provide similar training. "[We] continue to upgrade those skills," she asserts. "Our customers' requirements are changing and so rapidly setting the bars higher."
Staying Ahead
Ace Clearwater also strives to up­grade the technology in its production facilities. For instance, the company recently acquired a state-of-the-art cold laser. "That was a result of trying to be more efficient," Gary Johnson says.
While some trimming work would have taken its employees an hour to complete, the cold laser can do it in less than a minute. "It's already proven itself to be an amazing machine," he says.
Ace Clearwater also recently spent $4 million on five new machining centers, which have allowed for a more efficient, clean factory line, Johnson explains.
Although the company has several quality and competent outside suppliers, "We're constantly looking at what we can do to make [things] ourselves," he says.
Kellie Johnson adds that the company also has made investments in modeling and simulation. "We really try to stay on the cutting edge and be ahead of the competition," she says.
Staying Strong
With the economy in its current state, the future of Ace Clearwater is uncertain, Gary Johnson admits. How­ever, the aerospace market re­mains quite strong. "There's a lot of opportunity with things being replaced," he says.
"We're staying in the ballgame by basically adding value," Johnson continues. "It is all about No. 1 quality and delivery."
He notes that the company has a record that reflects this. For instance, from Jan. 1, 2004, to June 30, 2011, the company shipped 263,900 parts, but only had 28 pieces returned. "That speaks volumes to the customers," he declares.
Kellie Johnson adds that the company also remains opportunistic go­ing forward.
"What has helped sustain Ace Clear­water over the recession is foreign military sales," she says. "It is im­portant, we feel, to keep military sales going."Additionally, she explains that Ace Clearwater also is looking into adding more capabilities with its computing and modeling.
"We think there could be a great opportunity there," she declares.