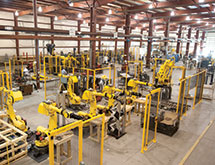 The future is now for the industrial automation industry because the use of robotic automation in plants and factories around the world is expected to grow by as much as 500 percent over the next decade. No longer relegated to the world of science fiction, a factory where humans and robots work side-by-side has never been more common, and industrial automation providers such as Acieta LLC continue to make it easy for manufacturers to introduce automation into their own operations no matter how big or small. Vice President of Sales Blake Consdorf says Acieta has more than 30 years of experience in the robotics industry, and that has been a major component of its success.
Recognized as one of the world's leaders in industrial automation, Acieta works with a broad base of customers throughout North America. Consdorf says its customers range from small job shops with two or three employees to major manufacturers such as John Deere and Bobcat. The company opened its doors as Automated Concepts Incorporated in 1983, providing robots used for machining, welding and palletizing. The company changed its name in 2005 to Ellison Technologies Automation to reflect its relationship with distributor Ellison Technologies. In 2014, however, the company became free to work with any machine tool company in the marketplace once again and rebranded itself as Acieta. Today, Acieta operates out of two locations; one being in Pewaukee, Wis., and the other in Council Bluffs, Iowa, and employs more than 140 employees.
Even though the expansion of industrial automation continues at a breakneck pace, Consdorf says Acieta understands that a major part of its role as an industry leader is to educate potential customers about the benefits of introducing robotic systems into their facilities and dispel myths about the effect they have on the workforce. By introducing potential customers to the company's long legacy of innovation and success in the industry, Consdorf adds, Acieta continues to win over customers and help keep North American manufacturers operating at peak efficiency.
Winning Them Over
The biggest competition Acieta faces doesn't come from another manufacturer or distributor of robotic systems, Consdorf says. Rather, it comes from manufacturers who choose not to automate their operations at all. "Typically, the biggest selling we have to do is to help the end-customer understand and justify the investment," he says.
Many potential customers are wary of introducing more automation into their facilities because they fear having to lay off large portions of their workforce. Consdorf explains the idea that robots simply replace human workers is simply not true, adding that the tasks robots normally perform on a production floor are mundane, repetitive tasks ill-suited for humans. By giving these tasks to robots, manufacturers can move their employees around the floor to handle more complex tasks, increasing employee engagement and satisfaction.
By helping manufacturers increase the volume of production, Consdorf says, robots such as the ones manufactured and installed by Acieta create a ripple effect that results in growth and ultimately more positions created for people. "Robotics and automation create jobs, they don't necessarily replace them," he says.
Fully Experienced
Once customers make the decision to take the plunge into automation, Acieta makes a strong case to be their provider of the robotic systems they will need. Consdorf says the company's experience and dedication to solving problems for its customers make it the clear choice when compared to the rest of the industry. "The first thing we have is just the sheer number of years of experience," he says. "We have installed more than 4,500 systems in the United States."
Whether the customer needs one system or multiples, Acieta has the capability and experience to build robotic systems that are scalable for growth and specific to the customer's unique requirements. The company's dedicated project management group gives customers the peace of mind that their project will be overseen from start to finish by an Acieta project manager, rather than an engineer who may be juggling multiple projects at the same time. This contributes to Acieta's 95 percent on-time delivery rate. "The end-product's always different, but the process by which they are executed is the same," Consdorf says, adding that the ISO certification also indicates its quality management ensures the highest quality.
Cutting-Edge Technology
Acieta continues to live on the cutting-edge of technology, as evidenced by some of the company's most recent additions to its technological capabilities. Consdorf explains that staying on top of the latest advancements in robotics is one of the company's primary goals. "When you're an integrator like we are, it's very important to test out and prove out that new technology before you put it into a customer's facility," he says.
One of the latest and most promising advancements Acieta has integrated into its product line is 3-D vision for bin-picking robots. This allows robots to select components and parts from a random assortment much easier and more effectively than in the past.
Another area of excitement for Acieta is the advancements in collaborative robotics, which is when humans and robots work in the same space. Unlike traditional robotic systems that needed to be heavily guarded to protect human workers from them, the new breed of collaborative robots are equipped with sophisticated sensors that allow the robot to sense when a human is nearby and adjust its work to create a safer environment. These more sophisticated robots also have the ability to prepare and hand components to human workers.
No matter what the future holds for the industrial automation sector, Consdorf says Acieta will survive and thrive thanks to the high quality of its systems and the benefit those systems bring to customers.
"We're really helping our customers be competitive on a global level by helping them do more and lowering their costs," he says.