ADEY Professional Heating Solutions
Crowning glory
Recently awarded its second Queen's Award for innovation, ADEY Professional Heating Solutions' (ADEY's) ground-breaking magnetic filtration products protect the central heating systems of its growing list of users
Prior to 2003, former British Gas trained installer Chris Adey was enjoying a successful career installing heating systems. While there is no disputing the fact that he took great pride in how he made a living, a theme of his work saw Chris returning home at the end of most days covered in a thick black by-product found within people's heating systems. It was a comment by one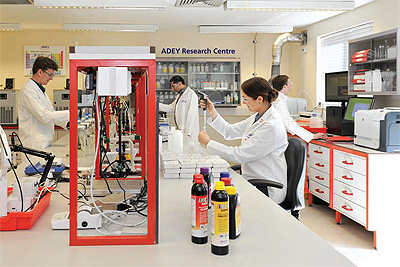 of his customers, suggesting that maybe he invent something to eliminate this by-product, that prompted Chris to begin experimenting with ideas of his own. The result was the creation of the first MagnaClean filter, which introduced magnetic filtration to the heating industry.
"Having initially shopped the concept around to some of the more established water treatment providers, Chris ultimately took the decision to set up his own company around it in 2003," begins ADEY Professional Heating Solutions (ADEY) Chief Technical Officer, Dr. Neil Watson. "Such a revelation was the MagnaClean filter that within a year Chris had signed his first large scale contract with British Gas, which started installing it around the country. Today we estimate there to be more than four million ADEY products installed in the UK alone, and we are also selling in 26 European markets, with businesses also established in the United States and in China.
"The realisation by Chris and his management team of the need to move away from being simply a product manufacturer and becoming what is effectively a one-stop-shop wanting to clean, treat and maintain heating systems was hugely important to our success," Neil explains. "From what was essentially a business operating out of a garden shed, it has grown into one that announced a turnover of £37.2 million in 2016, and aims to target £54 million by 2018. This will be achieved through a combination of increased global expansion and the development of our award-winning product portfolio." In 2016, the management team effected a management buyout of the business with financial backing from LDC.
Initially ADEY was very much a product manufacture supplier concentrating on magnetic filters. The incredible growth of the business coincided with its decision to develop a whole range of chemical products that complement the cleaning and treating of heating systems. This essentially transformed ADEY into a solutions provider to the marketplace. "We developed a best practice approach for cleaning and treating heating systems, one which involved some unique, innovative products already within our range," Neil continues. "This quickly gained traction within the industry, resulting in a number of awards being presented to us, including the H&V News Awards prize for service and maintenance initiative of the year in 2015."
In fact, it was only the day prior to speaking with Neil that he and the team were welcoming the Lord Lieutenant for Gloucestershire, Dame Janet Trotter DBE onto their site as she presented ADEY with its second Queen's Award for Enterprise: Innovation. "This year we have also won an H&V News Award for commercial product of the year for our DualXP filter," Neil enthuses.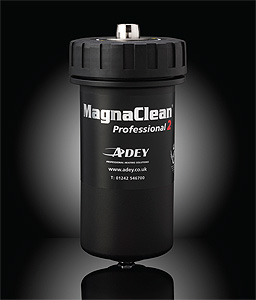 "We are also a finalist in two categories at the Lloyds Bank Business Awards; mid-Market Business of the Year and the Samsung Innovation Award, and also a finalist in the PWC South West business of the year award, later this year."
The company's success has very much been built on its ability to create quality, innovative products that have been designed to meet the practical and daily working needs of professional installers. "Chris' philosophy was always that an engineer was the best person to know whether or not the product they were using was the absolute best in terms of quality," Neil says. "Today we maintain that quality focus and we have a team of excellent design engineers creating the next wave of filtration products, supported by our commitment towards investing in research and development, to the tune of around £600,000 a year."
With a market share of over 70 per cent of the entire filter market in the UK, the company is very much the leading player in this field. Nevertheless, there are still a number of goals that it wishes to achieve, and much more growth that can be realised. Much of ADEY's focus at present is directed towards chemical products, a range of innovative solutions available in a sphere where innovation has been lacking in the last few decades. "We have been making chemicals for three years now, gaining good traction in the process by capturing nearly 30 per cent market share within the UK," Neil adds. "What began with two chemists working from our chemical laboratory in Sittingbourne, Kent, has since grown to a full-time team of seven, with two supporting students."
The Sittingbourne laboratory is also the location of ADEY's water treatment testing service. The only laboratory service in the UK to be accredited by UKAS, it is supported by a portal designed and developed by the company to provide customers with same-day sample results, which is a significant reduction in the seven-to-ten-day time scales offered by most of its competitors.
Turning to the years to come, particular those leading up to 2020, ADEY's attention is split between achieving both organic growth within the markets that it is already present and geographic expansion. "We definitely see the United States as being a very significant market for us, as well as China, which itself has one of the fastest growing heating markets in the world," Neil concludes. "Closer to home, we see the future of the heating industry moving into smart technology, what with large installation organisations and major boiler manufacturers looking at more ways to monitor and control heating systems remotely. For our part, we are progressing nicely down a journey towards being able to provide maintenance solutions for the future in the form of products and devices that will be able to alert a heating engineer to what is going on within a heating system and, if necessary, advise how to correct it remotely. This is an area that is quite high up on our agenda as we move forwards."
ADEY Professional Heating Solutions
Products: Magnetic filters and water treatment